BY JUSTIN RAY


September 21, 2000 -- Follow the countdown and launch of a U.S. Air Force Titan 2 rocket with the NOAA-L weather satellite. Reload this page for the very latest on the mission.





Take a pad tour

Spaceflight Now visited the Titan 2 rocket's launch pad at Vandenberg Air Force Base in August. We now present a virtual tour! START



Video vault

The Titan 2 rocket launches with the NOAA-L global weather satellite from Vandenberg Air Force Base, California, as seen on NASA TV.
PLAY (264k, 23sec QuickTime file)


An alternate launch pad camera shows the Titan 2 lifting off from Vandenberg's Space Launch Complex-4 West. .
PLAY (132k, 10sec QuickTime file)


A video camera mounted to the fixed umbilical tower of the launch pad captures a spectacular view of the Titan 2 rocket roaring to life and lifting off.
PLAY (183k, 14sec QuickTime file)


The first stage of the Titan 2 rocket shuts down and separates as the second stage ignites as seen by an infrared tracking camera.
PLAY (238k, 27sec QuickTime file)


Download QuickTime 4 software to view this file.



Flight data file
Vehicle: Titan 2
Payload: NOAA-L
Launch date: Sept. 21, 2000
Launch window: 1022-1032 GMT (6:22-6:32 a.m. EDT)
Launch site: SLC-4W, Vandenberg AFB, Calif.


Snapshot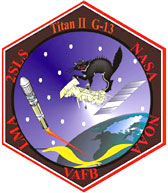 The Air Force mission patch. Photo: 2SLS



Pre-launch briefing
Launch timeline - Chart with times and descriptions of events to occur during the launch.



Titan 2 - Description of the former ICBM missile converted to a space launch vehicle.



NOAA-L - A look at the NOAA-L weather satellite and its purpose in environmental research.