History-making Titan 4 rocket put on the launch pad
BY JUSTIN RAY
SPACEFLIGHT NOW
Posted: August 25, 2004


By the time the sun rose over Cape Canaveral this morning a bittersweet moment had finally arrived for hundreds of workers as the final Titan 4 rocket to fly from the Florida spaceport reached its launch pad.


| | |
| --- | --- |
| | The Titan 4 rocket rolls out of the SMARF this morning. Photo: Justin Ray/Spaceflight Now |
Riding atop a mobile launching platform, the 120-foot tall vehicle made a mile journey in the predawn darkness from the assembly building to Complex 40 where it is scheduled to blast off February 20 carrying a classified National Reconnaissance Office payload.

"An historic event for Cape Canaveral -- the last Titan 4 we will host out of here," Ben Dusenbery, Lockheed Martin's director of Titan launch operations at Cape Canaveral, said in an interview today.

"Titan has been the foundation for a lot Cape Canaveral's activities out here. And folks, I don't think, have until recently really appreciated how (the Titan programs) have carried the infrastructure here at Cape Canaveral. Other programs kind of rode on our coattails, benefiting from the infrastructure that we have paid for as a program. Now that it is going away, I think they are starting to realize that."

The Lockheed Martin Titan 4 features a two-stage, liquid-fueled core with a pair of solid-propellant boosters mounted on each side. In the coming months at the launch pad, the NRO satellite will be attached to the rocket and a 66-foot long protective nose cone installed. No upper stage is slated for use on this mission.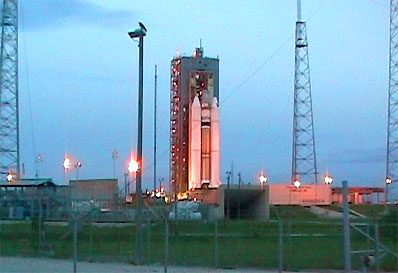 The Titan 4 rocket sits on the launch pad following this morning's rollout. Photo: Justin Ray/Spaceflight Now



"Most of all of our testing is done on-pad as far as validating all of our subsystems throughout the whole core vehicle. That culminates with a baseline CST -- combined systems test -- that is scheduled in early October," Dusenbery said. "Once we have that complete and can give our customer a thumbs up that 'yeah, our vehicle is ready to go,' then they will proceed with their payload arrival and mate, bringing the payload out and setting it on (the rocket).

"Once we have the (nose cone) fairing on, we will go through a final overall systems test that culminates with what we call launch combined systems test. At that point, we do some final preps and then we are ready to fire that baby off."

The rocket stages were shipped to the Cape last fall to begin the launch campaign. The core was erected on the platform in the Vertical Integration Building, and then rolled June 29 to the Solid Motor Assembly and Readiness Facility were the solid-fuel boosters were added.

Two Air Force locomotives pushed the assembled rocket -- albeit still "headless" without a payload -- from the SMARF to the pad today, leaving around 5:45 a.m. and reaching Complex 40 a half-hour later.

When the rocket flies early next year, it will mark the 27th and last time a heavy-lift Titan 4 thunders away from Florida since 1989.

Lockheed Martin, with help from the Air Force, developed incentives to retain the skilled launch crew as the Titan program enters its final phase. For the 370 Lockheed Martin employees working on Titan at the Cape and hundreds of others from supporting contractors, the rocket's ending means they must find new jobs.

"We have a pretty good retention plan in place," Dusenbery said. "Consequently we have lost very, very few folks. Morale is really good. I'm sure they are all worry about their future but I think the retention plan is accomplishing what we had hoped it would do -- it is retaining folks. It is a parachute that will help them have a soft landing -- they won't have to worry about being employed immediately -- that will have a little cushion to tie them over until they find that next job.

"Lockheed Martin and the Air Force have done a good job helping these folks with that transition."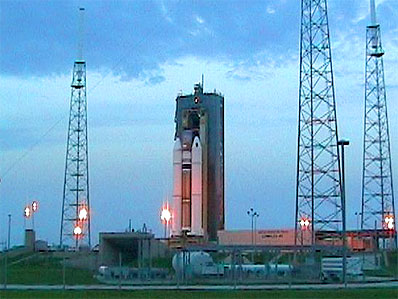 The Titan 4 rocket will be fitted with its payload and nose cone in the coming months. Photo: Justin Ray/Spaceflight Now



Dusenbery says that keeping the workforce focused on preparing the rocket for its national security satellite launch is vital.

"I can't tell you that we've had any issues that would have been apparent that we are losing focus. But we are doing a lot of things to try and stay in front of it. Maybe that is because we are being successful."

While the Titan era should be over at Cape Canaveral by early next year, one more Titan 4 will be left. Slated for liftoff June 30 from Vandenberg Air Force Base, California, this 39th and grand finale launch of Titan 4 will deploy another secret NRO cargo.

The next-generation Boeing Delta 4 and Lockheed Martin Atlas 5 rockets that are part of the Evolved Expendable Launch Vehicle (EELV) program replace the capabilities of Titan 4. The competing EELV rockets have each accomplished three successful flights to date, and Delta 4 is preparing for a demonstration launch of its powerful heavy-lift configuration on October 20 from Cape Canaveral.


Additional coverage for subscribers:


VIDEO: TITAN 4 ROCKET EMERGES FROM ASSEMBLY BUILDING QT


VIDEO: THE ROCKET ARRIVES AT COMPLEX 40 BEFORE DAWN QT


VIDEO: VIEWS OF THE TITAN 4 ON THE PAD AFTER SUNRISE QT


SUBSCRIBE NOW