Delta 4-Heavy rocket to take maiden flight in October
BY JUSTIN RAY
SPACEFLIGHT NOW
Posted: August 19, 2004


A new launch date has been selected for the delayed demonstration flight of Boeing's massive Delta 4-Heavy rocket that will carry a satellite simulator and two tiny nanosats.

The 23-story rocket is now slated for blastoff from Cape Canaveral's pad 37B on Wednesday, October 20 at 4:06 p.m. EDT (2006 GMT). A two-hour, 42-minute launch window will extend to sunset, closing at 6:48 p.m. EDT (2248 GMT).


| | |
| --- | --- |
| | The full assembled Delta 4-Heavy rocket was revealed on launch pad 37B earlier this month. Credit: Boeing photo by Carleton Bailie |
Boeing scrapped a planned September 10 launch date to address two technical issues with the booster, and the company says time was lost securing the Florida launch site to shield the pad from Hurricane Charley last week.

"A second stage liquid hydrogen fill and drain valve will be replaced and thermal augmentation of the first stage umbilical interfaces will be performed with the vehicle on the pad," Boeing said in a statement.

The rocket has been fitted with a 13,500-pound cargo -- known as the Heavy Demonstration Payload or "DemoSat" -- that serves to mimic the real satellites that will fly on Delta 4-Heavy boosters in the future.

The U.S. Air Force is paying for this test launch to prove the Delta 4-Heavy vehicle works before two critical flights are performed -- one carrying a Defense Support Program missile-warning satellite, the other a classified National Reconnaissance Office craft.

The purpose of DemoSat is to "emulate as closely as possible the characteristics (frequency, stiffness, mass and center of gravity) of a real spacecraft to provide flight data to reduce risks for future DoD and NRO missions," Air Force program officials told Spaceflight Now.

In addition, two 50-pound nanosats are attached to the side of DemoSat. The canister-shaped craft, part of the University Nanosatellite Program, or NanoSat-2, will demonstrate miniaturized components and other technologies, plus test low-shock deployment systems for releasing satellites from a launch vehicle.

"Arizona State University, University of Colorado at Boulder and New Mexico State University took part in a collaborative effort to build these satellites and will also operate them," the Air Force said.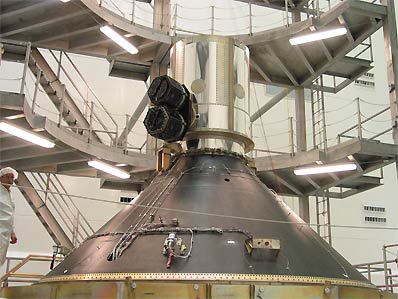 The payload for the Delta 4-Heavy rocket's demonstration launch includes a satellite simulator and two nanosats. The craft are mounted atop the black cone-shaped adapter that mounts to the rocket as seen in this image. Credit: U.S. Air Force



After achieving an initial low-altitude orbit around Earth about 15 minutes into the launch, the nanosats will be deployed. Then the rocket's second stage will continue on, firing its cryogenic engine twice more over the course of nearly six hours to reach a circular geostationary orbit of 22,000 miles and inclined at 10 degrees to Earth's equator. The mission won't go to zero degrees of inclination to preclude impacting operational spacecraft in the geosynchronous belt. The satellite simulator will separate from the rocket stage to complete the demonstration launch.

The rocket was assembled in a nearby hangar last year and rolled horizontally to the launch pad in December. It has spent the past eight months undergoing testing, including fueling exercises and countdown rehearsals.

Boeing initially hoped for an early July liftoff, but that was pushed back to give engineers more time to prepare for the crucial inaugural mission.


Additional coverage for subscribers:


VIDEO: ANIMATION PROVIDES PREVIEW OF DELTA 4-HEAVY LAUNCH QT


SUBSCRIBE NOW