Shuttle Atlantis blasts off
BY WILLIAM HARWOOD
STORY WRITTEN FOR CBS NEWS "SPACE PLACE" & USED WITH PERMISSION
Posted: October 7, 2002


After a frustrating summer of delays to fix potentially dangerous fuel line cracks, the shuttle Atlantis roared away today on a critical mission to deliver a 14-ton section of the international space station's main solar array truss.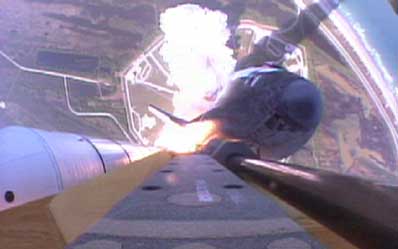 A dazzling view of Atlantis' climb away from Earth as seen by its onboard video camera. Photo: NASA TV/Spaceflight Now



Running five days late because of Hurricane Lili, Atlantis' three main engines thundered to life at 3:45:51 p.m., followed six seconds later by ignition of the shuttle's twin solid-fuel boosters.

With a crackling roar, the 4.5-million-pound spacecraft instantly began climbing skyward, knifing through a partly cloudy sky as it rolled about its long axis and lined up on a trajectory up the East Coast.

Spectacular television views of the shuttle's ascent were beamed down from a small downward-pointed camera mounted near the nose of the ship's external tank. The view from the wide-angle "rocket cam" showed the orbiter, the side of the tank, the right-side booster and launch pad 39B dropping away as Atlantis thundered aloft.




Video coverage for subscribers only:


ONBOARD CAMERA: VIDEO OF ATLANTIS' LIFTOFF QT or RV


ONBOARD CAMERA: OUR OPTIMIZED MOVIE THRU SRB SEP QT or RV


ONBOARD CAMERA: ATLANTIS SEPARATES FROM TANK QT or RV


VIDEO: ANIMATION PREVIEW OF VIEW FROM SHUTTLECAM QT or RV


MORE: SEE A FULL LISTING OF STS-112 VIDEO


SUBSCRIBE NOW





As the shuttle gained altitude and wheeled about to line up on the proper trajectory, the camera showed the shadow of the booster exhaust plume stretching away over the Atlantic Ocean as the launch complex dwindled below.
The six-inch-long camera operated through main engine cutoff and separation of the external tank. But the exhaust plume from the small motors used to jettison the solid-fuel boosters two minutes after liftoff fogged the lens enough to wash out any detail after that.
Commander Jeffrey Ashby, pilot Pamela Melroy, flight engineer Sandra Magnus, cosmonaut Fyodor Yurchikhin and spacewalkers Piers Sellers and David Wolf, a Mir veteran, promptly got to work after reaching orbit, rigging Atlantis for an orbit circularization rocket firing and doffing their bulky pressure suits.
"OK, Jeff. Atlantis is ready for you, the weather is beautiful and you guys have been in Florida far too long," launch director Michael Leinbach radioed a few minutes before liftoff. "So we wish you luck as you continue the assembly sequence of the international space station. Good luck."
"Thank you," Ashby replied. "You've done a great job of putting Atlantis and the S1 truss together. We thank you for your hard work, now it's our turn."
Atlantis' launching originally was planned for August, after the July flight of the shuttle Columbia on a microgravity research mission. But the shuttle fleet was grounded in early July after engineers discovered small cracks in the hydrogen fuel lines in the main propulsion systems of each space shuttle.
The cracks ultimately were welded over and rough edges were polished to prevent the development of additional cracks.
Columbia's flight slipped to early January when all was said and done while Atlantis moved to Sept. 28. The flight then was delayed to Oct. 2 by problems with the massive crawlers used to haul shuttles to the launch pad. Then, last week, launch was delayed again to power down mission control at the Johnson Space Center as Hurricane Lili approached the Gulf Coast.
A final surprise cropped up Sunday when engineers discovered problems with a heater used to keep a fuel cell water dump line free of ice during flight. Early this morning, however, mission managers cleared Atlantis for launch as is after being briefed on alternative measures for dumping excess water overboard.
As with all station flights, today's launching was timed to coincide with the moment Earth's rotation carried pad 39B into the plane of the lab's orbit. If all goes well, Ashby will guide Atlantis to a docking with the space station Wednesday at 11:29 a.m.
Awaiting their arrival will be Expedition 5 commander Valery Korzun, Sergei Treschev and NASA biochemist Peggy Whitson.
The station's fifth full-time crew, Korzun and company were launched to the outpost June 5 aboard the shuttle Endeavour. They are scheduled to return to Earth around Nov. 20 to close out a 167-day voyage. The station has been continuously manned for 691 days as of Sept. 24.
The primary goal of Atlantis' flight is to deliver and install the first starboard side - S1 - outboard solar array truss segment, a massive 45-foot-long, 15-foot-wide component massing 28,776 pounds.
When completed, the station's nine-segment solar array truss will stretch longer than a football field and carry two huge sets of solar panels on each end. Radiators inboard of the solar arrays will dissipate the heat generated by the station's electronic systems.
The central element of the truss, a $600 million component known as S0, was attached to the top of the U.S. laboratory module Destiny during a shuttle flight in April.
The Boeing-built $390 million S1 segment aboard Atlantis is the first outboard section. A virtually identical segment, known as P1, will be attached to the port, or left side of the central S0 truss during the next shuttle visit in November.
S1 is scheduled for attachment to S0 on Thursday, the day after Atlantis docks with the station. Whitson and Magnus, operating the station's Canadarm2 space crane, plan to pull S1 from the shuttle's cargo bay and to carefully position it so a powerful, remotely operated claw at the end of S0 can engage a capture bar on the near end of S1.
After the claw pulls the two segments together, motorized bolts at the four corners of the truss interface will drive in to lock the two segments firmly together.
While the attachment process is winding up, Wolf and Sellers will exit the station's Quest airlock module for the first of three planned spacewalks to connect electrical cables, ammonia coolant lines and data links between S1 and S0 and to install fittings to prevent fluid line connectors from sticking together. During the first spacewalk, however, Wolf and Sellers will focus on making critical electrical connections and deploying a new S-band antenna.
"I think the tasks being performed on these EVAs are comparable to what we've done on other missions," said station flight director Andrew Algate. "Many of the tasks are similar. We're hooking up ammonia QDs (quick-disconnect fittings), which we've done before, we're mating electrical umbilicals, all the tasks we're doing on these EVAs have been done on previous missions."
Even so, no one takes the work lightly.
"We don't want to cause any damage out there," Wolf said. "We need to be very careful. It's a delicate, in some ways, space station. Lots of antennas, no-touch areas, so we'll be very cognizant of those."
S1 and P1 will provide the cooling needed for the space station's electrical systems. The two truss segments each feature three huge folding radiator arrays made up of eight panels each that will extend 75 feet into space to dissipate up to 72,000 watts of heat, enough to cool eight 2,000-square-foot homes.
S1 and P1 house independent computers to operate and monitor internal systems, ammonia tanks, pump assemblies and nitrogen pressurization systems for the coolant loops. Each segment features 15 miles of electrical wiring, a third of a mile of fiber optic cabling and 426 feet of stainless steel tubing to route ammonia coolant between the radiators and heat exchangers mounted on S0 and elsewhere.
S1 also features an S-band antenna and electronic gear to provide a redundant satellite communications path to the ground, a video system that will aid in future assembly operations and a small cart that future spacewalkers can use to move equipment and tools to different work sites.
Heat rejection is provided by two independent ammonia coolant loops. The extendable radiator wings are mounted at right angles to a rectangular framework that can be rotated through 105 degrees to point the radiators toward the cold of deep space.
"It's hard to convey in words what we're really doing," said station program manager Bill Gerstenmaier. "The thing that's challenging about this is this is the first time we've ever attached two truss segments together.
"Then you have all the connectors and fluid lines that have to be mated between the two truss pieces," he added. "Then there's all the electrical stuff, there are new computers out there that have to interface with the other computers on the station, so we had to get that software synched up.
"There's now a thermal rotary joint. This thing rotates and all the ammonia has to flow through this rotating joint (to and from the radiators) and that's a very complex mechanical design. Overall, it's almost mind boggling what we're doing putting this thing together."
If all goes well, Atlantis will return to Earth Oct. 18.


Video coverage for subscribers only:


VIDEO: LIFTOFF AS SEEN LIVE ON NASA TV QT or RV


VIDEO: 3-MINUTE MOVIE FROM BEACH TRACKER QT or RV


VIDEO: POWERFUL PLAYALINDA TRACKER SHUTTLE ATLANTIS QT or RV


VIDEO: CLOSE UP VIEW OF ENGINE START QT or RV


VIDEO: SCENE FROM CAMERA ATOP WATER TOWER QT or RV


VIDEO: VIEW FROM VAB ROOF CAMERA QT or RV


VIDEO: PAD PERIMETER CAMERA VIEW QT or RV


VIDEO: VIEW FROM IN FRONT OF PAD QT or RV


VIDEO: ANGLE FROM WEST OF THE PAD QT or RV


VIDEO: LAUNCH REPLAY FROM PRESS SITE QT or RV


VIDEO: LAUNCH PAD ENGINEERING CAMERA 171 QT or RV


VIDEO: PAYLOAD BAY DOORS OPENED IN SPACE QT or RV


VIDEO: POST-LAUNCH NEWS CONFERENCE QT or RV


VIDEO: ASTRONAUTS DEPART FOR THE LAUNCH PAD QT or RV


VIDEO: ANIMATION PREVIEW OF VIEW FROM SHUTTLECAM QT or RV


VIDEO: NASA's SUNDAY LAUNCH STATUS BRIEFING QT or RV


VIDEO: LAUNCH POSTPONEMENT NEWS CONFERENCE QT or RV


VIDEO: ASTRONAUTS ARRIVE AT KSC FOR LAUNCH QT or RV


MORE: SEE A FULL LISTING OF STS-112 VIDEO


SUBSCRIBE NOW