Radiator deploy, treadmill repair and a final spacewalk
BY WILLIAM HARWOOD
STORY WRITTEN FOR CBS NEWS "SPACE PLACE" & USED WITH PERMISSION
Posted: September 26, 2002


On flight day seven, the day after EVA-2, the astronauts will take another break of sorts, continuing work to transfer equipment from Atlantis to the space station and preparing for the mission's third and final spacewalk the next day.

Korzun and his station crewmates plan to spend most of the day replacing components in the Zvezda module's U.S.-built treadmill while their shuttle crewmates test S1's radiator array. While no ammonia will flow through the system until next year, engineers want to make sure the framework all three radiator arrays are mounted on can, in fact, rotate as required to point them toward deep space.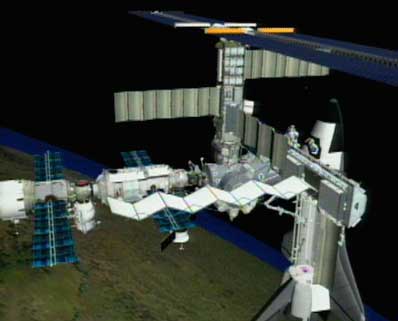 Animation shows the deployment of the S1 center radiator. NASA TV/Spaceflight Now



To make sure the wings can unfold as required, the station crew will send commands to fire six pyrotechnic squibs holding the folded central set of radiator panels in place. A motor then will drive the wing open. If the panels don't unfurl for some reason, Wolf and Sellers can crank them open with a power tool during the final spacewalk.

"We're actually going to deploy just the center of the three, just to make sure that everything is working okay," Melroy said in a NASA interview. "We're going to get a little bit of a jump on things to do that. So, we're excited about seeing that radiator unfurl out into space. I think that'll be really neat and exciting. It's a bunch of folding panels. It's almost like folding a paper doll out. It's going to look really neat."

Only one wing is being extended during Atlantis' mission because A) the station doesn't currently need any additional heat rejection; B) engineers don't want to expose the panels to possible micrometeoroid damage any earlier than necessary; and C) there is an interference issue with solar arrays on the Zarya module.

Zarya's arrays will be retracted after installation of additional Russian solar arrays later in the assembly sequence, eliminating the interference problem. But for now, they're in the way.

The third and final spacewalk of mission STS-112 is scheduled for flight day eight. The excursion has four primary objectives:
Connection of ammonia jumpers between S0 and S1;


Removal of two keel pin assemblies that were used to help hold S1 in the shuttle's cargo bay;


Installation of six final SPDs;


Repair or replacement, if necessary, of a cable cutter on Canadarm2's mobile base system, which carries the crane back and forth along the solar array truss.
| | |
| --- | --- |
| | Astronaut Lee Morin relocates a keel pin on the S0 truss in April. Photo: NASA |
Independent spool-fed power and video lines play out as required as the mobile base system cart moves along, providing power between work stations. Should a spool jam when the cart is between work stations, cable cutters are in place to cut the stuck line. That would allow the cart and the robot arm to reach the next work station where the cart could plug into a power socket.

During installation of S0 in April, a safing bolt in one of the "interface umbilical assemblies," used to prevent inadvertent activation of a cable cutter during launch, failed to back out when spacewalkers attempted to remove it.

Both of the cable cutters must be operational to complete assembly of the truss.

"If you're moving the mobile transporter and it gets stuck between work sites, cutting the cable allows you to move to the next worksite," said Koehler. "There are different failures that can cause that cable to jam in its reel. The other one would still be reeling out. So you cut the one cable, use the other one to give you power to get out to your next work site to plug in. It gives you the power you need to keep the mobile transporter alive."
| | |
| --- | --- |
| | A view out of the window of the last shuttle mission to the station shows the mobile transporter on the front of S0. Photo: NASA |
Wolf and Sellers plan to use a much higher torque setting to free the stuck bolt and if that doesn't work, they will replace the entire umbilical assembly. That job, should it be necessary, would take about an hour and a half to complete.

"Whenever you're out doing a spacewalk, it's a critical environment," Wolf said. "It is very unforgiving so any tasks conducted in the spacesuit at vacuum are critical and are difficult. It's a big heavy suit, it's like wearing ski mittens and doing fairly delicate work. And so we've developed special techniques and special tools to accomplish that.

"Having said that, we have developed these tasks in a manner where the 10 to 15 tasks we're doing are of similar difficulty. I'd say putting on the interface umbilical assembly, which is under the mobile base system, is one of our more difficult tasks procedurally."

CONTINUE TO NEXT PAGE -->






Pre-launch briefing
Mission overview - Atlantis to launch outward extension of station truss.



A trying summer for NASA - Small cracks in fuel flow liners grounded shuttle fleet.



Rendezvous and docking - Description of Atlantis' trek to catch the station.



Installing the S1 truss - The day after docking the Starboard 1 truss will be attached to the station with help of spacewalkers.



Plugging potential leaks - The second spacewalk will ready the S1 ammonia cooling system.



Odds and ends - The remaining highlights of the mission include a radiator deploy, treadmill repair and a final spacewalk.



Undocking, re-entry and landing - A look at the conclusion of Atlantis' 11-day voyage.



STS-112 index - A full directory of our mission coverage.



Hubble
Astronomy Now presents Hubble: the space telescope's view of the cosmos. A collection of the best images from the world's premier space observatory.


U.S. STORE

U.K. & WORLDWIDE STORE

The ultimate Apollo 11 DVD
This exceptional chronicle of the historic Apollo 11 lunar landing mission features new digital transfers of film and television coverage unmatched by any other.


U.S. STORE

U.K. WORLDWIDE STORE

More DVDs
The first in a series of space DVDs is now available from the Astronomy Now Store. Relive shuttle Columbia's March flight to refurbish the Hubble Space Telescope in spectacular DVD quality.


U.S. STORE

U.K. & WORLDWIDE STORE

The Apollo 14 Complete Downlink DVD set (5 discs) contains all the available television downlink footage from the Apollo 14 mission. A two-disc edited version is also available.


U.S. STORE

U.K. & WORLDWIDE STORE

Hubble Calendar
NEW! This remarkable calendar features stunning images of planets, stars, gaseous nebulae, and galaxies captured by NASA's orbiting Hubble Space Telescope.


U.S. STORE

U.K. & WORLDWIDE STORE


Apollo 15 DVDs
Bring a unique piece of space history to your living room. Two- and six-disc Apollo 15 DVDs will be shipping soon.


U.S. STORE

U.K. & WORLDWIDE STORE