Hurricane threat to mission control could delay launch
BY WILLIAM HARWOOD
STORY WRITTEN FOR CBS NEWS "SPACE PLACE" & USED WITH PERMISSION
Posted: September 30, 2002


If Hurricane Lili continues on its projected course and becomes a real threat to the Houston area, launch of the shuttle Atlantis Wednesday will be delayed a few days, shuttle program manager Ronald Dittemore said today.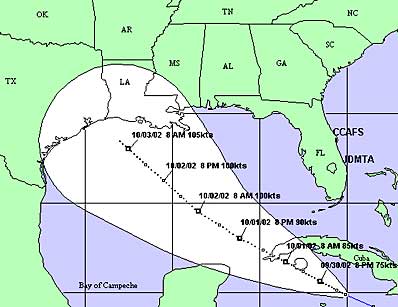 The projected path of Hurricane Lili takes the storm just off the coast of Texas by Thursday. Credit: NASA



"It's a little discouraging to get yourself this far, to get ready for launch and have good weather, basically, in Florida and then find out you have this threat on the Gulf Coast that may cause you to stand down a little bit," Dittemore said. "But there's no rush for us to get focused in on the launch when there are a lot of other things that may cause people to focus on personal and family situations. We're just going to have to wait, we're going to have to watch."

The forecast for Florida calls for a 60 percent chance of acceptable weather Wednesday during Atlantis' 2 p.m.-to-6 p.m. launch window. The odds improve to 70 percent "go" Thursday and 80 percent go Friday. There are no technical problems of any significance.

But the latest forecast from the National Hurricane Center shows Hurricane Lili on a course that could carry it to landfall just east of Houston and the Johnson Space Center.

"We have a lot of concern with that. That's going to be the challenge Mother Nature's going to throw at us this time around," Dittemore said today at a pre-launch news briefing. "We need the weather to be good here in Florida for launch and we also need the weather to be stable in Houston so we don't have the threat of an evacuation of the Johnson Space Center or the mission control center.

"As you know, all control and communication with the space flight reverts over to the Johnson Space Center and the mission control center as soon as the motors ignite," he said. "We do not have redundant capabilities between the control centers."

While shuttle flight controllers could monitor a mission using the launch processing system computers at the Kennedy Space Center, they could not carry out a rendezvous and docking with the international space station. The goal of Atlantis' mission is to deliver and install an outboard segment of the space station's main solar array truss. Rendezvous and docking obviously are required, along with three spacewalks by astronauts David Wolf and Piers Sellers.

Space station flight controllers could oversee U.S. station operations from NASA facilities at a Russian mission control center near Moscow, but they would not be able to orchestrate the planned spacewalks.

"With that hurricane threatening the Gulf Coast, we're going to be conservative and we would not entertain launching until we were sure that hurricane does not present a threat to our mission control center in Houston," Dittemore said.

"There's a lot of uncertainty with projections about where these storms will go. I don't think tomorrow we'll have a lot more information that would help us decide. It's likely we're going to go right on down to the tanking meeting and decide whether we have enough information to be confident one way or the other."

While the details of Atlantis' launch-day countdown will not be released until the launch time is announced 24 hours before liftoff, fueling is expected to begin early Wednesday morning. NASA's mission management team will meet before fueling is scheduled to begin to assess the weather and the status of Atlantis and its systems before giving formal permission to continue the countdown.

"If we're not confident that we can predict the storm will be at a certain place to protect our assets and our people, then at the tanking meeting we'll choose not to tank," Dittemore said. "We're also concerned about making sure the folks down here that are here from Houston for a period of days are not focused on the storm and families while we want to go launch. We don't want to put them in that position. So we would elect not to proceed with launch operations until that scenario is past and there is no concern with their families back at home."

He said "It is likely" that if the storm continues on its present course "that we'll send all the folks home, back to Houston, so they can take care of their immediate needs in the local area and make sure their families are safe. And when that issue is past, we'll look up again and determine when we're going to begin launch operations."

Launch managers plan to meet Tuesday afternoon at 2 p.m. to continue assessing the weather, Lili's track and what might be required to get the 30 or so on-site Johnson Space Center workers back to their homes in Houston, if necessary, before the hurricane might prevent travel.

"It would be wonderful if it would just spin itself out and disappear," Dittemore said. "But that's not likely."