Countdown underway for Wednesday's shuttle launch
BY SPACEFLIGHT NOW
Posted: September 30, 2002 (Updated at 9:19 a.m. EDT)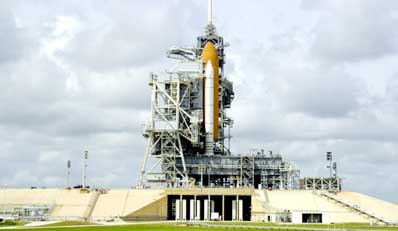 Atlantis on launch pad 39B. Photo: NASA



Obscured by its self-imposed news blackout, NASA started the countdown Sunday for this week's launch of space shuttle Atlantis to continue the construction of the international space station's truss backbone.

The space agency didn't announce until Monday morning whether clocks had begun ticking at Kennedy Space Center in advance of liftoff Wednesday. But shuttle countdowns routinely commence three days before launch.

"I'm pleased to be back here today to report that the STS-112 launch countdown has begun and things are proceeding very well," said Shuttle Test Director Jeff Spaulding. "The shuttle Atlantis is in excellent shape as we continue preparations for Wednesday's launch."

Preps were underway at launch pad 39B Monday to load Atlantis' three onboard fuel cells with liquid oxygen and liquid hydrogen. The fuel cells combine the reactants during the mission to generate electrical power and drinking water as a byproduct.

Given the super-cold nature of the hydrogen and oxygen, the supplies naturally boil away and have to be replenished over time. The on-pad hold time for this mission is five day on the hydrogen side and eight days for oxygen. That means NASA will be capable of making four launch attempts in five days before having to stand down and service the fuel cells.

Air Force weather forecasters are calling for a 60 percent chance of acceptable conditions for launch Wednesday. The main concern will be coastal rain showers.

Shuttle Weather Officer Kathy Winters predicts scattered clouds at 3,000, 10,000 and 25,000 feet, visibility of 7 miles or better, southeasterly winds from 120 degrees at 14 peaking to 20 knots at the launch pad and 12 to 18 knots at the KSC runway, and a temperature of 82 degrees F.

At the overseas emergency landing sites, which Atlantis could divert to in the event of engine failure during ascent, there is a chance of showers at both Zaragoza and Moron, Spain. The Ben Guerir abort site in Morocco is considered a "hot backup" and is not being staffed for this mission.

The Florida outlook improves to a 70 percent chance of launching Thursday and 80 percent on Friday, with the coastal showers still the main threat. Both Trans-Atlantic Landing sites are forecast "go" on Thursday, but showers could be a problem again on Friday.

The six Atlantis astronauts -- commander Jeff Ashby, pilot Pamela Melroy, and mission specialists David Wolf, Sandra Magnus, Piers Sellers and Fyodor Yurchikhin -- arrived at the Cape over the weekend from their home base at Johnson Space Center near Houston, Texas. The crew's trip to the launch site to begin final preparations was under the veil of secrecy, too. Their arrival wasn't confirmed until Monday.

Also as part of NASA's security policy, Wednesday's launch time won't be announced until 24 hours before blastoff. However, officials acknowledge the day's available 10-minute launch window will fall between 2 and 6 p.m. EDT (1800-2200 GMT).

Atlantis is scheduled to remain aloft for 11 days to deliver the Starboard 1, or S1, truss structure to the space station. Shuttle astronauts Wolf and Sellers will perform three spacewalks to hook up the 14-ton truss and deploy equipment.

This will be the 15th shuttle flight to the station since December 1998 and the first since June.


Video coverage for subscribers only:


VIDEO: WATCH MONDAY'S COUNTDOWN STATUS BRIEFING QT or RV


VIDEO: ASTRONAUTS ARRIVE AT KSC FOR LAUNCH QT or RV


MORE: SEE A FULL LISTING OF STS-112 VIDEO


SUBSCRIBE NOW