NASA's shuttle chief defends Atlantis rollback decision
BY WILLIAM HARWOOD
SPACEFLIGHT NOW
Posted: January 16, 2001

| | |
| --- | --- |
| | A file image of solid rocket booster separation as seen from a camera mounted to one of the spent motors. Photo: NASA TV/Spaceflight Now |
Worried about possible problems in shuttle booster wiring, engineers tested 194 cables containing 3,028 electrical conductors. They found electrical continuity problems in just four of those conductors.

Given that more than one such loss of continuity in a single system would be required to trigger a catastrophic failure during launch, the odds are that shuttle Atlantis could have been safely launched this week on a long-awaited space station assembly mission.

Instead, shuttle program manager Ronald Dittemore ordered engineers to haul Atlantis off its launch pad and back to the Vehicle Assembly Building for additional inspections to verify the integrity of 36 multi-wire cables in the shuttle's two solid-fuel boosters.

Launch will be delayed from Friday to no earlier than Feb. 6. While the delay marks a frustrating start to a busy 2001 launch campaign, Dittemore said in the end, the launch team had little choice.

"I've been doing this job for almost two years and I think I've been fairly consistent," he said. "I guard against the phenomena of 'go fever' like it was the plague. And you have to be very sensitive as you get closer to launch.

"I will assure you that this program and the people in this program are extremely sensitive to the fact that we need clear evidence to overcome a challenge or an anomaly that we don't fully understand."

Dittemore made the decision after a three-hour teleconference Monday with engineers and managers at the Johnson Space Center, the Kennedy Space Center and the Marshall Space Flight Center in Huntsville, Ala., where the booster project is managed.

Unlike an infamous teleconference the night before shuttle Challenger's final launch 15 years ago this month, the Marshall booster team recommended delaying launch for additional testing despite a statistical analysis indicating the odds of a catastrophic failure were slim.

"In this instance, we had some statistical analysis that we had performed that indicated, based on statistics alone, that you might be comfortable proceeding with flight," Dittemore said. "And there were a number of folks who felt comfortable with just a statistical analysis.

"There was a another camp that felt ... the hardware was telling us something. We had four failures here that we discovered in our testing, we don't quite understand yet why, and we ought to listen to what the hardware may be trying to tell us and do further inspections."

In the end, Dittemore said, "the prudent thing to do was to go back an inspect."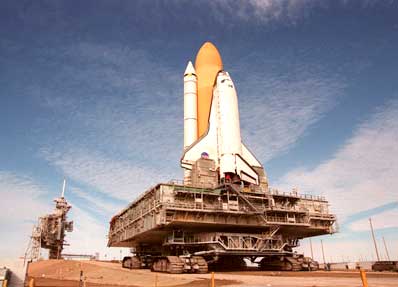 Atlantis heads up the incline at launch pad 39A earlier this month. The shuttle will be rolled off the pad later this week for the wiring inspections. Photo: NASA-KSC



Engineers plan to move Atlantis from pad 39A back to the Vehicle Assembly Building on Friday. Cable inspections will begin Saturday and if no problems are found, the shuttle will be moved back out to the pad Jan. 25 for a launch attempt Feb. 6.

The shuttle's twin solid-fuel boosters provide most of the shuttle's power during the first two minutes of flight. The boosters then are jettisoned, recovered in the Atlantic Ocean and reused.

Each booster is equipped with 105 multi-conductor electrical cables that control a variety of critical functions, including booster separation and self-destruct.

Twenty-four cables in each booster are water tight and reusable, 41 are not waterproof but are reusable and 40 are used only once. Of the 24 waterproof cables, five are located in the external tank attachment ring and 19 are located in a long systems tunnel that runs the length of each rocket.

During the shuttle Endeavour's launch in late November, one of two pyrotechnic circuicts in the left-hand booster's separation system failed to fire. The other circuit fired normally and the booster separated cleanly.

But the failure triggered an engineering probe to make sure Atlantis' boosters were good to go.

As it turned out, the cable that failed in November, located in the external tank attachment ring, showed clear signs of wear and tear. Engineers inspected all of the ETA cables in each of Atlantis' boosters. One cable was replaced and the shuttle was moved to pad 39A on Jan. 4 for launch Jan. 19.

In the meantime, engineers continued testing cables in the booster inventory. And they found four instances where connectivity was lost during testing. All four of the cables in question were 14 to 16 years old.

Complicating the picture, the four inventory failures were not due to wear and tear or ground processing. The cause has not yet been determined.

And that unknown played a critical role in Dittemore's decision.

"Our understanding of it and our comfort level with what caused it and us believing or not whether or not we had a good set of cables on (Atlantis) were all called in question, independent of the math," he said.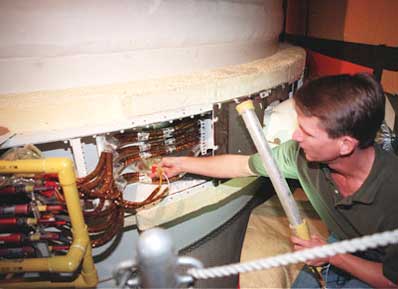 A Kennedy Space Center worker inspects the reusable cables and connectors located inside the external tank attachment ring on Atlantis' left-hand solid rocket booster in December. Photo: NASA-KSC



While engineers tested the 10 ETA ring cables in Atlantis' boosters, they did not test cables in the systems tunnels. Once the shuttle is back in the Vehicle Assembly Building, engineers will do just that, carrying out "wiggle tests" to verify continuity.

In the wiggle test, a cable is physically moved from side to side and up and down while power is applied. Dittemore described it as a "fairly severe test" that subjects each cable to more extreme bending than it would experience during an actual launch.

Only 36 of the 38 systems tunnel cables will be tested. The other two are used in systems that operate after booster separation.

"We do know we can screen the cables to be functional and safe to fly even though we don't understand the root cause," Dittemore said. "So even though we have some more work to do, we do know we're safe to fly given that we screen then properly."

It is not yet known what impact any cable replacement work might have on Atlantis' eventual launch date. The current Feb. 6 target assumes no problems are found.