Atlantis hauled to launch pad
BY WILLIAM HARWOOD
SPACEFLIGHT NOW
Posted: January 3, 2001


The space shuttle Atlantis was hauled to launch pad 39A today for work to ready the ship for launch January 19 on a critical mission to attach the $1.4 billion U.S. laboratory module, Destiny, to the international space station.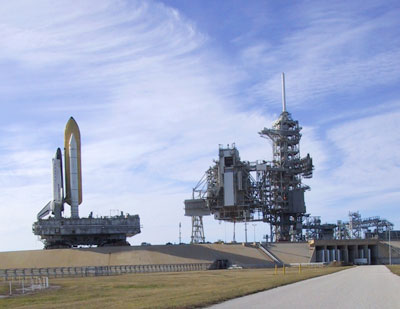 The rollout was stalled 24 hours so workers could swap out the tracked crawler-transporter with another one. The original tracked vehicle had computer problems on Tuesday. Photo: Justin Ray/Spaceflight Now



Running a day late because of computer problems with the shuttle's original crawler-transporter, engineers began Atlantis' 3.5-mile trip to the pad at 10:21 a.m. using a different Apollo-era crawler.

This time, the five-and-a-half-hour trip proceeded smoothly and Atlantis's mobile launch platform was lowered onto its massive launch pad support jacks shortly after reaching the pad at 3:45 p.m.

The 32,000-pound Destiny module, the scientific heart of the international space station, was moved to the launch pad overnight Tuesday and installed in the rotating service structure's payload changeout room. The Boeing-built lab will be loaded into Atlantis's cargo bay Saturday.

Four members of the shuttle's crew, meanwhile - commander Kenneth Cockrell, pilot Mark Polansky and spacewalkers Thomas Jones and Robert Curbeam - flew to Florida today to participate in a dress-rehearsal countdown this weekend.

Flight engineer Marsha Ivins was ill and plans to join her crewmates at the Kennedy Space Center later this week.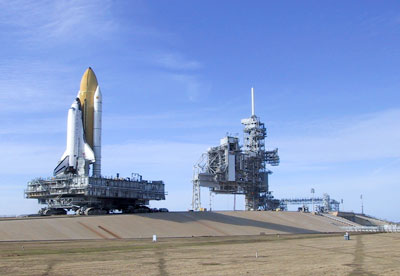 Atlantis heads up the hill to launch pad 39A Wednesday afternoon at the conclusion of a 3.5-mile trek from the Vehicle Assembly Building. Photo: Justin Ray/Spaceflight Now



After reviewing emergency procedures Friday and meeting briefly with reporters, the astronauts are scheduled to strap in aboard Atlantis early Saturday for the final hours of a mock countdown.

An official launch date has not yet been set. But NASA managers believe Atlantis can be ready for launch on the 102nd shuttle mission by Jan. 19 if no problems develop between now and then.

The launch window for Jan. 19 will open at 2:05:59 a.m. EST and close at 2:15:58 a.m. The preferred launch time within that window, that is, the moment Earth's rotation carries pad 39A into the plane of the space station's orbit, is 2:10:42 a.m.

An on-time launching would result in a rendezvous and docking with the international space station on the third day of the mission.
| | |
| --- | --- |
| | Atlantis atop pad 39A. Photo: Justin Ray/Spaceflight Now |
Should the flight slip to Jan. 20, the preferred launch time would be 1:48:06 a.m., setting up a flight-day four rendezvous.

The Air Force Eastern Range, the network of tracking equipment that supports all launches from Florida, is already booked Jan. 21-23 for pre-launch tests of an Air Force Titan 4B rocket at the nearby Cape Canaveral Air Force Station.

Additional shuttle launch opportunities are available Jan. 24, 25 and 26.