Station crew will miss the views, but ready for landing
BY JUSTIN RAY
SPACEFLIGHT NOW
Posted: October 21, 2003; Updated Oct. 26 with revised entry/landing times


After six months of circling the Earth inside the International Space Station, Expedition 7 commander Yuri Malenchenko and NASA science officer Ed Lu are preparing to return home Monday night aboard a Russian Soyuz capsule.


| | |
| --- | --- |
| | The Expedition 7 crew is nearing the end of its stay on the station. Photo: NASA |
"We are ready to come home," Lu said during a live media interview Tuesday. "I'm both looking forward to it and not looking forward to it because I still enjoy it up here. I'm going to miss the views and I will miss the place. I'm going to miss the work that we do. At the same time, I do want to get back to my friends and family and my life back on the ground."

Undocking of the Soyuz TMA-2 capsule is scheduled for 2317 GMT (6:17 p.m. EST) Monday. The craft will fire its engines for four minutes, 17 seconds to brake from orbit starting at 0147:00 GMT (8:47:00 p.m. EST).

Separation between the Soyuz spacecraft's orbital, descent and propulsion modules is expected at 0213:48 GMT (9:13:48 p.m. EST), followed by atmospheric entry at 0216:54 GMT (9:16:54 p.m. EST). The crew will be strapped into their seats within the descent module.

The capsule's parachutes will be commanded to start deploying in sequence at 0225:40 GMT (9:25:40 p.m. EST) to slow the rate of descent. Touchdown in Kazakhstan is targeted for 0240:40 GMT (9:40:40 p.m. EST) to end the 185-day Expedition 7 flight.

Launched to the station in April aboard the Soyuz TMA-2 spacecraft, the Expedition 7 crew had the mission of keeping the orbiting lab complex afloat while construction was suspended by the Columbia tragedy.

Over the past half-year, they have maintained station systems and conducted some science experiments. This week, they are handing controls to the Expedition 8 crew of commander Michael Foale and flight engineer Alexander Kaleri.

Expedition 8 arrived aboard the station early Monday to begin nearly eight days of handover activities -- learning where items are stored, lessons about life aboard the complex and how equipment operates -- before Expedition 7 departs.

In addition, Expedition 7 must finish packing its gear and some science experiments to haul back to Earth.

"We have a very busy period," Malenchenko said.

"During these last days, we have to make sure we thoroughly enjoy our stay onboard the station as much as possible and watch the Earth because this is a truly unique place and nobody knows whether it will be possible to come back to the station again," he added.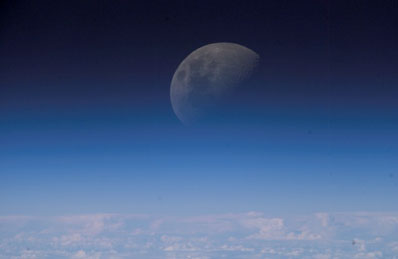 A view out the window from the International Space Station shows the Moon over the Earth's atmosphere. Photo: NASA



Monday's arrival of Expedition 8 marked the first time that Malenchenko and Lu had visitors since taking over the station from Expedition 6 in May. Lu said the arrival stirred a mix of feelings.

"We are happy to see them. They are good friends and it's nice to know we are going home soon. But at the same time it also means the end of our great adventure here is near."

Despite being in space with just one other human for six months, Lu said it hasn't been lonely.

"We have such good contact with the ground nowadays. We have e-mail, we have the ability to talk to our family and friends, both on telephone hookup and video conferences.

"So besides just talking amongst ourselves, the two of us, we also had great contact with our friends and family on the ground. So it really was not lonely at all. I didn't find it that way at all."
| | |
| --- | --- |
| | The five crewmembers gathered in the Destiny module for Tuesday's media interviews. Photo: NASA TV/Spaceflight Now |
Lu acknowledged that before launching in the April, he wondered if he was ready to spend such a long time in orbit with just a two-man crew.

"Actually, I did worry a little bit about it before the flight. I wasn't sure what it was going to be like for six months with no visitors. In the end, I was extremely surprised at how fast it went. The time just flew by, and I can't believe it's already over. I'm still enjoying myself up here -- had a great time."

The space station program cut the size of resident crews from three to two people while shuttle missions are grounded. Without shuttles routinely delivering supplies to the outpost, the amount of consumables aboard the station cannot sustain three full-time occupants. In absence of the shuttles, Russian Progress cargo freighters are performing the entire job of resupply for the station.

Joining Expedition 8 during last weekend's launch to the station was European astronaut Pedro Duque. He is spending this week carrying out science research in the U.S. Destiny laboratory and Russian Zvezda service modules before riding back to Earth with Expedition 7.

Duque said Tuesday that the science program was underway.

"It's going reasonably well," he reported in an interview.


Video coverage for subscribers only:


VIDEO: 8-MINUTE NARRATED LOOK BACK AT EXPEDITION 7 QT


VIDEO: PROFILES OF YURI MALENCHENKO AND ED LU QT


VIDEO: TUESDAY'S IN-FLIGHT INTERVIEW WITH ABC NEWS QT


VIDEO: CREW INTERVIEWED BY THE HOUSTON CHRONICLE QT


SUBSCRIBE NOW