New station residents arrive at their orbiting home
BY JUSTIN RAY
SPACEFLIGHT NOW
Posted: October 20, 2003


Two men who know what it's like to live in orbit for months at a time safely arrived at the International Space Station this morning for a half-year tour-of-duty.


| | |
| --- | --- |
| | The International Space Station as seen from an engineering camera mounted on the Soyuz capsule's nose. Photo: NASA TV/Spaceflight Now |
Following a weekend flight up to the station, Expedition 8 commander Michael Foale and flight engineer Alexander Kaleri, both former residents aboard the Russian Mir station, are taking the reins from the outgoing Expedition 7 crew of commander Yuri Malenchenko and NASA science officer Ed Lu.

Joining Expedition 8 on the launch to the station was the European Space Agency's Pedro Duque. The Spanish astronaut will spend the next week running science experiments in the station's lab before riding back to Earth with Expedition 7 aboard the Soyuz TMA-2 spacecraft.

Today's automated docking of the new Soyuz TMA-3 capsule to the station's Russian Pirs module occurred smoothly at 0716 GMT (3:16 a.m. EDT) as the two spacecraft flew 235 miles above Central Asia. Hatches between the Soyuz and station were opened two orbits later at 1019 GMT (6:19 a.m. EDT).

"I congratulate all of our partners on this spectacular success today," NASA's associate administrator for spaceflight, Bill Readdy, said at the post-docking news conference from Russia's mission control center near Moscow.

"Expedition 8 will start the fourth year of permanent habitation and science onboard the ISS.

"It is more interesting to think of what we have accomplished together because ISS right now is the size, on-orbit, of a jumbo jet -- all assembled from pieces, modules, trusses and racks from around the world. That is truly a remarkable accomplishment in today's age. But clearly all of that hardware did not integrate itself, or launch itself, or assemble itself on-orbit. This magnificent accomplishment is a great credit to the people in this room, people of vision, people of courage and people of persistence who made this all happen so successfully.
| | |
| --- | --- |
| | The Expedition 7 crew's Soyuz TMA-2 is seen docked to the Zarya module (left) and the newly-arrived Soyuz TMA-3 with Expedition 8 is seen docked to the Pirs module (right). Photo: NASA TV/Spaceflight Now |
"Without question we have had tremendous challenge, certainly this year with the NASA family. But just like any other family, our international partners have been there for us. As a result our continuous presence on the International Space Station continues, which gives me tremendous confidence that even with challenges unknown in the future that we will successfully accomplish those challenges, continue assembly of International Space Station and reap the scientific harvest in the decades to come."

Orbital construction of the station is currently suspended because NASA's shuttle fleet -- the space trucks needed to launch the modules and truss -- are grounded in the wake of the Columbia tragedy. The U.S. space agency hopes to get the shuttles flying again next fall.

In the meantime, the station is being occupied with smaller crews to oversee systems and perform maintenance until assembly can resume. Expedition 7 was the first crew launched after Columbia, boarding the station in late-April for a six-month mission that now draws to a close.

The official change-of-command between Expeditions 7 and 8 will occur a week from today. Then, Malenchenko, Lu and Duque will float into the Soyuz TMA-2 capsule and undock from the station for landing in Kazakhstan at 0236 GMT (9:36 p.m. EST) Monday night.

Expedition 8's Foale and Kaleri will be left alone in orbit for their planned 194-day mission, settling into the life of space station residents.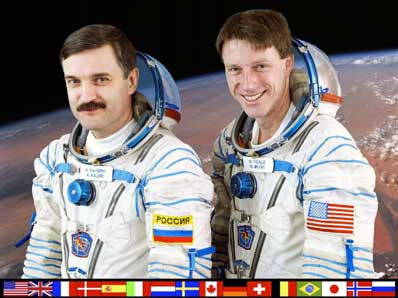 This is the official crew portrait for Expedition 8. Photo: NASA



Both men have previous long-duration spaceflight experience thanks to Russia's space station Mir. Foale spent four-and-a-half months on Mir in 1997 in a cooperative program between NASA and the Russian space agency. Kaleri flew three Mir missions, including the final manned flight to the complex before it was deorbited, to accumulate more than a year's time living in space.

Throughout Expedition 8, Foale and Kaleri will be focused on maintaining the station's systems and keeping the complex safely in orbit.

"The biggest goal for us as a crew...is to maintain a human presence onboard this international project, the International Space Station," Foale said before the launch.

A science program is also planned to perform as much research as their time permits. And in February, a spacewalk outside the Russian segment of the station is scheduled to exchange external experiments and begin outfitting the Zvezda service module with equipment needed to support the European Automated Transfer Vehicles that will bring supplies to the station starting late next year.

Over the next few days, the focus is placed on handover chores between the Expedition 7 and 8 crews.

"I will spend my time with Ed Lu, and I hope with Ed to learn everything he has learned about the United States' space segment," Foale said. "That's the Lab, the Destiny module, learn about the Airlock, the Node, and all of our stowage there and all of our equipment there, and its operations with the control center here in Houston. However, I must not ignore what's going on in the Russian segment, where Sasha Kaleri will be spending a lot of time with Malenchenko and learning about Russian operations, work in the Service Module and in the FGB, and in their docking module.

"We're going to kind of split off a little bit -- Americans are going to go to the right, Russians are going to go to the left, we'll work but then we'll come back together, tag up, say, at midday for lunch, whatever, and then go off our separate ways to continue what we call handover."


Video coverage for subscribers only:


VIDEO: SOYUZ DOCKS TO THE STATION AS SEEN LIVE QT


VIDEO: PROFILE OF EXPEDITION 8 COMMANDER FOALE QT


VIDEO: PROFILE OF EXPEDITION 8 FLIGHT ENGINEER KALERI QT


VIDEO: PROFILE OF SPANISH ASTRONAUT DUQUE QT


SUBSCRIBE NOW