Space station receives latest Russian resupply ship
BY JUSTIN RAY
SPACEFLIGHT NOW
Posted: September 12, 2010


A Russian cargo freighter flying on autopilot performed a successful rendezvous and docking with the space station this morning, delivering two-and-a-half tons of supplies for the international outpost in uneventful fashion.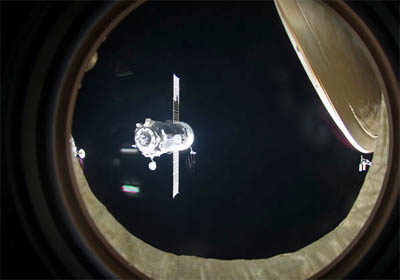 File photo of Progress spacecraft at the station. Credit: NASA



The Progress M-07M spacecraft linked up to the aft docking port of the station's Zvezda service module at 7:58 a.m. EDT (1158 GMT) while soaring 216 miles over Mongolia.

"Docking confirmed," NASA commentator Rob Navias announced from Houston's Mission Control Center. "A textbook approach and rendezvous for the Progress 39 cargo craft."

There was no repeat of the communications problem that interfered with the previous resupply ship's rendezvous in July.

Hooks and latches were engaged a few minutes later to firmly secure the 24-foot-long craft to the station.

"Everything went by the book today. No problems encountered, no commanding issues encountered as was the case in July. It all went smooth as silk," Navias said.

The Expedition 24 crew of commander Alexander Skvortsov, Russian cosmonauts Mikhail Kornienko and Fyodor Yurchikhin, and NASA astronauts Tracy Caldwell Dyson, Doug Wheelock and Shannon Walker plan to open hatches and enter the Progress later today.

The cargo includes 2,645 pounds of equipment, food, clothing, life support system gear, 1,918 pounds of propellant to replenish reservoirs that feed the Russian maneuvering thrusters, 375 pounds of water and some 110 pounds of oxygen and air for the station's atmosphere.

The Progress was launched Friday atop a Soyuz rocket from Baikonur Cosmodrome, reaching a preliminary orbit of 148 by 121 miles. A series of precise engine firings over the past two days guided the freighter to the rendezvous.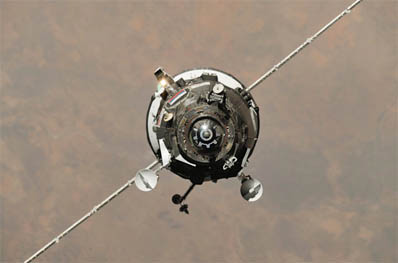 File photo of Progress spacecraft at the station. Credit: NASA



After arriving in range of the space station, the vessel began a flyaround maneuver to get lined up with the docking port and then executed a roll maneuver to properly orient its forward docking probe with Zvezda.

A brief stationkeeping hold with about 550 feet between the freighter and station allowed Russian flight controllers to assess systems before giving approval to commence the 11-minute final approach.

The ship's automated docking system did its job and drove the craft to the linkup just before an orbital sunset.

"Everything is nominal," a one of the cosmonauts reported as the Progress closed in. "One meter... and we have contact."

"Copy, and we see contact and capture," a Russian flight controller replied. "Congratulations."

It is the 39th Progress to dock with the station over its decade-long life and the fourth of five now scheduled for this year.

See our earlier coverage of Progress 39P:

Skvortsov, Kornienko and Caldwell Dyson will soon wrap up their half-year mission and return to Earth. Undocking is planned for September 23 at 9:34 p.m. and landing occurs a few hours later at 12:55 a.m. That signals the start of Expedition 25 with Wheelock as the new commander.

The next three-man team -- Scott Kelly, Alexander Kaleri and Oleg Skripochka -- will launch from Baikonur on October 7 at 7:10 p.m. and dock October 9 at 8:01 p.m. EDT.

The Progress 40P launch is targeted for October 27, just five days before space shuttle Discovery blasts off for its final voyage before retirement.


Additional coverage for subscribers:


VIDEO: WATCH CARGO FREIGHTER DOCK TO SPACE STATION PLAY


VIDEO: LAUNCH OF SOYUZ ROCKET WITH PROGRESS 39P PLAY



VIDEO: POST-SPACEWALK NO. 3 STATUS BRIEFING PLAY


VIDEO: SPACEWALKERS CONCLUDE THE THIRD EVA PLAY


VIDEO: AMMONIA HOSES ARE ATTACHED TO THE PUMP PLAY


VIDEO: POWER AND DATA LINES BRING PUMP TO LIFE PLAY


VIDEO: REPLACEMENT PUMP SECURELY BOLTED DOWN PLAY


VIDEO: PUMP INSERTED INTO SPACE STATION SLOT PLAY


VIDEO: SPACEWALKER HAULS PUMP OVER TO TRUSS PLAY


VIDEO: RETRIEVING THE REPLACEMENT PUMP PLAY


VIDEO: SPACEWALK NO. 3 BEGINS PLAY



VIDEO: POST-SPACEWALK NO. 2 STATUS BRIEFING PLAY


VIDEO: FAILED COOLANT PUMP REMOVED FROM THE STATION PLAY


VIDEO: ROBOT ARM MANEUVERS SPACEWALKER AROUND PLAY


VIDEO: POWER AND DATA LINES UNPLUGGED PLAY


VIDEO: TROUBLESOME UMBILICAL DETACHED PLAY


VIDEO: NO REPEAT OF AMMONIA LEAK PLAY



VIDEO: POST-SPACEWALK NO. 1 STATUS BRIEFING PLAY


VIDEO: PROBLEM CONNECTOR FINALLY FREED BUT THEN LEAKS PLAY


VIDEO: LEFT-HAND AMMONIA UMBILICAL COMES OFF WITH EASE PLAY


VIDEO: SKIPPING OVER PROBLEM CONNECTOR TO DO ANOTHER PLAY


VIDEO: TROUBLES AND ADVICE FOR STUCK AMMONIA LINE PLAY


VIDEO: PUMP'S SMALL COOLING LINE UNPLUGGED PLAY


VIDEO: SPACEWALKER DOUG WHEELOCK WORKS ON OLD PUMP PLAY


VIDEO: BRIEFING ON PUMP FAILURE AND SPACEWALKS PLAY



VIDEO: FULL BROADCAST OF SUPPLY SHIP'S DOCKING PLAY


VIDEO: WATCH CARGO FREIGHTER DOCK TO SPACE STATION PLAY


VIDEO: PROGRESS 38P FREIGHTER LAUNCHED PLAY



VIDEO: ORANGE COUNTY AND AL JAZEERA MEDIA INTERVIEWS PLAY



VIDEO: SOYUZ RELOCATED FROM ZVEZDA TO RASSVET PLAY



VIDEO: WELCOME CEREMONY FOR THE NEW RESIDENTS PLAY


VIDEO: POST-DOCKING NEWS BRIEFING IN RUSSIA PLAY


VIDEO: SOYUZ DOCKS TO THE SPACE STATION PLAY



VIDEO: FULL EXPERIENCE FROM LIFTOFF TO ORBIT PLAY


VIDEO: ENTIRE EXPEDITION 24 LAUNCH BROADCAST PLAY


VIDEO: CREW DEPARTS SITE 254 FOR LAUNCH PAD PLAY


VIDEO: VIPS MEET THE CREW ON LAUNCH MORNING PLAY


VIDEO: CREW MEMBERS DON THEIR SOKOL SPACESUITS PLAY


VIDEO: LAUNCH MORNING TRADITIONS AT CREW QUARTERS PLAY



VIDEO: SOYUZ ROCKET ROLLED TO THE LAUNCH PAD PLAY


VIDEO: POST-ROLLOUT COMMENTS FROM NASA OFFICIAL PLAY


VIDEO: ASSEMBLY OF SOYUZ COMPLETED IN THE HANGAR PLAY


VIDEO: HIGHLIGHTS OF CREW'S ACTIVITIES AT BAIKONUR PLAY


VIDEO: CREW'S DEPARTURE FROM STAR CITY TRAINING BASE PLAY


VIDEO: PRIME AND BACKUP CREWS MEET WITH REPORTERS PLAY


VIDEO: CEREMONIAL VISIT TO RED SQUARE IN MOSCOW PLAY


SUBSCRIBE NOW