Space station cargo vessel launched from Baikonur
BY JUSTIN RAY
SPACEFLIGHT NOW
Posted: September 10, 2010


A robotic Russian resupply ship to service the International Space Station successfully soared into orbit today carrying two-and-a-half tons of cargo, food and water for the high-flying laboratory.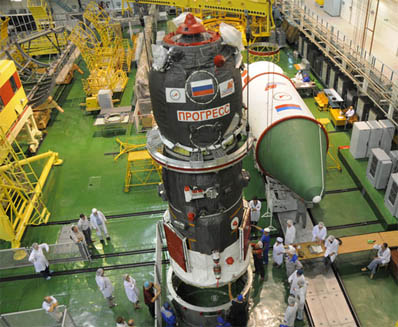 The Progress 39P spacecraft during launch preps at Baikonur. Credit: Energia



The Progress freighter blasted off atop a Soyuz booster from the Baikonur Cosmodrome in Kazakhstan at 6:22 a.m. EDT (1022 GMT) and quickly disappeared into the overcast sky. The liftoff had been delayed two days because of high winds at the remote launch site.

A preliminary orbit was achieved after a nine-minute ascent provided by the three-stage rocket, and onboard commands were issued to unfurl the craft's communications and navigation antennas and extend two power-generating solar arrays that span 35 feet.

A series of precise engine firings scheduled for later today and again on Saturday will guide the spacecraft toward its automated docking Sunday at 7:58 a.m. EDT (1158 GMT).

Today's launch is known in the station's assembly matrix as Progress mission 39P. The spacecraft's formal Russian designation is Progress M-07M.

The 24-foot long ship will link up with the aft port on the Zvezda service module, a spot vacated by the Progress 38P vessel that was jettisoned a week ago.

That previous spacecraft will be remembered for the difficulties encountered during its initial rendezvous, causing the freighter to abort the automated docking and safely sail by the orbiting complex.

The Progress went into the standby condition when the communications link between the ship and station was interrupted. Engineers later traced the interference to a television transmitter used in the backup docking equipment that is available for the cosmonauts to manually fly the freighter via remote control.

The spacecraft intercepted the station again a few days later and successfully docked on the primary KURS autopilot system. The cosmonauts didn't turn on equipment in the manual TORU system during that rendezvous to prevent the interference.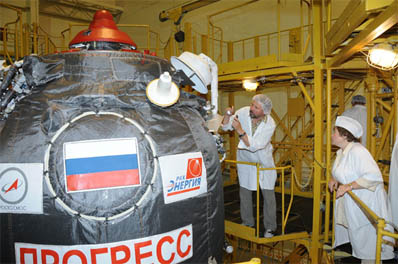 The Progress 39P spacecraft during launch preps at Baikonur. Credit: Energia



To ensure the issue doesn't repeat when the new Progress 39P arrives Sunday morning, Russian engineers made a slight modification to the manual docking system's activation time so it occurs as late as possible, just prior to the final test of that so-called TORU equipment. The change should prevent any inadvertent signals from the automated KURS docking system from interfering with TORU's power up.

The docking is supposed to happen with the autopilot in control. However, the manual system is brought online as a "hot backup" for the crew to engage with a moment's notice.

The cargo-delivery vehicle is hauling two-and-a-half tons of supplies to the station. The "dry" cargo tucked aboard the Progress amounts to 2,645 pounds in the form of spare parts, life support gear and equipment hardware.

The refueling module carries 1,918 pounds of propellant for transfer into the Russian segment of the complex to feed the station's maneuvering thrusters. The vessel also has 375 pounds of water and 110 pounds of oxygen and air.

It'll remain attached to the station until December 20.

The space station is staffed by the Expedition 24 crew of commander Alexander Skvortsov, Russian cosmonauts Mikhail Kornienko and Fyodor Yurchikhin, and NASA astronauts Tracy Caldwell Dyson, Doug Wheelock and Shannon Walker.

The cosmonauts spent time Tuesday reviewing procedures and conducting refresher training on operating the TORU system just in case it is needed.

The following timeline shows the key events scheduled from launch until docking for the Progress freighter:

Day 1 events - Friday

Event
Mission Time
Eastern Time
LAUNCH
0/00:00:00
6:22:57 a.m.
Orbit Insertion
0/00:08:45
6:31:42 a.m.
Maneuver DV1
(19.72 m/s)
0/03:39:22
10:02:19 a.m.
Maneuver DV2
(12.27 m/s)
0/04:19:47
10:42:44 a.m.
Day 2 events - Saturday

Event
Mission Time
Eastern Time
Maneuver DV3
(2.00 m/s)
1/0 1:02:12
7:25:09 a.m.
Day 3 events - Sunday

Event
Mission Time
Eastern Time
Start Automated
Rendezvous
1/23:08:57
5:31:54 a.m.
DV4 / Impulse 1
(16.249 m/s)
1/23:30:21
5:53:18 a.m.
Impulse 2
(1.155 m/s)
1/23:52:29
6:15:26 a.m.
Progress Kurs-A
activation
1/23:55:33
6:18:30 a.m.
Zvezda Kurs-P
activation
1/23:57:33
6:20:30 a.m.
DV5 / Impulse 3
(24.076 m/s)
2/00:15:42
6:38:39 a.m.
Good Kurs-P data
(Range 80 km)
2/00:20:57
6:43:54 a.m.
Kurs-A and Kurs-P
short test
(Range 15 km)
2/00:41:57
7:04:54 a.m.
Orbital sunrise
2/00:43:44
7:06:41 a.m.
Start Zvezda transmitter
for TORU link
(Range 9 km)
2/00:47:37
7:10:34 a.m.
Progress TV
activation
(Range 8 km)
2/00:48:57
7:11:54 a.m.
Start Progress receiver
for TORU link
(Range 3 km)
2/00:56:37
7:19:34 a.m.
Impulse 4
(6.476 m/s)
2/00:57:14
7:20:11 a.m.
TORU command
link test
(Range 2 km)
2/00:59:17
7:22:14 a.m.
Impulse 5
(5.328 m/s)
2/01:01:42
7:24:39 a.m.
Impulse 6
(2.293 m/s)
2/01:04:17
7:27:14 a.m.
Start flyaround
2/01:07:23
7:30:20 a.m.
Start stationkeeping
2/01:17:23
7:40:20 a.m.
Start final approach
2/01:24:03
7:47:00 a.m.
DOCKING
2/01:35:03
7:58:00 a.m.


Data source: NASA



Additional coverage for subscribers:


VIDEO: POST-SPACEWALK NO. 3 STATUS BRIEFING PLAY


VIDEO: SPACEWALKERS CONCLUDE THE THIRD EVA PLAY


VIDEO: AMMONIA HOSES ARE ATTACHED TO THE PUMP PLAY


VIDEO: POWER AND DATA LINES BRING PUMP TO LIFE PLAY


VIDEO: REPLACEMENT PUMP SECURELY BOLTED DOWN PLAY


VIDEO: PUMP INSERTED INTO SPACE STATION SLOT PLAY


VIDEO: SPACEWALKER HAULS PUMP OVER TO TRUSS PLAY


VIDEO: RETRIEVING THE REPLACEMENT PUMP PLAY


VIDEO: SPACEWALK NO. 3 BEGINS PLAY



VIDEO: POST-SPACEWALK NO. 2 STATUS BRIEFING PLAY


VIDEO: FAILED COOLANT PUMP REMOVED FROM THE STATION PLAY


VIDEO: ROBOT ARM MANEUVERS SPACEWALKER AROUND PLAY


VIDEO: POWER AND DATA LINES UNPLUGGED PLAY


VIDEO: TROUBLESOME UMBILICAL DETACHED PLAY


VIDEO: NO REPEAT OF AMMONIA LEAK PLAY



VIDEO: POST-SPACEWALK NO. 1 STATUS BRIEFING PLAY


VIDEO: PROBLEM CONNECTOR FINALLY FREED BUT THEN LEAKS PLAY


VIDEO: LEFT-HAND AMMONIA UMBILICAL COMES OFF WITH EASE PLAY


VIDEO: SKIPPING OVER PROBLEM CONNECTOR TO DO ANOTHER PLAY


VIDEO: TROUBLES AND ADVICE FOR STUCK AMMONIA LINE PLAY


VIDEO: PUMP'S SMALL COOLING LINE UNPLUGGED PLAY


VIDEO: SPACEWALKER DOUG WHEELOCK WORKS ON OLD PUMP PLAY


VIDEO: BRIEFING ON PUMP FAILURE AND SPACEWALKS PLAY



VIDEO: FULL BROADCAST OF SUPPLY SHIP'S DOCKING PLAY


VIDEO: WATCH CARGO FREIGHTER DOCK TO SPACE STATION PLAY


VIDEO: PROGRESS 38P FREIGHTER LAUNCHED PLAY



VIDEO: ORANGE COUNTY AND AL JAZEERA MEDIA INTERVIEWS PLAY



VIDEO: SOYUZ RELOCATED FROM ZVEZDA TO RASSVET PLAY



VIDEO: WELCOME CEREMONY FOR THE NEW RESIDENTS PLAY


VIDEO: POST-DOCKING NEWS BRIEFING IN RUSSIA PLAY


VIDEO: SOYUZ DOCKS TO THE SPACE STATION PLAY



VIDEO: FULL EXPERIENCE FROM LIFTOFF TO ORBIT PLAY


VIDEO: ENTIRE EXPEDITION 24 LAUNCH BROADCAST PLAY


VIDEO: CREW DEPARTS SITE 254 FOR LAUNCH PAD PLAY


VIDEO: VIPS MEET THE CREW ON LAUNCH MORNING PLAY


VIDEO: CREW MEMBERS DON THEIR SOKOL SPACESUITS PLAY


VIDEO: LAUNCH MORNING TRADITIONS AT CREW QUARTERS PLAY



VIDEO: SOYUZ ROCKET ROLLED TO THE LAUNCH PAD PLAY


VIDEO: POST-ROLLOUT COMMENTS FROM NASA OFFICIAL PLAY


VIDEO: ASSEMBLY OF SOYUZ COMPLETED IN THE HANGAR PLAY


VIDEO: HIGHLIGHTS OF CREW'S ACTIVITIES AT BAIKONUR PLAY


VIDEO: CREW'S DEPARTURE FROM STAR CITY TRAINING BASE PLAY


VIDEO: PRIME AND BACKUP CREWS MEET WITH REPORTERS PLAY


VIDEO: CEREMONIAL VISIT TO RED SQUARE IN MOSCOW PLAY


SUBSCRIBE NOW