Fresh batteries, gyros to extend Hubble's life
BY WILLIAM HARWOOD
STORY WRITTEN FOR CBS NEWS "SPACE PLACE" & USED WITH PERMISSION
Posted: May 6, 2009


From an operational standpoint, the two most serious issues facing Hubble are the observatory's batteries and gyros. The gyroscopes, which help Hubble slew and lock onto targets, are the limiting factor on science. But the batteries, which have never been replaced, are the limiting factor when it comes to simply keeping the telescope alive.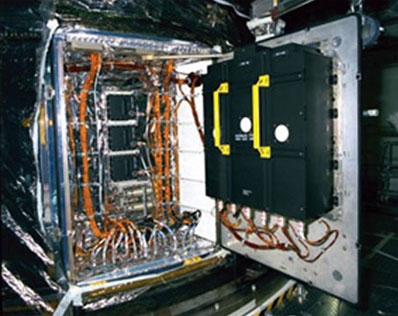 One of Hubble's battery packs. Credit: NASA



When Hubble was launched in 1990, its six state-of-the-art batteries, charged during the daylight portion of each orbit, provided about 550 amp hours of capacity to keep the telescope warm and to run its instruments, computers and communications systems during orbital darkness.

At the end of 2005, the batteries had about 300 amp hours of capacity. A 2004 battery test showed they were declining at an average of about 6.3 amp hours per battery per year.

"In order to get through an orbital night period, we need 40 amp hours total for the whole system," Burch said in a 2004 interview. "But that means you would come out of the orbital night period with nothing, so you need some reserve. It's sort of like flying an airplane. You wouldn't fill the tanks with just enough gas to get there. You'd want extra.

"So our benchmark that we've set for ourselves is we would like a minimum of 110 amp hours. (That) would give us one orbit to cope with any kind of a major failure on the system and entry into a safe mode or something like that."

Hubble cannot survive without power. Within days of a total power loss, low temperatures would cause titanium fittings to unbond and the optical system would lose its critical alignment. In 2004, engineers believed Hubble would reach that 110-amp-hour point in late 2008 or 2009.

"We've now extended that based on the latest data that we've taken," Burch said in a November 2005 interview. "Our best estimate at the moment is we think we're good out to the middle of 2010, so we've got about a four-and-a-half-year window to get up there."

Engineers bought the extra time by changing the way the batteries are recharged.

"What's happened with the batteries is we have become smarter in managing them and we have been able to arrest the rate of decline and their current capacity has stayed about the same for the last couple of years and it's on the order of 300 amp hours," he said in 2008. "We modified our method of handling the recharging of them, we also are avoiding deep discharging them. So-called battery reconditioning turns out to have negative aspects to it. ... Overall, it hurts the batteries in terms of their charge capacities. So we've ceased and desisted on that.

"The batteries are kind of going sideways. You might say, well gosh, that's not too bad. Why not just not change them out? The thing is, they are 20 years old. They were built a couple of years before we launched in '90. We're so far beyond the design lifetime it's anybody's guess as to how long they could continue to go. We know it's not infinite. So our best judgment is we should go ahead and still change them out. However, there are some reduced mission scenarios where if we got into an extreme case of having lost a few EVA days, we, in fact, might only change out one module. That could come into play, but only a very extreme situation."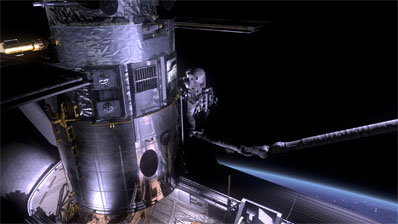 An artist's concept shows a spacewalker working on replacing Hubble's batteries. Credit: NASA



Hubble's gyroscopes are another pressing concern. The telescope was designed with redundancy in mind and while it was equipped with six gyros, only three were required for science operations. But gyros 2, 3 and 5 have failed and gyro 6 exhibits symptoms of a problem that eventually could knock it out of action.

"We're flying on 1 and 6. 4 is in reserve," Burch said. "However, 6 you may recall has some flaky characteristics that were detected not too long after it was installed on servicing mission 3A. We suspect it has to do with the suspension system in it. When you slew the observatory, the drift rate on the gyro changes significantly on it. That's the bad news. The good news is, it changes in a very predictable way. We cleverly put some flight software on board that enables us to use gyro 6 and not be confused or whatever by the shift in the gyro drift bias.

"Now gyro 1 recently had a sudden surge in its motor current which is indicative of a temporary rotor restriction event. And this has happened (several) times. The current has gone up, but it's come back down. But it's still running at a value slightly higher than normal. So our best experts and our past experience tell us 1 is living on borrowed time and it could go at any time. Gyro 4, although it's off and held in reserve, was used for a long time and has a lot of run time on it. It's up there, it's up around the 50 percent point in terms of probability of failure. It's not clear how long gyro 4 could last if and when we had to turn it on and use it.

"So the bottom line is, all three of the remaining gyros have got liens against them if you will," Burch said. "Six because of the flaky suspension, 1 because of the flaky motor current and 4 because it's got a lot of run time on it. So you ask, how much longer can you guys keep going on gyros, even with a one-gyro science mode, and that becomes highly speculative. ... Our previous calculations showed we could probably get through 2009 with the gyros that we have. I think getting much past 2010 would be a bit of a stretch."

Protecting against future failures, engineers earlier developed complex computer techniques to continue science operations using just two operational gyroscopes in concert with Hubble's magnetic sensing system, fixed-head star trackers and a fine guidance sensor. The new control technique went into operation Aug. 29, 2005. Engineers then developed a one-gyro control mode for worst-case failures.

"Basically what we're doing is, instead of using gyros we're using the other sensors," Burch said. "The fine guidance sensors were never intended to be used on a continuous pointing basis. You always used the gyros and then you update the gyro reference with the fine guidance sensor information and you just do that from time to time. Now, what we do is, we put the fine guidance sensor into the control loop so it's an active controlling sensor as opposed to being a sort of partial consultant, you might say. It required a major change in the flight software and, of course, a huge change on the ground for how you schedule these things. ... The problem with using the FGS's, of course, is that they get occulted and when they're occulted, you're back to just gyro information and if you've only got one or two gyros then you've really got problems."

Otherwise, Hubble's upgraded computers and new solar arrays, installed during a servicing mission in 2002, are performing flawlessly. The solar panels, in fact, generate more power than Hubble needs given the new battery recharging procedure. Fine guidance sensor 3, in operation since Hubble's launch in 1990, has a problem with the mechanical bearings in a servo subsystem. While it's not causing any problems at present, the control team is "babying it," Burch said.

If the new batteries and gyros are successfully installed, Burch believes Hubble will be able to continue its scientific observations for at least five more years.

"That's what we're gearing ourselves for," he said. "I think there's a good chance we could go beyond five, but our nominal end of mission would be five years from the date of the servicing mission."


Additional coverage for subscribers:


VIDEO: NEWS BRIEFING FOLLOWING FLIGHT READINESS REVIEW PLAY



VIDEO: REFRESHER BRIEFING: THE STS-125 MISSION PLAY


VIDEO: REFRESHER BRIEFING: HUBBLE SPACE TELESCOPE PLAY


VIDEO: REFRESHER BRIEFING: THE SEVEN ASTRONAUTS PLAY



VIDEO: BIOGRAPHY MOVIE OF ATLANTIS' CREW PLAY


VIDEO: INTERVIEW WITH COMMANDER SCOTT ALTMAN PLAY | '09 UPDATE


VIDEO: INTERVIEW WITH PILOT GREG JOHNSON PLAY


VIDEO: INTERVIEW WITH MS1 MIKE GOOD PLAY


VIDEO: INTERVIEW WITH MS2 MEGAN MCARTHUR PLAY


VIDEO: INTERVIEW WITH MS3 JOHN GRUNSFELD PLAY | '09 UPDATE


VIDEO: INTERVIEW WITH MS4 MIKE MASSIMINO PLAY | '09 UPDATE


VIDEO: INTERVIEW WITH MS5 DREW FEUSTEL PLAY | '09 UPDATE



VIDEO: SHUTTLE ATLANTIS ARRIVES AT LAUNCH PAD 39A PLAY | HI-DEF


VIDEO: THE SUN RISES ON ATLANTIS DURING ROLLOUT PLAY | HI-DEF


VIDEO: ATLANTIS EMERGES FROM ASSEMBLY BUILDING PLAY | HI-DEF


VIDEO: ORBITER VERTICAL FOR MATING TO FUEL TANK PLAY | HI-DEF


VIDEO: ATLANTIS MOVES BACK TO ASSEMBLY BUILDING PLAY | HI-DEF



VIDEO: ATLANTIS LEAVES LAUNCH PAD 39A IN OCT. PLAY


VIDEO: TIMELAPSE OF THE ROLLBACK GETTING UNDERWAY PLAY



VIDEO: ASTRONAUTS REHEARSE QUICK SHUTTLE EXIT PLAY


VIDEO: CREW BOARDS ATLANTIS FOR MOCK COUNTDOWN PLAY


VIDEO: ASTRONAUTS DON SUITS FOR PRACTICE COUNTDOWN PLAY


VIDEO: CREW'S TRAINING ON ESCAPE BASKETS AND BUNKER PLAY


VIDEO: ASTRONAUTS CHAT WITH PRESS AT LAUNCH PAD PLAY


VIDEO: CREW TEST DRIVES EMERGENCY PAD ESCAPE VEHICLE PLAY


VIDEO: COMMANDER AND PILOT PRACTICE LANDING APPROACHES PLAY


VIDEO: CREW ARRIVES AT CAPE FOR PRACTICE COUNTDOWN PLAY


VIDEO: COMMENTS FROM COMMANDER AFTER ARRIVING PLAY



VIDEO: AERIAL VIEWS OF ATLANTIS AND ENDEAVOUR PLAY | HI-DEF



VIDEO: PRE-FLIGHT BRIEFING: THE STS-125 MISSION PLAY


VIDEO: PRE-FLIGHT BRIEFING: THE FIVE SPACEWALKS PLAY


VIDEO: PRE-FLIGHT BRIEFING: THE SEVEN ASTRONAUTS PLAY


VIDEO: PRE-FLIGHT BRIEFING: NASA LEADERSHIP PLAY


VIDEO: PRE-FLIGHT BRIEFING: SHUTTLE PROGRAM BOSS PLAY


VIDEO: PRE-FLIGHT BRIEFING: HUBBLE OVERVIEW PLAY


VIDEO: PRE-FLIGHT BRIEFING: HUBBLE SCIENCE PLAY



VIDEO: SHUTTLE ARRIVES ATOP PAD 39A PLAY


VIDEO: ATLANTIS EMERGES FROM VEHICLE ASSEMBLY BUILDING PLAY


VIDEO: TIME-LAPSE MOVIE OF ATLANTIS' ROLLOUT TO LAUNCH PAD PLAY



VIDEO: ATLANTIS ROLLS FROM HANGAR TO VAB PLAY


VIDEO: ATLANTIS LIFTED INTO PLACE FOR ATTACHMENT PLAY


MORE: STS-125 VIDEO COVERAGE


NEW! HIGH DEFINITION VIDEO


SUBSCRIBE NOW