Complex instrument repairs will challenge spacewalkers
BY WILLIAM HARWOOD
STORY WRITTEN FOR CBS NEWS "SPACE PLACE" & USED WITH PERMISSION
Posted: May 6, 2009


Repairing the Space Telescope Imaging Spectrograph and the Advanced Camera for Surveys represent major challenges for the SM-4 spacewalkers. Neither instrument was designed to be repaired in orbit.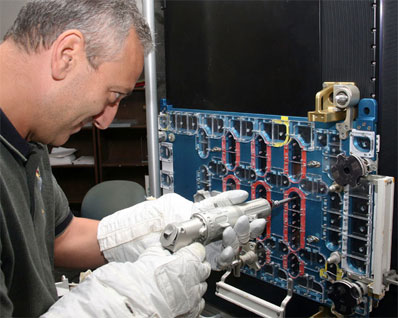 Astronaut Mike Massimino practices removing instrument cover screws using a "fastener capture plate." Credit: NASA



"If we pull it off, it'll be amazing, frankly, especially if we pull off both," Weiler said. "We're not claiming we have to fix both of those for minimum mission success. But if we fix both of those, it goes well beyond full mission success. Right now we have two dead instruments. We got our full scientific value that we had planned. But they represent a quarter-of-a-billion-dollar investment by the U.S. taxpayer. And that was in 1999 dollars, so you can imagine what they would cost today. If we can pull even one of those instruments back into life, we're getting our dividends again, it would be a real home run. We've got one of the best astronaut crews we could hope for. ... I think we've got a good shot at it."

STIS broke down in 2004, the victim of a blown power supply. To fix it, the astronauts must remove a cover held in place by more than 100 screws and then replace a circuit board that is locked in place.

"In order to get at a failed electronics board inside the STIS main electronics box, we need to take the cover off the box," Burch said. "We're very fortunate in that when the astronauts open the doors to the aft shroud and look at this instrument, that cover is sitting right there in front of them. The challenge is the 111 screws that are holding it on. The screws are not captive. So they have to go in there and take all these screws out. You can imagine what went through a lot of people's minds when we first started thinking about this, you know, 111 screws floating around all inside Hubble. That was unacceptable.

"So, we came up with a very clever device called the fastener capture plate, which is basically made out of a Lexan-type material. This plate goes over the top of the MEB (main electronics box) cover, it's aligned and fastened on there. And then this fastener capture plate has a series of little holes in it that line up with all the screws. The holes are small enough to allow the tool bit to go in so you can turn the screw, but they're small enough to keep the screw from falling out. So once you get all 111 screws taken care of, the cover stays attached to the fastener capture plate and you move the whole thing out. So all the debris and all the screws are captured in there."

An astronaut-friendly replacement cover was developed that will be installed in place of the main electronics box cover that was removed.

"Once we're done servicing, we take the new cover and put it on," Burch said. "There are two latches, you just throw the latches and bingo, it's on there. And then there's a third latch they throw that has some fingers that grab the electronics boards and mate them to the cover."

That was one challenge. Another was making sure the astronauts could replace the circuit card with the failed power supply.

"If you've ever fooled around with your desktop computer, those things usually aren't much of a challenge," Burch said. "But the way these instruments are built on Hubble, these boards slide into slots in the box but they're held in place by things called wedge locks. And the wedge locks are designed to keep the boards from rattling around and they also provide a heat path to reject waste heat out to the sides of the box so things stay nice and cool.

"Unfortunately, these wedge locks have a property like these Chinese finger handcuffs you may have played with as a kid. You put them on and the harder you pull, the tighter it gets. Well, the wedge locks have this kind of a property and when you loosen the bolts on them sometimes you can slide the board right out and sometimes you have to wrestle with it for a half hour or an hour to get it out.

"We obviously needed a tool to overcome this problem. So we have a card extraction tool that was developed. We went into a small research program to see even if these wedge locks jammed in their worst possible way could we pull the board out without having the board disintegrate and leave a pile of debris. I'm happy to report we've come up with a tool that enables us to do exactly that. So those were the major challenges."

STIS will be repaired during the crew's fourth spacewalk.

Repairing the Advanced Camera for Surveys posed another difficult challenge for Hubble engineers and the task originally was spread across two spacewalks. But the addition of the science instrument data computer replacement forced NASA managers to consider a one-shot repair attempt for ACS. Grunsfeld, practicing the procedure in NASA's spacewalk training pool, said he's confident the repair can be completed in a single spacewalk.

But engineers initially were "pretty negative" about attempting any sort of ACS repair, Burch said.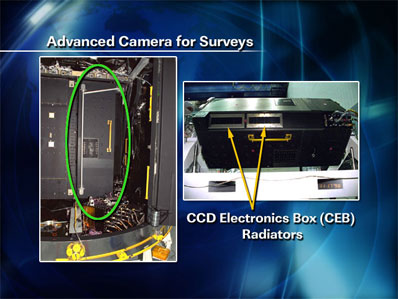 Credit: NASA



"We knew how long it was taking us to get the STIS repair done," he said. "That took us over three years to get that done. And when ACS failed, we didn't have the luxury of three years to get that together. That kind of told us this was going to be a huge challenge. Second of all, we had failures on both sides of the main electronics box, 1 and 2, which we had on STIS also. But the problem was that on ... one of the sides (of the ACS), we couldn't get into the box because it was blocked by the NICMOS cooling system and we'd have had to disassemble that partially to get in there and nobody wanted to do that. The other side that was accessible was difficult to get at and if you got it open, we were concerned about a contamination risk because of the catastrophic nature of the failure. So much current went through there that we we thought there was the potential for a lot of collateral damage and you open that box up and it's like Pandora's box, you don't know what's coming out of there and we didn't think that was a healthy scenario. Schematic view of ACS repair concept

"So we had to come up with a whole new approach to repairing ACS," he said. "We can't get into either of the low voltage power supplies on ACS. So our approach is, we're going to provide an additional low voltage power supply and we'll just hang it on the outside of the instrument and we'll tap into the power connector coming into the instrument. So we'll kind of T off the power to that. Ideally, we'd like to restore both the wide-field channel and the high-resolution channel on the ACS. It turns out, even though the high-resolution channel as the name implies provides the best, the deepest pictures, the most sensitive and the highest resolved pictures, it was not the most popular channel by the astronomers because of its very narrow field of view. They found the wide-field channel very useful for the majority of observations that they wanted to make. So the wide-field channel was used a very high percentage of the time, it was on the order of 70 some odd percent whereas the high-res channel was maybe 20 percent or less and the solar blind channel was like 5 percent.

"So we said OK, let's look at how we might do this. And the technique that we came up with, it turns out you can get access to the CCD electronics box that powers each of those channels, you can gain access to those somewhat conveniently going in through the outside of the instrument. You don't have to take off a bunch of covers and go through a lot of stuff to get at them. but it's not real easy, either. There are two CCD electronics boxes, one for the wide-field channel and one for the high-res channel. In order to get access to them, you have to cut off an EMI grid. There's like this screen, this very coarse screen on the outside. So we came up with a special cutter tool that cuts that screen away and it cuts the individual wires. There's roughly a dozen wires or so that need to be cut. Once you've done that, you're now looking at a plate that needs to be removed and it's got 30 some odd screws in it. So you put a fastener-capture plate on that and remove the screws and once you pull that plate out, you're now looking at four printed circuit boards in each of those cavities that contain the electronics that power and control the CCD for each of those channels.

"So the idea is, pull those boards out and put in a new set of boards but wire them up in a way that they bypass or ignore the damaged areas coming from the existing main electronic box. This new module that would go in that replaces those four boards, it'll be powered by the external low voltage power supply that you've just attached to the outside of the instrument and it in turn will provide the power and control signals to the CCD using the existing wires that are in there, but it can be done in a way that avoids the damaged areas in the main electronics box.

"The downside here is we just didn't have the time and the money to replace the electronics in both the wide-field channel's CCD electronics box and the high-resolution channel's CCD box. So we came up with a scheme, it turns out there are shared copper paths between the electronics for both of those channels. So what we said was, hey, why don't we get to the high-res channel through the electronics path that are connected to the wide-field channel? We'll just back power the existing printed circuit boards that are in the high-resolution channel CCD. We tested that on the ground and sure enough, it turns out to be feasible to do that. The only question mark is the status of the low voltage power supply on the MED 1 and MED 2 sides. In other words, it's possible that if there's damage on the sides of the interpoint converters, the secondary sides that are powering the high-resolution channel, it's possible there are some short circuits there that will prevent this scheme from working. Particularly on the one side that suffered the major damage. That may not work very well.

"In any event, what we decided to do is, we're providing an additional built-in power supply that will try to rejuvenate, or bring back to life, the high-resolution channel by back powering the high-res channel through these shared copper paths that connect to the wide-field channel," Burch said. "I won't say it's a long shot. It IS somewhat of a long shot, but people need to understand that this doesn't have the same degree of rigor as, let's say, building a brand new science instrument or a new black box that we're hooking up to standard interfaces that already exist on the telescope. This is really a bit of an experiment."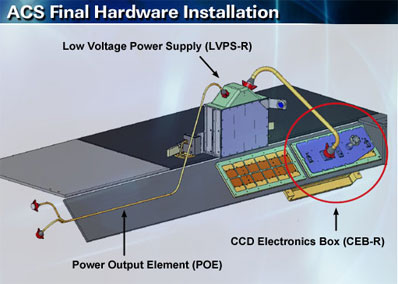 Credit: NASA



Even if ACS is revived, engineers would face yet another hurdle: "tuning" the CCD control electronics to get optimum performance.

"They go to great pains on the ground to tune the electronics to get optimum performance out of these things to get the best sensitivity," Burch said. "Unfortunately, the detectors are up there and we're down here and we don't have that opportunity. So the question is, well, how do you make that happen? What we did was, we borrowed some technology from James Webb Space Telescope. We have employed the use of an ASIC chip, an application specific integrated circuit known as a sidecar, which is basically a video processing chip. And this chip is going to be key to enabling us to fine tune the control electronics, the new electronics we're putting in for the wide field channel so that we can get the lowest possible read noise out of the system when it's installed on orbit and operating.

"We're very fortunate that we have an excellent flight spare detector for ACS right here on the ground. Actually, we have several and we've experimented with those and saved our final testing for the best chip. And so we were able to put this into a dewar, get the temperature down to what it's experiencing on orbit and we've been able to fine tune the electronics with the software to demonstrate that this technique works and that we can get the kind of performance that we're looking to achieve. As a matter of fact, I probably shouldn't say this, if it works out up there the way it's worked out on the ground we'll be getting better pictures out of the ACS wide field channel than before the failure occurred."

Developing the ACS repair concept and perfecting the techniques required has required "a super human effort," Burch said.

"The general feeling is that this will be the most challenging mission that we've had to date," he said. "It is jam packed. It's got two instruments that are being repaired and these two instrument repairs are about roughly a day and a half worth of time. This is fine work using new tools, this is stuff that hasn't been done before, getting access to this ACS CCD electronics box area is very, very difficult because it's up near the top of the instrument, there's some structure that's in the way that makes getting direct viewing of this area exceedingly difficult. We've had to build and modify tooling to get in there. It's going to be tough. With the bulky suits and gloves, it's going to be tough work."

But "if these instrument repairs don't go well, they won't do any harm to the observatory so we won't be any worse off for not having tried. But it is a pretty packed timeline and the crew and our engineers have worked very hard to refine the tools and the techniques to get all this stuff to fit within five EVA days. It's a very ambitious mission."

For his part, Grunsfeld said he's confident the astronauts can successfully repair the broken instruments.

"The extra time we've had with the flight delay has allowed us to practice over and over again the removal of these tiny screws," he told CBS News. "For both the STIS repair, with Mike Massimino at the screw driver, and myself for the Advanced Camera for Surveys repair, we've really honed it to the maximum efficiency. As a result, I have high confidence going into it that we'll be able to finish it in the EVA day, maybe a slightly extended EVA day, but that's in the absence of any surprises. And one thing I've learned from the first two missions and involvement in all the Hubble missions is, Hubble is always full of surprises. So we'll have to see on the day we get there."

Burch said he believes "the odds are better than 50-50 for ACS and I think they're much better than 80 percent for STIS. But I hope I don't have to eat my words after this mission."


Additional coverage for subscribers:


VIDEO: NEWS BRIEFING FOLLOWING FLIGHT READINESS REVIEW PLAY



VIDEO: REFRESHER BRIEFING: THE STS-125 MISSION PLAY


VIDEO: REFRESHER BRIEFING: HUBBLE SPACE TELESCOPE PLAY


VIDEO: REFRESHER BRIEFING: THE SEVEN ASTRONAUTS PLAY



VIDEO: BIOGRAPHY MOVIE OF ATLANTIS' CREW PLAY


VIDEO: INTERVIEW WITH COMMANDER SCOTT ALTMAN PLAY | '09 UPDATE


VIDEO: INTERVIEW WITH PILOT GREG JOHNSON PLAY


VIDEO: INTERVIEW WITH MS1 MIKE GOOD PLAY


VIDEO: INTERVIEW WITH MS2 MEGAN MCARTHUR PLAY


VIDEO: INTERVIEW WITH MS3 JOHN GRUNSFELD PLAY | '09 UPDATE


VIDEO: INTERVIEW WITH MS4 MIKE MASSIMINO PLAY | '09 UPDATE


VIDEO: INTERVIEW WITH MS5 DREW FEUSTEL PLAY | '09 UPDATE



VIDEO: SHUTTLE ATLANTIS ARRIVES AT LAUNCH PAD 39A PLAY | HI-DEF


VIDEO: THE SUN RISES ON ATLANTIS DURING ROLLOUT PLAY | HI-DEF


VIDEO: ATLANTIS EMERGES FROM ASSEMBLY BUILDING PLAY | HI-DEF


VIDEO: ORBITER VERTICAL FOR MATING TO FUEL TANK PLAY | HI-DEF


VIDEO: ATLANTIS MOVES BACK TO ASSEMBLY BUILDING PLAY | HI-DEF



VIDEO: ATLANTIS LEAVES LAUNCH PAD 39A IN OCT. PLAY


VIDEO: TIMELAPSE OF THE ROLLBACK GETTING UNDERWAY PLAY



VIDEO: ASTRONAUTS REHEARSE QUICK SHUTTLE EXIT PLAY


VIDEO: CREW BOARDS ATLANTIS FOR MOCK COUNTDOWN PLAY


VIDEO: ASTRONAUTS DON SUITS FOR PRACTICE COUNTDOWN PLAY


VIDEO: CREW'S TRAINING ON ESCAPE BASKETS AND BUNKER PLAY


VIDEO: ASTRONAUTS CHAT WITH PRESS AT LAUNCH PAD PLAY


VIDEO: CREW TEST DRIVES EMERGENCY PAD ESCAPE VEHICLE PLAY


VIDEO: COMMANDER AND PILOT PRACTICE LANDING APPROACHES PLAY


VIDEO: CREW ARRIVES AT CAPE FOR PRACTICE COUNTDOWN PLAY


VIDEO: COMMENTS FROM COMMANDER AFTER ARRIVING PLAY



VIDEO: AERIAL VIEWS OF ATLANTIS AND ENDEAVOUR PLAY | HI-DEF



VIDEO: PRE-FLIGHT BRIEFING: THE STS-125 MISSION PLAY


VIDEO: PRE-FLIGHT BRIEFING: THE FIVE SPACEWALKS PLAY


VIDEO: PRE-FLIGHT BRIEFING: THE SEVEN ASTRONAUTS PLAY


VIDEO: PRE-FLIGHT BRIEFING: NASA LEADERSHIP PLAY


VIDEO: PRE-FLIGHT BRIEFING: SHUTTLE PROGRAM BOSS PLAY


VIDEO: PRE-FLIGHT BRIEFING: HUBBLE OVERVIEW PLAY


VIDEO: PRE-FLIGHT BRIEFING: HUBBLE SCIENCE PLAY



VIDEO: SHUTTLE ARRIVES ATOP PAD 39A PLAY


VIDEO: ATLANTIS EMERGES FROM VEHICLE ASSEMBLY BUILDING PLAY


VIDEO: TIME-LAPSE MOVIE OF ATLANTIS' ROLLOUT TO LAUNCH PAD PLAY



VIDEO: ATLANTIS ROLLS FROM HANGAR TO VAB PLAY


VIDEO: ATLANTIS LIFTED INTO PLACE FOR ATTACHMENT PLAY


MORE: STS-125 VIDEO COVERAGE


NEW! HIGH DEFINITION VIDEO


SUBSCRIBE NOW