Atlantis cleared for launch; shuttle layoffs to begin
BY WILLIAM HARWOOD
STORY WRITTEN FOR CBS NEWS "SPACE PLACE" & USED WITH PERMISSION
Posted: April 30, 2009


With retirement of the space shuttle program expected next year after just nine more flights, NASA's managers Thursday announced the first major round of job losses, saying 160 contractor workers would face layoffs Friday, the first of up to 900 jobs that will be lost between now and the end of the fiscal year.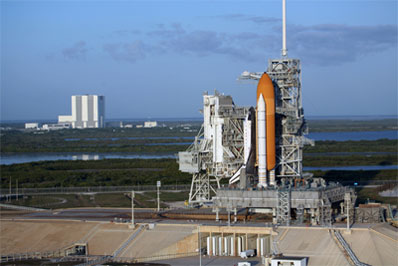 Credit: NASA-KSC



"Tomorrow, we have a layoff of about 160 people on the team," shuttle Program Manager John Shannon told reporters. "Between tomorrow and the end of September, we will reduce the program by about 900 people. They are primarily manufacturing team members. We have delivered the last pieces of hardware that those team members produce and we don't keep them on the roles. And that is in order to get our budget down to the marks and the assumptions we made early on. So we will start tomorrow and continue with the workforce reduction we had outlined."

Several hundred jobs will be lost to attrition and some employees will transfer to other contractors or projects. The rest will be layoffs. Shannon would not say what companies will absorb the initial round of job reductions.

"Not all of the companies have notified their employees so I don't want to get real specific," he said. "But it's primarily for manufacturing and vendors."

The shuttle program employs about 1,600 NASA civil servants across the space agency and 13,800 contractors. Production of major components such as external fuel tanks, built by Lockheed Martin, and solid-fuel boosters, built by ATK, is winding down as the program nears retirement.

As reported here earlier, NASA's most recent authorization act included language that directed the space agency to take no action that "would preclude the continued safe and effective flight of the space shuttle after fiscal year 2010" if the next president - Barack Obama, as it turned out - decided to delay the orbiter's planned retirement. Depending on how one does the accounting, that directive had the potential to cost the agency nearly $90 million.

The Obama administration has expressed support for the addition of one shuttle flight to carry the Alpha Magnetic Spectrometer, an already-built, high-priority physics experiment, to the International Space Station.

But the Office of Management and Budget said the administration is sticking with the 2010 shuttle retirement date. The Bush administration's deadline was the end of fiscal 2010, or Sept. 30, 2010. The Obama administration has since told the space agency the deadline is the end of calendar 2010. Between now and then, NASA has nine shuttle flights planned, including the AMS mission. But only eight missions are currently funded. Money for the AMS flight has not yet been appropriated.

In any case, the "do not preclude" legislation expired Thursday.

"This is the first significant loss of manufacturing capability," Shannon said. "We are hitting that point where we have the last production activities going on. So it may have happened a little earlier (without the legislation), but only by a month or two."

The announcement came during a news conference after an executive-level flight readiness review that cleared the shuttle Atlantis for launch May 11 on NASA's fifth and final mission to service and upgrade the Hubble Space Telescope.

The mission is the only flight left on NASA's shuttle manifest that does not go to the International Space Station. Five back-to-back spacewalks, or EVAs, are planned to install two new instruments, six new batteries, a full set of six stabilizing gyroscopes, a replacement science instrument command and data handling system computer and a refurbished fine guidance sensor.

The astronauts also will attempt to repair two other science instruments, install new insulation and attach a grapple fixture that will make it easier for a future crew aboard a shuttle follow-on craft, or a robotic spacecraft, to drive the telescope out of orbit at the end of its lifetime.

With the upgrades and new instruments, mission managers hope Hubble will remain operational for an additional five years or more.

"We went over everything with the vehicle, with HST, with the space shuttle to make sure we're all ready to go fly," said Bill Gerstenmaier, chief of space operations at NASA headquarters. "We looked at everything extra hard. This is a different mission for us than we're used to. ... Every minute of this mission has got something that's important for the telescope or its important for shuttle operations. It's a real tribute to this team that they were able to pull all this together and give such an intricate timeline together."

At Hubble's high 350-mile altitude, the astronauts will be exposed to more risk of damage from space debris than a space station assembly crew and they won't be able to seek safe haven aboard the lab complex if any problem develops that might prevent a safe re-entry. The odds of a damaging impact from space debris average around 1-in-229 for the Hubble mission - a slight improvement over NASA's previous estimate - compared to around 1-in-330 for a typical space station assembly mission.

But the shuttle Endeavour, mounted atop pad 39B, has been processed in parallel and will be ready for launch on an emergency rescue mission if necessary. Given improved post-Columbia inspection techniques to detect heat shield problems, new repair materials and procedures and the availability of Endeavour if all else fails, NASA managers cleared Atlantis for launch.

"This is not your average shuttle flight, because we're going to Hubble and we're doing these five back-to-back EVAs," Shannon said. "Laid on top of this very ambitious mission is all of the inspection requirements that we laid in after Columbia. I'll tell you, the team has put together a plan that not only accomplishes all the major mission objectives for Hubble, but it also provides an equivalent inspection capability we would have on a typical ISS mission.

"We've got the ability to look at all the tile on the underside of the vehicle, we'll look at the reinforced carbon carbon nose, the wing leading edge, external tank doors. We also have the capability to do a focused inspection if required. And we're going to do an even better late inspection where we look for micrometeoroid-space debris damage on this flight because that's a bigger concern. ... All of the flights we have flown since Columbia have provided the knowledge base for us to go into this flight very confidently. The team is absolutely there and we're really looking forward to launching on May 11."

On board will be commander Scott "Scooter" Altman, pilot Gregory C. Johnson, flight engineer and robot arm operator Megan McArthur and spacewalkers John Grunsfeld, Michael Massimino, Andrew Feustel and Michael Good. Altman, lead spacewalker Grunsfeld and Massimino are Hubble veterans while the rest are making their first flights.

Liftoff from pad 39A is planned for 2:01:49 p.m. on May 11, 20 minutes after the opening of the launch window to allow a more thorough analysis of possible space debris threats, or conjunctions. Assuming an on-time launch, McArthur, operating Atlantis' 50-foot-long robot arm, will grapple Hubble around 12:54 p.m. on May 13. The next day, starting at 8:16 a.m., Grunsfeld and Feustel will begin the first spacewalk to install the $126 million Wide Field Camera 3, the replacement science instrument computer and the new grapple fixture.

Massimino and Good will install the gyros and three of six batteries the next day. Grunsfeld and Feustel will venture back out again the following morning to install the $81 million Cosmic Origins Spectrograph and to attempt repairing the Advanced Camera for Surveys, which broke down in 2007.

Massimino and Good will try to fix the Space Telescope Imaging Spectrograph the day after that and install new insulation. Finally, Grunsfeld and Feustel will close out the Hubble servicing with a spacewalk to install the final three batteries, the replacement fine guidance sensor and additional insulation.

If all goes well, Hubble will be redeployed at 8:53 a.m. on Feb. 19 and Atlantis will return to Earth with a landing back at the Kennedy Space Center around 11:41 a.m. on May 22.


Additional coverage for subscribers:


VIDEO: NEWS BRIEFING FOLLOWING FLIGHT READINESS REVIEW PLAY



VIDEO: REFRESHER BRIEFING: THE STS-125 MISSION PLAY


VIDEO: REFRESHER BRIEFING: HUBBLE SPACE TELESCOPE PLAY


VIDEO: REFRESHER BRIEFING: THE SEVEN ASTRONAUTS PLAY



VIDEO: BIOGRAPHY MOVIE OF ATLANTIS' CREW PLAY


VIDEO: INTERVIEW WITH COMMANDER SCOTT ALTMAN PLAY | '09 UPDATE


VIDEO: INTERVIEW WITH PILOT GREG JOHNSON PLAY


VIDEO: INTERVIEW WITH MS1 MIKE GOOD PLAY


VIDEO: INTERVIEW WITH MS2 MEGAN MCARTHUR PLAY


VIDEO: INTERVIEW WITH MS3 JOHN GRUNSFELD PLAY | '09 UPDATE


VIDEO: INTERVIEW WITH MS4 MIKE MASSIMINO PLAY | '09 UPDATE


VIDEO: INTERVIEW WITH MS5 DREW FEUSTEL PLAY | '09 UPDATE



VIDEO: SHUTTLE ATLANTIS ARRIVES AT LAUNCH PAD 39A PLAY | HI-DEF


VIDEO: THE SUN RISES ON ATLANTIS DURING ROLLOUT PLAY | HI-DEF


VIDEO: ATLANTIS EMERGES FROM ASSEMBLY BUILDING PLAY | HI-DEF


VIDEO: ORBITER VERTICAL FOR MATING TO FUEL TANK PLAY | HI-DEF


VIDEO: ATLANTIS MOVES BACK TO ASSEMBLY BUILDING PLAY | HI-DEF



VIDEO: ATLANTIS LEAVES LAUNCH PAD 39A IN OCT. PLAY


VIDEO: TIMELAPSE OF THE ROLLBACK GETTING UNDERWAY PLAY



VIDEO: ASTRONAUTS REHEARSE QUICK SHUTTLE EXIT PLAY


VIDEO: CREW BOARDS ATLANTIS FOR MOCK COUNTDOWN PLAY


VIDEO: ASTRONAUTS DON SUITS FOR PRACTICE COUNTDOWN PLAY


VIDEO: CREW'S TRAINING ON ESCAPE BASKETS AND BUNKER PLAY


VIDEO: ASTRONAUTS CHAT WITH PRESS AT LAUNCH PAD PLAY


VIDEO: CREW TEST DRIVES EMERGENCY PAD ESCAPE VEHICLE PLAY


VIDEO: COMMANDER AND PILOT PRACTICE LANDING APPROACHES PLAY


VIDEO: CREW ARRIVES AT CAPE FOR PRACTICE COUNTDOWN PLAY


VIDEO: COMMENTS FROM COMMANDER AFTER ARRIVING PLAY



VIDEO: AERIAL VIEWS OF ATLANTIS AND ENDEAVOUR PLAY | HI-DEF



VIDEO: PRE-FLIGHT BRIEFING: THE STS-125 MISSION PLAY


VIDEO: PRE-FLIGHT BRIEFING: THE FIVE SPACEWALKS PLAY


VIDEO: PRE-FLIGHT BRIEFING: THE SEVEN ASTRONAUTS PLAY


VIDEO: PRE-FLIGHT BRIEFING: NASA LEADERSHIP PLAY


VIDEO: PRE-FLIGHT BRIEFING: SHUTTLE PROGRAM BOSS PLAY


VIDEO: PRE-FLIGHT BRIEFING: HUBBLE OVERVIEW PLAY


VIDEO: PRE-FLIGHT BRIEFING: HUBBLE SCIENCE PLAY



VIDEO: SHUTTLE ARRIVES ATOP PAD 39A PLAY


VIDEO: ATLANTIS EMERGES FROM VEHICLE ASSEMBLY BUILDING PLAY


VIDEO: TIME-LAPSE MOVIE OF ATLANTIS' ROLLOUT TO LAUNCH PAD PLAY



VIDEO: ATLANTIS ROLLS FROM HANGAR TO VAB PLAY


VIDEO: ATLANTIS LIFTED INTO PLACE FOR ATTACHMENT PLAY


MORE: STS-125 VIDEO COVERAGE


NEW! HIGH DEFINITION VIDEO


SUBSCRIBE NOW