NASA poised to stop work on shuttle extension option
BY WILLIAM HARWOOD
STORY WRITTEN FOR CBS NEWS "SPACE PLACE" & USED WITH PERMISSION
Posted: April 13, 2009


Facing a tight budget, a 2010 deadline to end space shuttle operations and a lack of concrete political support to fund additional flights or stretch out the current manifest, NASA managers are meeting this week to discuss the impact of ending efforts that have been keeping open the option of extending the shuttle program past the current deadline.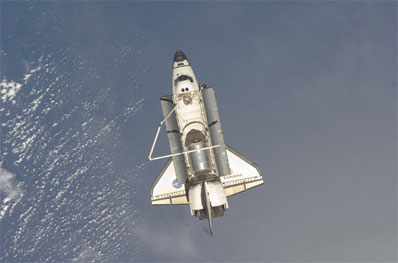 The final shuttle mission is planned for next year. Credit: NASA



In a note to shuttle managers and engineers last week that was obtained by CBS News, shuttle Program Manager John Shannon outlined the issues in stark terms, reflecting the lack of any political action to fund shuttle flights past the end of 2010.

"You have heard me say that 'hope is not an effective management tool' on many occasions," he wrote. "It is my position that we cannot continue to spend money to retain the capability to fly additional space shuttle missions, hoping that someone will recognize the national assets we are giving up.

"We have to take our destiny in our own hands and manage within the limited budget we have been given and ensure that we will fly the full manifest and leave the International Space Station in the best configuration possible."

NASA's most recent authorization act included language that directed the space agency to take no action that "would preclude the continued safe and effective flight of the space shuttle after fiscal year 2010" if the next president - Barack Obama, as it turned out - decided to delay the orbiter's planned retirement. Depending on how one does the accounting, that directive had the potential to cost the agency nearly $90 million.

The Obama administration has expressed support for the addition of one shuttle flight to carry the Alpha Magnetic Spectrometer, an already-built, high-priority physics experiment, to the International Space Station.

But the Office of Management and Budget said the administration is sticking with the 2010 shuttle retirement date. The Bush administration's deadline was the end of fiscal 2010, or Sept. 30, 2010. The Obama administration has since told the space agency the deadline is the end of calendar 2010. Between now and then, NASA has nine shuttle flights planned, including the AMS mission. But only eight missions are currently funded. Money for the AMS flight has not yet been appropriated.

"If we're going to make this thing work, we've got to focus 100 percent on those nine flights and make sure we get them done," said a senior NASA manager who spoke on background and asked not to be identified. "We can no longer continue to split our attention both ways. We're going to have to have a hard discussion with our folks ... we're going to have to make those nine flights real. And that's what we're going to go do."

The Obama administration has offered little visible guidance beyond support for the AMS flight and the shuttle deadline clarification. The president has yet to name a replacement for former NASA Administrator Mike Griffin, the Bush-administration appointee whose tenure ended with Obama's inauguration.

Griffin inherited the job of overseeing the post-Columbia decision to complete the space station and retire the shuttle by the end of 2010 and to develop a new spacecraft to replace the shuttle. That vehicle, the Apollo-like Orion capsule and its Ares 1 rocket, is intended to ferry astronauts to and from the space station and, eventually, on to the moon.

But the Orion/Ares system will not be ready for use until 2015. During the five-year gap between the shuttle's retirement and the debut of the new rocket, NASA and it's international partners will have to hitch rides to the space station aboard Russian Soyuz spacecraft.

Concern about reliance on the Russians has prompted several key lawmakers to lobby for additional funding to extend shuttle operations, stretching out the current manifest to close or narrow the gap. Rep. Bill Posey (R-FL), whose district includes the Kennedy Space Center, and Rep. Debbie Wasserman Schultz (D-FL) introduced legislation earlier this month to extend shuttle operations beyond 2010 and to accelerate development of the Ares/Orion spacecraft.

But so far, no such funding has been approved or even money to cover the costs of simply keeping the extension option open.

Complicating the picture for NASA planners, there is a very real possibility that one or two of the final shuttle missions currently envisioned will slip into the October-December 2010 timeframe, i.e., the first quarter of fiscal 2011. There is no money in NASA's projected 2011 budget for any shuttle operations beyond $300 million or so intended for retirement activities.

As a result, NASA now plans to terminate work that kept open the option of a shuttle extension when the current legislation expires at the end of the month.

"We don't have enough money to keep carrying various options to extend and add additional flights," said the NASA manager who spoke on condition of anonymity. "We don't have funding right now for that first quarter of 2011. So we've got to save money out of '10 to roll into that first quarter of fiscal year 2011.

"So that's what John's kind of saying in his note to the troops, that we can no longer carry options, we've got to make some hard decisions if we want to try to get these nine remaining flights flown. Where we were kind of slowing things down and we were buying some extra spare parts and kept some subs (subcontractors) around and stuff, it's now time we've got to start making those hard decisions to really start trying to save money so we ... can support all the way to the end of calendar year 2010."

Shuttle program managers were scheduled to meet Tuesday and Wednesday at the Kennedy Space Center for a quarterly budget review. The final missions on NASA's shuttle manifest are critical flights to deliver spare parts and supplies to the International Space Station and NASA managers don't want to risk losing one because money that could have helped cope with technical problems or launch delays had been diverted to building hardware for flights that are not expected to be approved.

"It's not cut and dried," said the NASA manager. "Even though we're going to start ramping back down again, we still haven't really lost capability. I've still got this hardware sitting around and if someone has some great idea this summer that we want to go do this and they give us a ton of money, we could probably figure out a way to get the thing flying again. But we can't protect for that option."

In his email last week, Shannon said "here is our dilemma: Do we keep up the 'do not preclude' strategy, spending at a level that is inconsistent with our current budget line, in the hopes that someone will come along with additional funding to allow us to fly the full manifest? Or do we make the difficult decisions to cut core future capability in order to fly the current manifest within our current budget marks?"

After stating his position that NASA must protect the existing manifest in the absence of any concrete political support and funding for extending shuttle operations, he said "unfortunately, it will be extraordinarily painful to let go of the team members that have ensured our success for 28 years - the testing teams, the manufacturing teams, the teams that integrate, ship and assemble the most complex and capable rocket in history.

"I ask that you put aside the emotions, and concentrate on what is known," Shannon concluded. "We have a limited budget and a clear mission - fly through STS-134 (the final shuttle mission) safely and successfully."