Hubble instrument carrier contamination issue assessed
BY WILLIAM HARWOOD
STORY WRITTEN FOR CBS NEWS "SPACE PLACE" & USED WITH PERMISSION
Posted: September 17, 2008


Trouble with a purge system connected to a canister housing fresh batteries and a new camera bound for the Hubble Space Telescope somehow blew insulation into protective bagging around the cargo carrier, officials reported late today. Work to inspect and clean the canister will delay its delivery to the shuttle Atlantis at launch pad 39A by at least 24 hours. While a corresponding launch delay is possible, NASA is sticking with its current Oct. 10 launch target until managers get a better sense of how much lost time can be made up.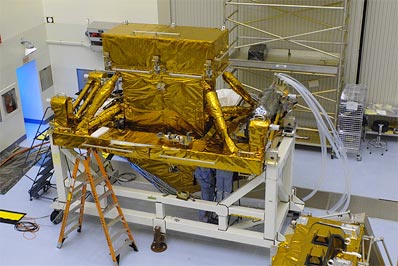 The SLIC carrier contains a new camera and batteries for Hubble.
Credit: Ben Cooper/Spaceflight Now



"During installation today of the super lightweight interchangeable carrier, the SLIC, what they believe is some insulation around the new batteries we're taking up on that carrier got blown by the purge system up inside the protective bagging," said NASA spokesman Allard Beutel. "So we stopped operations. We're having to unbag that carrier, clean up all the insulation, make sure there's no contamination, rebag it, install it in the canister and take it to the launch pad."

Atlantis is mounted atop pad 39A, being prepared for launch Oct. 10 on a fifth and final mission to service and upgrade the Hubble Space Telescope. The shuttle's crew plans to fly to the Kennedy Space Center on Sunday to review emergency procedures and participate in a dress-rehearsal countdown next Wednesday.

Late today, engineers made final preparations to haul the shuttle Endeavour from the Vehicle Assembly Building to nearby pad 39B early Thursday to serve as a rescue vehicle for the Atlantis crew in case of a post-launch problem that might prevent a safe re-entry.

Unlike crews bound for the international space station, the Atlantis astronauts cannot seek safe haven aboard the lab complex because Hubble and the station are in different orbits. As a result, NASA Administrator Mike Griffin decided to process Endeavour in parallel for possible rescue duty. Assuming no such flight is required, Endeavour will be moved to pad 39A after Atlantis departs and prepared for launch on a station assembly flight Nov. 12.

But first up is Atlantis. The Hubble crew plans five back-to-back spacewalks to install the Wide Field Camera 3, the Cosmic Origins Spectrograph, a full set of batteries, six new stabilizing gyroscopes, a new fine guidance sensor, new insulation and carry out repairs on two other science instruments that are currently out of action. The upgrades and repairs are expected to extend Hubble's scientific life five to seven years.

Engineers had planned to haul the new gear to the launch pad early Friday for installation in the shuttle's cargo bay. The SLIC houses Hubble's new batteries, the Wide Field Camera 3 and other equipment. Another carrier, called the orbital replacement unit carrier, houses the new spectrograph, the fine guidance sensor, the new gyros and instrument repair equipment.

The cargo carriers are moved to the pad in a huge container that mirrors the shuttle's 60-foot by 15-foot payload bay. Once at the pad, the container will be lifted into a payload changeout room in the service structure so the SLIC, the ORUC and other gear can be mounted in the cargo bay for launch.

"Right now, it's at least a 24-hour delay (on delivery) to the launch pad," Beutel said. "Senior managers are looking at what effect that might have on the target launch date of Oct. 10."

The delay has apparently ruined plans for a photo opportunity showing both shuttles on NASA's two launch pads with gantries rolled back out of the way. This is believed to be the last time in program history when two shuttles will be on the pad at the same time. But with the 24-hour payload delay, Endeavour's gantry will be rolled into its normal protective position, blocking that shuttle from view, before Atlantis' service structure is pulled back for the arrival of the payload canister.


Credit: Chris Miller/Spaceflight Now
SEE MORE PANORAMAS HERE



NASA sources said earlier today a launch delay appeared likely for Atlantis, but if no major contamination is found engineers may be able to make up the lost time and keep launch on track for 12:33 a.m. on Oct. 10.

A wild card in NASA's planning is recovery operations in Texas where Hurricane Ike devastated communities near the Johnson Space Center, located between Houston and Galveston. The space center escaped major damage, but nearby neighborhoods were not so lucky. NASA hopes to reopen Johnson Monday, but it's not yet clear what impact the hurricane might still have on the NASA-contractor workforce.

If launch slips to Oct. 11, readers are advised NASA has two possible launch times in the Eastern time zone: 12:03 a.m. and 11:36 p.m. The former would represent a 24-hour delay and the latter a 48-hour slip, even though both fall on Oct. 11. But again, no such delay has been announced and NASA managers are hopeful they can maintain the Oct. 10 target.

A launch window chart is available here.


Additional coverage for subscribers:


VIDEO: PRE-FLIGHT BRIEFING: THE STS-125 MISSION PLAY


VIDEO: PRE-FLIGHT BRIEFING: THE FIVE SPACEWALKS PLAY


VIDEO: PRE-FLIGHT BRIEFING: THE SEVEN ASTRONAUTS PLAY


VIDEO: PRE-FLIGHT BRIEFING: NASA LEADERSHIP PLAY


VIDEO: PRE-FLIGHT BRIEFING: SHUTTLE PROGRAM BOSS PLAY


VIDEO: PRE-FLIGHT BRIEFING: HUBBLE OVERVIEW PLAY


VIDEO: PRE-FLIGHT BRIEFING: HUBBLE SCIENCE PLAY



VIDEO: SHUTTLE ARRIVES ATOP PAD 39A PLAY


VIDEO: ATLANTIS EMERGES FROM VEHICLE ASSEMBLY BUILDING PLAY


VIDEO: TIME-LAPSE MOVIE OF ATLANTIS' ROLLOUT TO LAUNCH PAD PLAY



VIDEO: ATLANTIS ROLLS FROM HANGAR TO VAB PLAY


VIDEO: ATLANTIS LIFTED INTO PLACE FOR ATTACHMENT PLAY



VIDEO: BIOGRAPHY MOVIE OF ATLANTIS' CREW PLAY


VIDEO: INTERVIEW WITH COMMANDER SCOTT ALTMAN PLAY


VIDEO: INTERVIEW WITH PILOT GREG JOHNSON PLAY


VIDEO: INTERVIEW WITH MS1 MIKE GOOD PLAY


VIDEO: INTERVIEW WITH MS2 MEGAN MCARTHUR PLAY


VIDEO: INTERVIEW WITH MS3 JOHN GRUNSFELD PLAY


VIDEO: INTERVIEW WITH MS4 MIKE MASSIMINO PLAY


VIDEO: INTERVIEW WITH MS5 DREW FEUSTEL PLAY


MORE: STS-125 VIDEO COVERAGE


NEW! HIGH DEFINITION VIDEO


SUBSCRIBE NOW