Discovery's track to landing
Posted: Dec. 27, 1999
These maps show the ground track space shuttle Discovery would follow for the second landing opportunity on Monday at the Kennedy Space Center in Florida.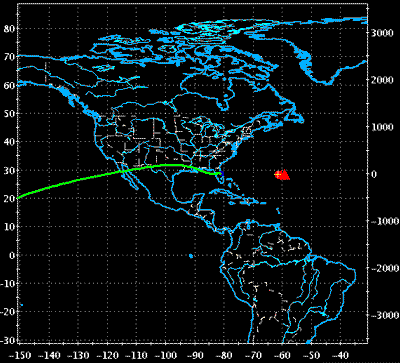 Discovery will streak high above the Pacific, Mexico, Texas and Louisiana on its way toward the pin-point landing site in Florida. Photo: NASA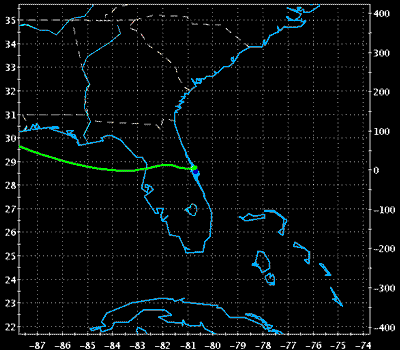 The shuttle will fly over the Gulf of Mexico before making landfall in Florida just north of Tampa. Photo: NASA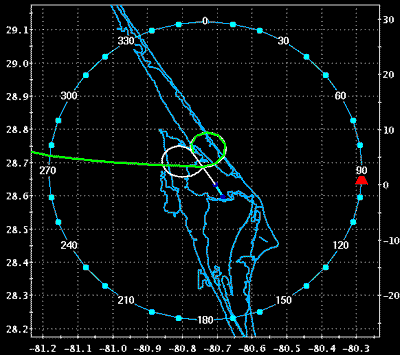 The final approach for Discovery will take the shuttle over the Atlantic to align with Runway 15 at KSC. Photo: NASA






Flight data file
Vehicle: Discovery (OV-103)
Payload: HST Servicing Mission-3A
Launch date: Dec. 20, 1999
Launch window: 0050-0132 GMT (7:50-8:32 p.m. EST Dec. 19)
Launch site: LC-39B, Kennedy Space Center, Fla.
Landing date: Dec. 28, 1999
Landing time: 0001 GMT (7:01 p.m. EST Dec. 27)
Landing site: SLF, Kennedy Space Center, Fla.



Photo gallery
Deployment - images of Hubble's release from Discovery on Saturday.



Third spacewalk - views from Friday's spacewalk.



Second spacewalk - views from Thursday's spacewalk.



First spacewalk - views from Wednesday's spacewalk.



Retrieval - images from the rendezvous and capture of Hubble.



Launch - images from the countdown and launch.


Video vault

NEW! The Hubble Space Telescope is set free from the grip of the shuttle's robot arm, refurbished and ready to resume its scientific work.
PLAY (733k QuickTime file)



British born astronaut Michael Foale removes Hubble's old computer during the second spacewalk of the mission.
PLAY (450k QuickTime file)



Space shuttle Discovery launches on STS-103 for the third mission to service the Hubble Space Telescope.
PLAY (596k QuickTime file)



Discovery's solid rocket boosters peel away from the shuttle's external fuel tank just over two minutes into flight.
PLAY (218k QuickTime file)



The STS-103 crew depart their crew quarters on Sunday afternoon headed for launch pad 39B.
PLAY (341k QuickTime file)



NASA Launch Director Dave King announces that the first launch attempt on Friday was scrubbed because of bad weather.
PLAY (253k QuickTime file)



Download QuickTime 4 software to view this file.