NASA's commercial trio: Winning strengths outlined
BY STEPHEN CLARK
SPACEFLIGHT NOW
Posted: September 10, 2012


NASA cited SpaceX's flight experience with the Dragon spacecraft and Boeing's methodical approach to designing a crew capsule in its decision to award the companies $900 million to develop a human-rated commercial spaceship, according to a document released last week.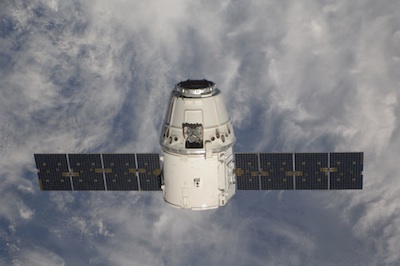 SpaceX's Dragon spacecraft completed a cargo demonstration mission to the International Space Station in May. Credit: NASA



Proposals by Boeing and SpaceX were the strongest received by NASA in the commercial crew competition, which bypassed a bid submitted by rocket-builder ATK and selected Sierra Nevada Corp. for a partial award of $212 million, according to a selection statement posted on a NASA website.

The 21-month agreements with Boeing, SpaceX and Sierra Nevada were signed to fulfill NASA's Commercial Crew Integrated Capability, or CCiCap, phase of the commercial crew program, which aims to develop a privately-owned human space transportation system to deliver astronauts to the International Space Station by 2017.

"It is a capability that includes the spacecraft, the launch vehicle, the ground operations, as well as the flight operations," said Ed Mango, NASA's commercial crew program manger, during the Aug. 3 announcement of the CCiCap winners.

The selection document, which details the strengths and weaknesses considered in NASA's decision, was signed by Bill Gerstenmaier, associate administrator for the space agency's human exploration and operations directorate.

"I find SpaceX's ability to leverage its existing Falcon/Dragon cargo system with incremental targeted design upgrades reduces the overall scope of the development effort going forward," Gerstenmaier wrote.

SpaceX plans up to 25 flights of the Falcon 9 rocket before the launcher's first crewed mission. Nine unmanned Dragon cargo flights are scheduled before astronauts fly in the capsule, according to SpaceX.

According to the selection document, the flight heritage of Falcon 9 and Dragon is a "strong technical advantage" and will reveal what parts of the spacecraft and ground systems need additional work.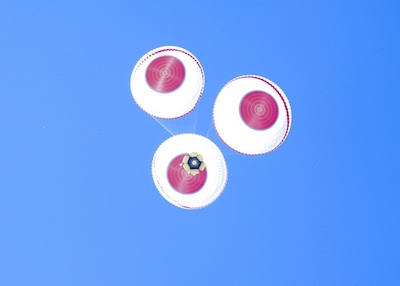 A mock-up of Boeing's CST-100 capsule parachutes to a landing in the Nevada desert during a helicopter drop test in May. Credit: Boeing Co.



The Boeing proposal was marked by a "comprehensive approach" for the development of the CST-100 crew capsule, including incremental design milestones leading to a critical design review - when the spacecraft's design will be frozen - in April 2014.

"This approach did a good job of tying the milestones to completion of certification and qualification activities and will allow for greater review and understanding of technical products prior to advancing to later development milestones," Gerstenmaier wrote.

Boeing and SpaceX received agreements worth up to $460 million and $440 million, respectively. NASA will make payments upon the completion of predetermined design and testing milestones.

In the statement, Gerstenmaier wrote that SpaceX's proposal had the lowest overall development cost of the winning bids, and Boeing's corporate investment was less than any of the firms.

NASA's strategy for commercial crew development focuses on cost-sharing between the government and private industry.

Boeing's agreement includes 19 milestones with significant progress in the CST-100 capsule's propulsion system, avionics and wind tunnel testing.

SpaceX will work on the Dragon capsule's side-mounted abort system, test the abort system with on-pad and in-flight demonstrations, upgrade the Falcon 9 rocket with more powerful engines, and culminate in a critical design review. The SpaceX agreement includes 14 milestones.

SpaceX is targeting a mid-2015 crewed Dragon test flight, and Boeing's schedule calls for a piloted CST-100 demo mission in late 2016.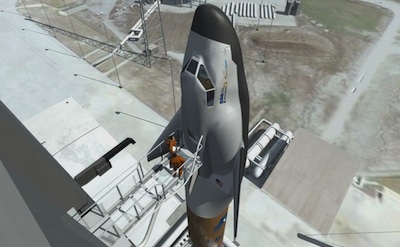 Artist's concept of a Sierra Nevada Dream Chaser lifting body spacecraft on an Atlas 5 rocket on the launch pad. Credit: Sierra Nevada Corp.



Sierra Nevada's agreement features nine milestones to advance the design of the company's Dream Chaser lifting body spacecraft, including risk reduction work on propulsion, attitude control, and other subsystems.

Sierra Nevada will also conduct atmospheric landing tests of a Dream Chaser test article.

In his decision to award Sierra Nevada less than half the amount received by the other CCiCap winners, Gerstenmaier highlighted the complexity and risk of the Dream Chaser's design, which could cause delays and cost growth.

But NASA kept Sierra Nevada in the program due to the unique Dream Chaser concept. The winged lifting body would return to Earth for a runway landing, giving crews and science payloads a smoother ride than capsules.

CST-100 and Dream Chaser flights would blast off aboard United Launch Alliance Atlas 5 rockets from Cape Canaveral, Fla.

All three systems approved for government funding would carry up to seven astronauts on each flight.

In addition to the Liberty proposal by ATK, NASA received bids from Spacedesign Corp., American Aerospace Inc. and Space Operations. Those three proposals were not considered because they were late or did not meet fundamental criteria set for the competition, according to the selection statement.