ATK 'moving on' after Liberty commercial proposal loss
BY STEPHEN CLARK
SPACEFLIGHT NOW
Posted: September 7, 2012


ATK's Liberty rocket and crew capsule scored lower than competitors on technical and business grounds in NASA's commercial crew competition, in which Boeing Co., SpaceX, and Sierra Nevada Corp. netted $1.1 billion in government funding, according to a selection statement posted on NASA's website.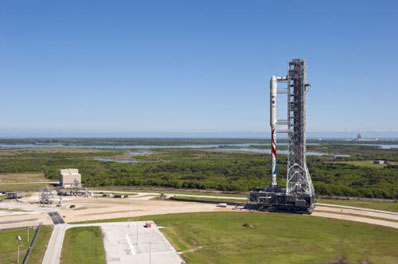 ATK's Liberty rocket concept is based on a five-segment solid rocket motor first stage and a second stage derived from Europe's Ariane 5 rocket. Credit: ATK



The document describes NASA's rationale for bypassing ATK and selecting other proposals to receive a cache of financing.

NASA announced Aug. 3 it will award more than $1.1 billion to Boeing, SpaceX and Sierra Nevada. The money will be paid as the companies accomplish predefined milestones, such as design reviews and tests, over the next 21 months. NASA expects one or more of the companies will offer operational crew transportation services to the International Space Station by 2017.

Boeing is proposing a crew capsule called the CST-100 to transport up to seven astronauts to the space station. SpaceX is working on modifications to its Dragon cargo carrier to support astronaut crews, and Sierra Nevada is designing a lifting body space plane named the Dream Chaser.

SpaceX's Dragon capsule would launch with the company's Falcon 9 rocket family, and the Boeing and Sierra Nevada vehicles are designed to lift off on United Launch Alliance Atlas 5 rockets.

NASA had low technical confidence in the Liberty proposal, which included contributions from Lockheed Martin Corp. and Europe's EADS Astrium aerospace and defense conglomerate, according to the selection statement, which was signed by Bill Gerstenmaier, head of NASA's human exploration and operations directorate.

"I found the ATK proposal to be the weakest of the four proposals," Gerstenmaier wrote.

Trina Helquist, an ATK spokesperson, said the company was assessing the future of the Liberty program. ATK officials previously said Liberty's development would be significantly slowed without a NASA investment. With government funding, ATK projected Liberty's first piloted orbital test flight in 2015.

"We received NASA's debrief and learned that although our proposal focused on the strategic goals called out in the Commercial Crew Integrated Capability solicitation - such as cost to government, schedule and safety - those categories were not given clear weighting in the ratings of the proposal," Helquist said in a written statement. "We have full confidence in our system's high level of safety, low cost to the government and Liberty's ability to launch crewed flights by 2015."

Mark DeYoung, ATK's president and CEO, told investors in August the firm was "moving on" after it lost out on NASA funding. DeYoung said he was disappointed the Liberty concept did not win any NASA funding, but the company will not suffer any financial harm from the decision.

ATK, the builder of the space shuttle's strap-on boosters, said it would combine an extended version of the shuttle solid rocket motor with an upper stage based on the cryogenic core of Europe's Ariane 5 rocket. A seven-person composite crew capsule built by ATK and Lockheed Martin Corp. would fly into orbit on top of the two-stage Liberty launcher.

Liberty crews would ride inside a composite crew capsule based on a design left over from the canceled Constellation moon program, and ATK says flights could also resupply the space station with cargo.

In the selection statement, NASA highlighted deficiencies in details on how ATK would incorporate heritage spacecraft components and systems into the Liberty program.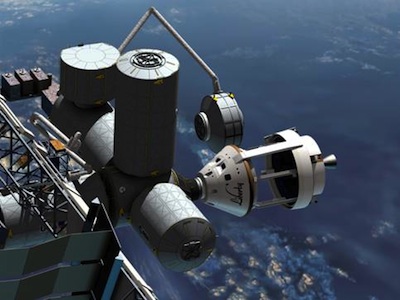 rtist's concept of a Liberty spacecraft and cargo carrier at the International Space Station. Credit: ATK



The Liberty spacecraft would be made of a lightweight composite shell developed by ATK in partnership with NASA's Langley Research Center beginning in 2007. ATK and Langley built a composite pressure vessel as an alternative to the Orion spacecraft's aluminum-lithium structure.

"In addition to this lack of detail, the proposed schedule was very aggressive without enough information to satisfy me on the credibility of the schedule," Gerstenmaier wrote.

"Basically the proposal lacked enough detail to determine if a safe crew transportation could be developed in a timely and cost effective manner out of the heritage components ATK selected for this concept," Gerstenmaier wrote. "Understanding these changes to heritage systems or the process for managing these changes is critical to understanding the viability of the overall proposal, and the integration work required can also dominate the effort if not controlled."

Gerstenmaier wrote there was a "natural break" between the quality of ATK's proposal and the three winning bids.

Mark DeYoung, ATK's president and CEO, told investors in August the firm was "moving on" after it lost out on NASA funding. DeYoung said he was disappointed the Liberty concept did not win any NASA funding, but the company will not suffer any financial harm from the decision.

With little prospect of obtaining any government investment, the Liberty program will be curtailed or could be canceled.

DeYoung said ATK placed more emphasis on work for NASA's heavy-lift Space Launch System, which will initially be powered by two five-segment solid rocket boosters derived from the company's space shuttle rocket motors.

ATK also won an award in July to work on advanced booster concepts for the SLS.

"Liberty was a little bit of a longer shot for us, so we hadn't planned on it," DeYoung said. "So from that view, it should not have any significant financial impact to the company. Going forward, we're going to focus on SLS. We're going to focus on the advanced booster."

The next ground test firing of the SLS booster in Utah is planned for the spring of 2013. It will be the first qualification firing of the five-segment motor following three developmental tests.