NASA's new leadership approved by U.S. Senate
BY STEPHEN CLARK
SPACEFLIGHT NOW
Posted: July 15, 2009


The U.S. Senate Wednesday confirmed former astronaut Charles Bolden to be the next NASA administrator as the agency reaches a critical crossroads.
Bolden, a four-time space flier and former Marine Corps general, will become NASA's 12th administrator since the agency was formed in 1958.
"It is an honor to have been nominated by President Obama and confirmed by the Senate to lead this great NASA team," Bolden said.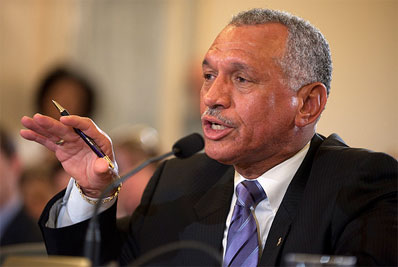 Bolden appears before Senate confirmation. Credit: NASA/Bill Ingalls



Lori Garver was also confirmed as the next NASA deputy administrator. Garver previously served at NASA in policy roles between 1996 and 2001 and as a space advisor to Obama's presidential campaign.

"I am very excited about the opportunity to serve under Charlie Bolden's leadership," Garver said. "My previous five years at NASA exposed me to the incredible talent of the workforce there."

President Obama nominated the pair in May to take over for Mike Griffin, the Bush-appointed administrator that headed NASA from 2005 until Obama's inauguration in January.

Chris Scolese, a longtime NASA engineer, has been acting administrator since Griffin's resignation.

The Senate Committee on Commerce, Science and Transportation held nomination hearings for Bolden and Garver on July 8.

Bolden and Garver will take over NASA during the midst of a commission tasked with evaluating the future of U.S. human spaceflight. Chaired by former Lockheed Martin CEO Norman Augustine, the commission is scheduled to issue its report in August.

"Today, we have to choose. Either we can invest in building on our hard-earned world technological leadership or we can abandon this commitment, ceding it to other nations who are working diligently to push the frontiers of space," Bolden said in a statement.

"If we choose to lead, we must build on our investment in the International Space Station, accelerate development of our next generation launch systems to enable expansion of human exploration, enhance NASA's capability to study Earth's environment, lead space science to new achievements, continue cutting-edge aeronautics research, support the innovation of American entrepreneurs, and inspire a rising generation of boys and girls to seek careers in science, technology, engineering and math," Bolden said.

See our earlier story for more details on Bolden and Garver.