Former astronaut Charles Bolden picked to lead NASA
BY WILLIAM HARWOOD
STORY WRITTEN FOR CBS NEWS "SPACE PLACE" & USED WITH PERMISSION
Posted: May 23, 2009


Nineteen years after helping launch the Hubble Space Telescope, Charles F. Bolden Jr., a former combat pilot, Marine Corps major general and veteran space shuttle commander, has been selected by the Obama administration to serve as the space agency's next administrator. Lori Garver, a former NASA associate administrator for policy and plans and a space policy advisor to the Obama campaign, will serve as Bolden's deputy.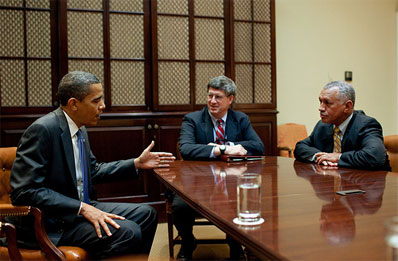 President Barack Obama meets with General Charles Bolden, right, and White House aides earlier this week in the Roosevelt Room of the White House. Credit: Official White House photo by Pete Souza



"These talented individuals will help put NASA on course to boldly push the boundaries of science, aeronautics and exploration in the 21st century and ensure the long-term vibrancy of America's space program," Obama said in a statement Saturday.

In a moment of improbable symmetry, Bolden, the third African American to fly in space, met with President Obama at the White House Tuesday, the day the space telescope was re-launched from the shuttle Atlantis. The five-spacewalk overhaul marked NASA's fifth and final visit to the storied telescope since Bolden helped launch it in 1990.

An announcement naming Bolden as Obama's candidate to head the civilian space agency came four months after the departure of former Administrator Mike Griffin, a rocket scientist appointed by the Bush administration to oversee the shuttle's 2010 retirement and a planned return to the moon.

"The president could not have made a better choice," Griffin told CBS News. "Charlie Bolden is an accomplished pilot, a veteran astronaut and an old friend. He has spent his life in the service of his country, and our nation is the better for it. NASA will be in good hands."

The Obama administration struggled to find an acceptable replacement after deciding not to ask Griffin to stay on, reportedly considering several candidates before settling on Bolden.

Widely respected within NASA for his engineering judgment, leadership skills and no-nonsense approach to thorny technical issues, Bolden's appointment was broadly welcomed by space agency insiders.

"I can't imagine anybody that would be a better choice than Charlie," said Jay Honeycutt, former director of the Kennedy Space Center. "He knows the business of flying in space as well as knows how to navigate his way around Washington. He has a good relationship with Congress as well as the guys in the administration."

Sen. Bill Nelson, D-FL, flew with Bolden during a 1986 shuttle flight and has been lobbying Obama for weeks to put Bolden in charge of NASA at a particularly critical time in the agency's history.

"In all the problems that are facing the president, it's hard to get attention on this one little agency," he told CBS News. "He certainly hears it from me, but he'll hear it then from his own administration (after Bolden is confirmed). And I believe then we've got a chance of getting us really back into the glory days."

In a statement released today, Nelson said Bolden will face "budgetary constraints, technical issues, the remaining shuttle launches and the pending retirement of the shuttle program. And, restoring the wonder that space exploration can provide, and to make sure the president's mission is carried out."

"Charlie is the kind of dynamic leader I believe the president was looking for and I know he'll meet these challenges head on," Nelson said.

NASA is struggling to complete the International Space Station during the final eight shuttle missions between now and the end of 2010. At the same time, the agency is trying to develop a new rocket system for the Bush administration's Constellation program, which is aimed at resuming moon flights in 2020.

The Constellation architecture, calling for development of a new heavy lift unmanned Ares 5 booster, a lunar lander and a smaller Ares 1 rocket to boost Orion crew capsules into orbit, has come under fire from critics who claim alternative rocket systems can be developed faster at lower cost.

Complicating the political picture, the Ares 1/Orion system intended to replace the space shuttle will not be available until 2015, forcing NASA to buy seats on Russian Soyuz spacecraft to ferry U.S. astronauts to and from the space station. Griffin repeatedly warned Congress about this so-called "gap," but the money needed to accelerate development of Ares 1/Orion never materialized.

The Obama administration's first budget supported the Constellation program in general, endorsing shuttle retirement in 2010 and a return to the moon by 2020. But the administration's 2010 budget, while boosting near-term NASA funding, slashed spending by $3.1 billion between 2011 and 2013. If that money is not restored, Ares 5 development will suffer and landings on the moon will be delayed if not eliminated.

Earlier this month, Obama ordered a 90-day independent review of NASA's manned space program headed by former Lockheed Martin CEO Norman Augustine. Options for how best to proceed will be presented to the administration later this summer. Depending on what the Augustine commission determines, some or all of the lost money could be restored to NASA's long-range budget.

Or none at all.

Despite the uncertain outlook, Nelson said he doubts Constellation will go away.

"That's just not going to happen," he told CBS. "You're not going to throw away four years of work on the Ares. So I'm not concerned about that. I think the Augustine commission will bless the Ares. The thing I am concerned about is to what extent Ares 5 will be rapidly developed so we can end up doing the lunar lander here and all of that on a target for 2020. And a lot of that's going to come out of the Augustine Commission.

"Even though we've got this concern, that the numbers are lean in the out years, I still have some optimism about us increasing that," Nelson said. "I think politics will play a part of it, because candidate Obama will be a candidate again in 2012 and I think Florida will be important. Florida will be bigger then, it will be 29 electoral votes and I believe ... they'll pay attention to us. So I'm concerned, but I'm not paniced about the out years."

Even so, Honeycutt cautioned that "I'm not sure anybody can handle this whole deal, but we'll see what comes out of the Augustine review. If they can pretty much stay the course, Charlie can do well with that."

Bolden's first space flight came when he and six crewmates, including then-Rep. Nelson, took off aboard the shuttle Columbia on Jan. 12, 1986. It was the last successful shuttle mission before Challenger's fatal Jan. 28 launch.

Bolden took off a second time on April 24, 1990, when he served as pilot of the shuttle Discovery to ferry the Hubble Space Telescope into orbit.

It is a given in the astronaut office at the Johnson Space Center in Houston that any flight assignment is a good flight assignment. But the Hubble Space Telescope, one of the most expensive civilian satellites ever built, was in a class by itself and Bolden clearly relished a chance to play a role in the showcase mission.

"Astronomy captivates everybody," he said in an interview at the time. "A kid in the ghetto, a kid on the farm, everybody at one time or another happens to glance up at the nighttime sky and they see these things we call stars and every once in a while a planet.

"You'd just have to be a non-human being not to go 'what the heck is that?' It has a fascination for everybody."

Bolden flew in space a third time as commander of the shuttle Atlantis for an atmospheric research mission that took off March 24, 1992. His fourth and final space mission was a historic flight as commander of the shuttle Discovery in 1994, a mission that included cosmonaut Sergei Krikalev, the first Russian to fly on a space shuttle.

The only other joint U.S.-Russian mission up until that time involved the linkup of an Apollo capsule and a Russian Soyuz spacecraft in 1975, a mission that symbolized the era of detente.

"I would imagine there was a lot of effort that went into the science that was conducted, but I think the politics of it probably was the overriding factor back then," Bolden said.

"Although politics plays a pretty important part in this one also, I would feel that our primary effort is geared toward pulling the two nations' (space) databases together in order to optimize what we're hoping to do in the future as far as space exploration is concerned.

"We think the joint scientific thrust ... is of most significance," he said. "I'd be naive to say the political significance is not there. What we are hoping to demonstrate is that two formerly very strong, rival nations can come together, work together toward a common goal and achieve much more than either could have done alone."

Born Aug. 19, 1946, in Columbia, S.C., Bolden earned a bachelor of science degree in electrical engineering from the Naval Academy in 1968 and a master's degree in systems management from the University of Southern California in 1978.

He accepted a commission in the Marine Corps following graduation from Annapolis in 1968 and after flight training at Pensacola, Fla., and other bases he was designated a naval aviator in May 1970.

In 1973, Bolden flew more than 100 missions into North and South Vietnam, Laos and Cambodia while based at Nam Phong, Thailand.

After returning to the United States, Bolden began a two-year tour as a Marine Corps selection officer in Los Angeles. He spent the next three years at the Marine Corps Air Station in El Toro, Calif.

In 1979, Bolden graduated from the U.S. Naval Test Pilot School at Patuxent River, Md., and was assigned to the Naval Air Test Center's systems engineering and strike aircraft test directorates. He was selected as a NASA astronaut in 1980,

Bolden, who lists his hobbies as racquetball, running and first day cover collecting, is married to the former Alexis Walker of Columbia, S.C.. The couple has two children.

He is a member of the Marine Corps Association, the Montford Point Marine Association, the U.S. Naval Institute and he is a lifetime member of the Naval Academy Alumni Association. He is a recipient of the Air Medal, the Strike-Flight Medal, the University of Southern California Outstanding Alumni Award and the NASA Exceptional Service Medal.

Bolden left NASA in 1994 and returned to active duty in the Marine Corps. He retired from the corps in 2002.