The ground track
SPACEFLIGHT NOW
Posted: March 25, 2000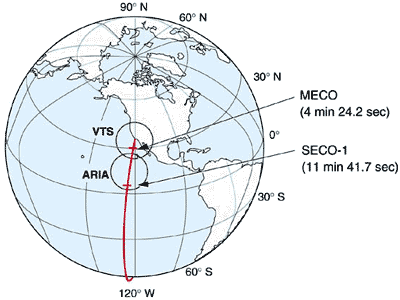 The track shows the path the Delta 2 rocket will use after lifting off from Vandenberg Air Force Base, Calif. Photo: Boeing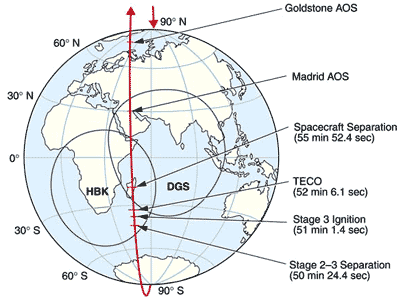 The orbit trace shows the track Delta will follow into space and telemetry coverage zones. Photo: Boeing






Flight Data File
Vehicle: Delta 2 (7326)
Payload: NASA's IMAGE
Launch date: March 25, 2000
Launch window: 2034:43-2042:43 GMT (3:34-3:42 p.m. EST)
Launch site: SLC-2W, Vandenberg Air Force Base, Calif.



Pre-launch briefing
Launch timeline - Chart with times and descriptions of events to occur during the launch.



Delta 2 rocket - Overview of the Delta 2 7326-model rocket used to launch IMAGE.



IMAGE - Description of the IMAGE satellite and its science mission.


Video vault

Animation shows NASA's IMAGE satellite orbiting the Earth for its space weather science mission.
PLAY (179k, 12sec QuickTime file)



Download QuickTime 4 software to view this file.