The Delta 2 rocket
BOEING FACT SHEET
Posted: March 25, 2000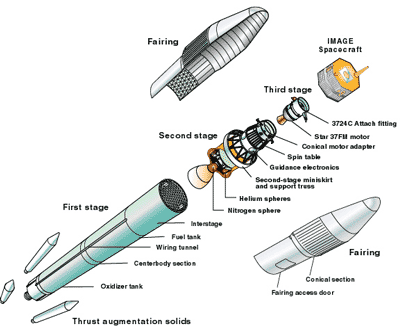 Overview of the Delta 2 rocket's 7326 vehicle configuration used to launch IMAGE. Photo: Boeing



Boeing will use a Delta 2 7326-9.5 to launch NASA's IMAGE satellite. Boeing manufactures Delta rockets in Huntington Beach, Calif., with final assembly in Pueblo, Colo. The 7326-9.5 three-stage launch vehicle has five major assemblies: the first stage, including main engine and three strap-on solid propellant rocket motors; interstage; second stage; third stage and 9.5-foot diameter payload fairing. The Delta 2 is approximately 126 feet tall and eight feet wide.

Manufactured by Rocketdyne, a division of Boeing, the RS-27A main engine operates on liquid oxygen and RP-1 (kerosene). The RS-27A has a sea-level thrust of 200,000 pounds. Each of the three Alliant Techsystems solid strap-on motors has a sea-level thrust of 100,270 pounds. The main engine and the four solid rocket motors deliver a total thrust of 483,000 pounds at liftoff.

An Aerojet AJ10-118K engine powers the second stage and burns Aerozine-50 fuel and nitrogen tetroxide oxidizer. Ignited at altitude, the engine has a vacuum-rated thrust of 9,815 pounds.

The third stage is Thiokol's Star 37 solid-propellant stage.

The Boeing family of launch vehicles is derived from the Delta family of rockets built and launched since 1960. In that time more than 270 Deltas have been launched.

Delta 2 rockets can be configured as two- or three-stage vehicles depending on mission requirements. The latest version, the Delta 2 7925 model, can boost 3,965 pounds (1800 kg) to geosynchronous transfer orbit (GTO).
| | |
| --- | --- |
| File photo gives an aerial view of a Delta 2 rocket launching into space. Photo: USAF | |
Today, Boeing has a growing list of commercial customers, including Hughes Space and Communications International, Inc., Space Systems/Loral, and Motorola. Delta rocket were used to launch 28 satellites to form the cornerstone of the Globastar system.
To serve its commercial customers, Boeing has agreements with the U.S. Air Force and NASA for the use of two government-owned launch pads at Space Launch Complex 17, Cape Canaveral Air Station, Fla., and one pad at Space Launch Complex 2, Vandenberg Air Force Base, Calif.
Major subcontractors include: Alliant Techsystems, Magna, Utah, graphite epoxy motors for boost assist; Aerojet, Sacramento, Calif., second-stage engine; Thiokol, a subsidiary of Cordant Technologies, Elkton, Md., third-stage solid rocket motor; and AlliedSignal, Teterboro, N.J., Redundant Inertial Flight Control Assembly (RIFCA) provides course and attitude control.




Flight Data File
Vehicle: Delta 2 (7326)
Payload: NASA's IMAGE
Launch date: March 25, 2000
Launch window: 2034:43-2042:43 GMT (3:34-3:42 p.m. EST)
Launch site: SLC-2W, Vandenberg Air Force Base, Calif.



Pre-launch briefing
Launch timeline - Chart with times and descriptions of events to occur during the launch.



Orbit trace - Maps showing the ground track the rocket will follow during flight.



IMAGE - Description of the IMAGE satellite and its science mission.




NewsAlert
Sign up for Astronomy Now's NewsAlert service and have the latest news in astronomy and space e-mailed directly to your desktop (free of charge).