BY JUSTIN RAY


Follow the preparations to the maiden launch of Lockheed Martin's Atlas 5 rocket carrying the Eutelsat Hot Bird 6 TV broadcasting satellite. Reload this page for the very latest on the mission. Use our text only page for faster downloads.


Read our earlier status center coverage.






Computer Sciences Corporation


Working with Lockheed Martin In Helping Atlas V Become a Reality


With more than 40 years of experience, CSC is the leader in delivering end-to-end technology and business solutions to the Aerospace and Defense industry.


LEARN MORE >>

Snapshot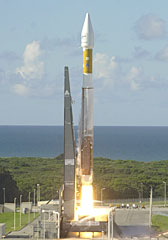 The Atlas 5 blasts off on its maiden voyage. Photo: ILS



Pre-launch briefing
Atlas 5 overview - Our story looking at a new era in American space rocketry.



Launch timeline - A preview of the events to occur during the first Atlas 5 launch.



The rocket - Technical story of the new Atlas 5 rocket family.



Complex 41 - A tour of the Atlas 5 launch site and description of the "clean pad" concept.



Dual ops - Current Atlas rocket models not going away for awhile.



Hot Bird 6 - Learn more about the satellite cargo for the first Atlas 5 launch.



The weather - A look at the challenges of forecasting the weather for Atlas 5.



Atlas index - A directory of our previous Atlas launch coverage.




Flight data file
Vehicle: Atlas 5 (AV-001)
Payload: Hot Bird 6
Launch date: August 21, 2002
Launch window: 6:05-7:34 p.m. EDT (2205-2334 GMT)
Launch site: Complex 41, Cape Canaveral AFS, Florida
Satellite broadcast: Galaxy 3, Transponder 1, C-band


Hubble
Astronomy Now presents Hubble: the space telescope's view of the cosmos. A collection of the best images from the world's premier space observatory.


U.S. STORE

U.K. & WORLDWIDE STORE

Apollo 15 DVDs
Bring a unique piece of space history to your living room. Two- and six-disc Apollo 15 DVDs will be shipping soon.


U.S. STORE

U.K. & WORLDWIDE STORE


Now showing
For Spaceflight Now+Plus service (subscribers only):


Watch 4-min, 20-sec movie of the Atlas 5 rocket rolling from the Vertical Integration Building to the open-air launch pad at Cape Canaveral Air Force Station's Complex 41.
QuickTime or RealVideo


As the Atlas 5 rocket was preparing to roll off its launch pad for return to the Vertical Integration Facility to conclude the first countdown dress rehearsal, Spaceflight Now was there to capture this 360-degree panorama.
VIEW (QuickTime file)


With the Atlas 5 rocket back inside the Vertical Integration Facility about 1,800 feet away, Spaceflight Now captured this 360-degree panorama from the base of the launch pad at Cape Canaveral's Complex 41.
VIEW (QuickTime file)



See full listing of video clips.