The launch ground track
SPACEFLIGHT NOW
Posted: February 19, 2002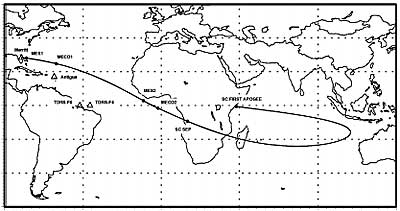 The ground track that the Atlas 3B rocket will follow during launch of EchoStar 7. Photo: Lockheed Martin






Pre-launch briefing
Launch timeline - Chart with times and descriptions of events to occur during the launch.



Atlas 3B vehicle data - Overview of the rocket to be used in this launch.



The RD-180 - Facts and figures about the Russian-built engine to power Atlas 3.



EchoStar 7 - Description of this direct-to-home TV broadcasting satellite.



Atlas index - A directory of our previous Atlas launch coverage.