NASA communications relay craft rides Atlas into space
BY JUSTIN RAY
SPACEFLIGHT NOW
Posted: December 4, 2002

| | |
| --- | --- |
| | The Atlas 2A rocket lifts off. Photo: NASA |
Blasted into orbit Wednesday by Lockheed Martin's final Atlas 2A booster, an advanced replacement satellite is en route to join NASA's flotilla of communications spacecraft designed to relay Hubble's dazzling views of the cosmos, link astronauts and mission control and track launching rockets.

After a nine-hour countdown, the rocket's liquid-fueled engines fired to life right on schedule at 9:42 p.m. EST, powering the 415,000-pound, 156-foot tall Atlas slowly off Cape Canaveral Air Force Station's launch pad 36A.

A half-hour later over Africa, the Tracking and Data Relay Satellite-J, or TDRS-J, was released into geosynchronous transfer orbit from the Centaur upper stage. It capped the 23rd and last Atlas 2A rocket launch, ending a 10-year history with a flawless record. Wednesday's flight also extended the Atlas consecutive mission success string to 63.

"We couldn't be more pleased with this evening's launch," said Robert Jenkens Jr., NASA's TDRS project manager from Goddard Space Flight Center. "Controllers have already made contact with TDRS-J and all seems well. My congratulations to everyone who helped make this launch a success."

Over the next eight days, the Boeing-built TDRS-J satellite will perform a series of orbit raising maneuvers with its liquid-fueled kick engine to reach geostationary orbit 22,300 miles above the equator. The craft will match Earth's rotation at 150 degrees West longitude, deploy its appendages and undergo an extensive examination period.
| | |
| --- | --- |
| | An illustration of the TDRS-J satellite in orbit. Photo: Boeing |
Once fully checked out, NASA will take ownership of the spacecraft from Boeing and commission it alongside the rest of the TDRS constellation. The satellite will be renamed TDRS-10.

The TDRS system receives voice, television and data transmissions from orbiting space shuttles, the International Space Station and various other satellites and relays the information to Earth. The satellites also work in reverse, allowing ground teams to send signals to their spacecraft via TDRS.

The first TDRS satellite was launched by space shuttle Challenger in April 1983. There were seven original TDRS spacecraft built by TRW and launched on shuttles, one of which was lost in the 1986 explosion of Challenger.

Beginning in 2000, NASA began launching three replenishment craft made by Boeing -- the TDRS-H, -I and -J satellite series -- to keep the space agency's preeminent communications relay system functioning until 2012, while also increasing its capabilities.

"The TDRS spacecraft are the lifeline of mankind in space, and TDRS-J will add significant new capability to the TDRS fleet," said Randy Brinkley, president of Boeing Satellite Systems. "Along with TDRS-H and TDRS-I, this new spacecraft will help maintain and expand the specialized space communications capabilities of the TDRS constellation, which has served numerous national and international missions since 1983."

TDRS-H did suffer an antenna design flaw that reduces some of its performance. Boeing fixed the problem and the TDRS-I satellite, launched this past March, has shown no signs of problems during in-space testing.

TDRS-I experienced its own setback shortly after launch when one of two onboard fuel tanks wouldn't pressurized due to either a faulty valve or a valve wiring error. After several months of recovery efforts, TDRS-I finally made it geostationary orbit. Extra pre-launch testing gave officials confidence TDRS-J wouldn't be hit with such a glitch.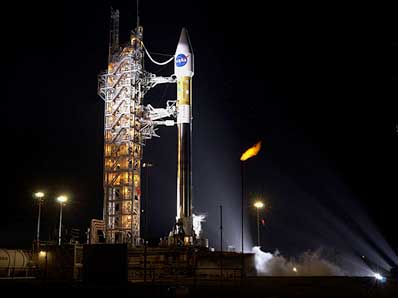 The Atlas 2A rocket awaits launch on its finale flight. Photo: NASA



For Lockheed Martin, this year saw five Atlas launches including the inaugural flight of the next-generation Atlas 5 in August and the final Atlas 2A.

The company retired the Atlas 2A, the least powerful configuration in today's Atlas fleet, in favor of other versions that can loft heavier cargos.

The Atlas 2 family will live on for five more flights of the Atlas 2AS vehicle that sports strap-on solid rocket boosters. The future of the venerable American launcher family is with the Atlas 3 and Atlas 5.

The next Atlas mission is scheduled for early February when an Atlas 3 will loft the AsiaSat 4 commercial communications satellite.


Video coverage for subscribers only:


VIDEO: ATLAS 2A ROCKET BLASTS OFF WITH TDRS-J QT or RV


VIDEO: CLOSE UP VIEW OF MAIN ENGINE IGNITION QT or RV


VIDEO: VIEW OF LAUNCH FROM THE PRESS SITE QT or RV


VIDEO: PLAYALINDA BEACH CAMERA ANGLE QT or RV


VIDEO: ANOTHER ANGLE OF THE LIFTOFF QT or RV


VIDEO: CAMERA LOCATED IN CAPE INDUSTRIAL AREA QT or RV


VIDEO: POWERFUL TRACKING CAMERA FOLLOWS ROCKET QT or RV


VIDEO: MOBILE SERVICE TOWER ROLLED BACK FOR LAUNCH QT or RV


VIDEO: WATCH ENTIRE PRE-LAUNCH NEWS CONFERENCE QT or RV


SUBSCRIBE NOW