The TDRS-J satellite
FROM NASA PRESS KIT
Posted: December 1, 2002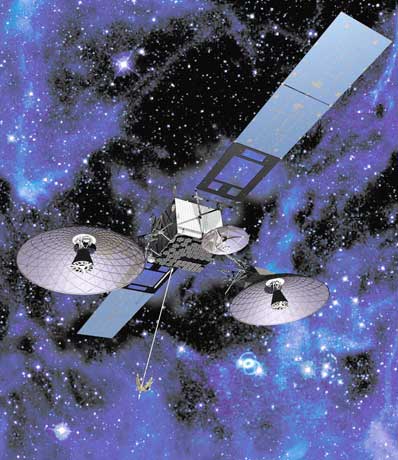 An artist's concept of the TDRS-H, I, J. Photo: Boeing



NASA launched TDRS-H, the first of three replenishment satellites, on June 30, 2000 from Cape Canaveral Air Force Station, Fla. aboard an Atlas 2A rocket. A performance shortfall on the satellite's Multiple-Access phased array antenna, detected by Boeing Satellite System (BSS) engineers on August 8, 2000, delayed acceptance until October 17, 2001. NASA re-designated the spacecraft TDRS-8 and commissioned it into service upon completion of on-orbit testing.

Shortly after the TDRS-I launch on March 8, the NASA/BSS team detected a propulsion subsystem pressure anomaly. After a seven-month planning and recovery effort, TDRS-I safely reached geosynchronous orbit on September 30. Controllers successfully deployed all appendages in early October. NASA and BSS personnel are currently conducting on-orbit tests of the spacecraft's communications payloads and spacecraft operations, which are scheduled to conclude sometime in December.

TDRS-H, I, and J provides users with Ka-band Single Access. This new high frequency service provides higher bandwidth, less interference with terrestrial communications, and a lower user satellite equipment burden.

TDRS-J also features S-band Multiple-Access, providing users with five return channels (satellite to ground) and one multiple access forward channel (ground to user) per TDRS. TDRS-H, I and J have been upgraded to three megabits per second return versus 100 kilobits per second for the original TDRS 1-7 fleet, and up to 300 kilobits per second forward.

Boeing Satellite Systems, Inc. of El Segundo, Calif., built TDRS-H, I and J for NASA under a fixed price contract.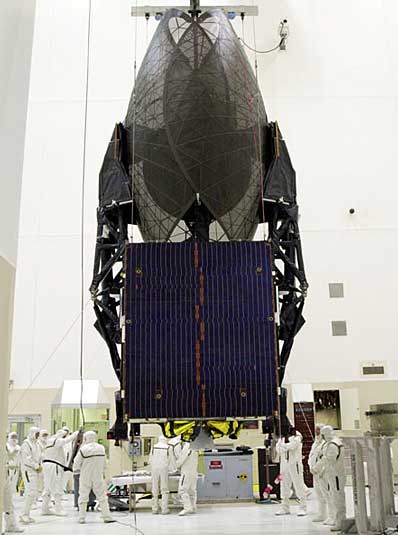 The TDRS-I satellite readied for launch at Kennedy Space Center. Photo: NASA



Spacecraft details
Dimensions: 68 feet, 10 inches (21 meters) long by 43 feet, five inches (13 meters) wide on orbit, fully deployed.

Weight: Approximately 7,039 pounds at lift-off (3,196 kilograms) and 3,930 pounds (1,786 kilograms) at beginning of on-orbit life.

Power: Silicon solar cell arrays generate 2,300 watts of power, and nickel-hydrogen batteries supply spacecraft power during solar eclipses.

Spacecraft payload
Each satellite is comprised of the spacecraft bus, two solar arrays, two graphite antenna reflectors, two radiators, payload module, space-ground link antenna, multiple access return antenna, multiple access forward antenna, an Earth sensor, and forward omni antenna.

A new antenna reflector design for TDRS-H, I, and J consists of two 15-foot-diameter graphite mesh antenna reflectors. The graphite combines shape memory with flexibility. Shaped for maximum aperture efficiency, each reflector is folded into a taco shape during launch then springs back to their original cupped circular shape once on orbit. Weighing less than 36 pounds (16 kilograms) each, the reflectors can be adjusted, or actively tuned, on orbit.

TDRS-8*, -I and -J offers the following services:

S-band Single Access -
Tunable over a range of frequencies, including Multiple Access;
Provides high gain support for a Multiple Access user satellite with degraded communications, or can temporarily provide an increased data rate;
Provides forward and return services to users at a particular location;
Provides two-way communication during user satellite data recorder playbacks, or full-time high-rate service to high-priority users such as the International Space Station and Space Shuttle;
Transmits at speeds up to 6 megabits per second (Mbps) return; 300 kilobits per second (Kbps) forward data rates.
S-band Multiple Access-
Provides five Multiple Access return channels (satellite to ground) and one Multiple Access forward channel (ground to users) per spacecraft; (*Not fully functional on TDRS-8)
Features return services that use the same frequency (2287.5 MHz) and code division multiple access to avoid interfering with each other;
TDRS-H, I and J have been upgraded to 3 megabits per second return versus 100 kilobits per second for the original TDRS, and up to 300 kilobits per second forward.
Ku-band Single Access -
Operates at frequencies between 13.7 to 15.0 GHz, providing higher bandwidth for user satellites with data rates to 300 megabits per second return and 25 megabits per second forward;
The rates support high-resolution digital television for Space Shuttle video communications;
Also used to efficiently transfer large volumes of data from tape or solid-state data recorders aboard numerous NASA scientific spacecraft.
Ka-band Single Access -
Features a new, high-frequency service that has the capability to increase data rates 800* megabits per second for future missions with higher bandwidth communication needs such as multi-spectral instruments for Earth science applications (*Note: Data rates above 300 Mbps require additional ground station modifications);
Establishes international compatibility with Japanese and European space relay programs, allowing mutual support in case of emergencies;
High frequency provides high bandwidth, less interference with terrestrial communications, and lower user satellite equipment burden.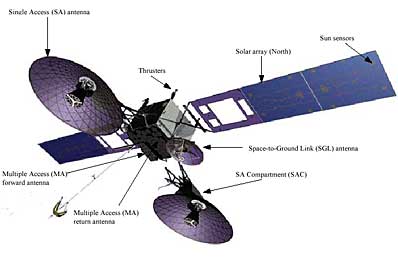 Illustration of TDRS-H, I, J systems. Photo: Boeing



Satellite Navigation - In addition to telemetry, command and mission data communication services, TDRS-H, I and J will continue to provide navigational data, which provides the location and orbit of all user satellite.

Mission Lifetime - TDRS-H, -I and -J have a specified mission lifetime of 11 years, with expendables (fuel) for up to 14 years of on-orbit storage.

Pre- and Post-Acceptance Testing - Boeing Satellite Systems is responsible for pre-acceptance testing, performed from NASA's White Sands Complex while the satellite is located at 150-degree West longitude. Upon NASA acceptance, each satellite goes through post-acceptance testing, also performed from the White Sands Complex, and under the guidance of Goddard's Mission Services Program Office.

Cost - TDRS-H, -I and -J spacecraft and White Sands Complex modifications cost approximately $485 million, or about $800* million for the entire program (e.g., three satellites, expendable launch vehicles, White Sands Complex modifications and NASA program costs). (*Cost updated in October 2002)

Mission Oversight - Upon government acceptance, Goddard's Space Network Project Office will assume mission oversight.

TDRS Operational Locations -
TDRS-1: Relocated to 49 degrees West longitude after several years of successful operation. Now provides part-time coverage of the Antarctic region, supporting National Science Foundation research efforts.
TDRS-2: Lost aboard the Space Shuttle Challenger
TDRS-3: Operating at 275 degrees West longitude
TDRS-4: Operating at 41 degrees West longitude
TDRS-5: Operating at 174 degrees West longitude
TDRS-6: Operating at 47 degrees West longitude
TDRS-7: Operating at 171 degrees West longitude
TDRS 8: Operational; co-located with TDRS-7
TDRS I: Currently being tested at 150 degrees West longitude. No operational slot determined until testing is complete and NASA accepts the spacecraft.




Flight data file
Vehicle: Atlas 2A (AC-144)
Payload: TDRS-J
Launch date: December 4, 2002
Launch window: 9:42-10:22 p.m. EST (0242-0322 GMT on Dec. 5)
Launch site: SLC-36A, Cape Canaveral AFS, Fla.
Satellite broadcast: GE-2, Trans. 9, C-band



Pre-launch briefing
Launch timeline - Chart with times and descriptions of events to occur during the launch.



Ground track - See the trajectory the rocket will follow during its flight.



Atlas 2A vehicle data - Overview of the rocket to be used in this launch.



History of TDRSS - Past launches of TDRS satellites and their current status.



Atlas index - A directory of our previous Atlas launch coverage.



New DVD
The conception, design, development, testing and launch history of the Saturn I and IB rocket is documented in this forthcoming three-disc DVD.


U.S. STORE

U.K. & WORLDWIDE STORE

Hubble Calendar
NEW! This remarkable calendar features stunning images of planets, stars, gaseous nebulae, and galaxies captured by NASA's orbiting Hubble Space Telescope.


U.S. STORE

U.K. & WORLDWIDE STORE

The ultimate Apollo 11 DVD
NEW 3-DISC EDITION This exceptional chronicle of the historic Apollo 11 lunar landing mission features new digital transfers of film and television coverage unmatched by any other.


U.S. STORE

U.K. & WORLDWIDE STORE

Hubble
Astronomy Now presents Hubble: the space telescope's view of the cosmos. A collection of the best images from the world's premier space observatory.


U.S. STORE

U.K. & WORLDWIDE STORE

Apollo 15 DVDs
Bring a unique piece of space history to your living room. Two- and six-disc Apollo 15 DVDs will be shipping soon.


U.S. STORE

U.K. & WORLDWIDE STORE