BY JUSTIN RAY


October 19, 2000 -- Read about the countdown and launch of the DSCS B11 communications satellite aboard a Lockheed Martin Atlas 2A rocket. Reload this page for the very latest on the mission.





Video vault

The Lockheed Martin Atlas 2A rocket lifts off from Cape Canaveral with the DSCS B11 spacecraft.
PLAY (254k, 36sec QuickTime file)



The bottom engine structure is separated from the Lockheed Martin Atlas 2A rocket nearly three minutes into flight.
PLAY (103k, 14sec QuickTime file)



Animation of the DSCS satellite's early operations once in space.
PLAY (183k QuickTime file)



Download QuickTime 4 software to view this file.



Flight data file
Vehicle: Atlas 2A (AC-140)
Payload: DSCS B11
Launch date: Oct. 19 2000
Launch window: 2336-0055 GMT (7:36-8:55 p.m. EDT)
Launch site: SLC-36A, Cape Canaveral, Fla.


Flight profile

Track the major launch events for the Atlas 2A rocket carrying the DSCS B11 satellite on Spaceflight Now's interactive flight profile page (requires JavaScript).



Pre-launch briefing
Launch preview - Read our story for a complete preview of the DSCS B11 launch.



Launch timeline - Chart with times and descriptions of events to occur during the launch.



Atlas 2A vehicle data - Overview of the rocket that will launch DSCS B11 into space.



DSCS - Description of the satellite to be launched on AC-140.



Launch windows - Listing of the available opportunities to launch in coming days.



Atlas index - A directory of our previous Atlas launch coverage.



Snapshot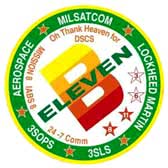 The mission patch for DSCS B11. Photo: USAF