SMART 1 fires up its ion engine for first time
BY JUSTIN RAY
SPACEFLIGHT NOW
Posted: October 1, 2003


The ion engine aboard the European Space Agency's newly-launched SMART 1 lunar probe was successfully ignited high above Earth on Tuesday.

The solar-electric propulsion system of the spacecraft fired at 1225 GMT (8:25 a.m. EDT) after commands were sent from the control center in Darmstadt, Germany.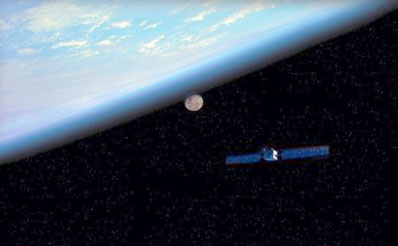 An artist's concept of SMART 1 in space. Credit: ESA



The trial run lasted an hour, which officials said was similar to one performed on Earth before SMART 1 was launched.

"Several months ago, the ion engine, or Solar Electric Primary Propulsion system, had been placed in a vacuum chamber on the ground and its functions and operation were measured. Now in space and in a true vacuum, the ion engine actually worked better than in the test on ground and has nudged SMART 1 a little closer to the Moon," officials said in a statement.

SMART 1's propulsion system consists of a single ion engine fueled by xenon gas and powered by solar energy. The ion engine will accelerate SMART 1 very gradually to cause the spacecraft to travel in a series of spiralling orbits -- each revolution slightly further away from the Earth -- towards the Moon. Once captured by the Moon's gravity in 2005, SMART 1 will move into ever-closer orbits of the Moon.

The SMART 1 is a 110-million-euro technology demonstration mission aimed at proving the ion engine and other spacecraft components for use by future spacecraft. As part of the ion engine mission objectives, the data from the first in-space firing will be analyzed to determine how much acceleration was achieved and how smoothly the spacecraft traveled.

SMART 1 was launched Saturday night aboard an Ariane 5 rocket from South America.




Stargazing DVD
Bring the beauty and majesty of the universe to your home, direct from the Hubble Space Telescope, with this DVD.


U.S. STORE

U.K. & WORLDWIDE STORE

Story on stage
SIGNED COPIES! "A Space Story" DVD is a galactic journey with astronaut Story Musgrave visiting the Hubble Space Telescope, viewing Earth from Space, and reaching for the heavens. Get a signed copy while stocks last!


U.S. STORE

U.K. & WORLDWIDE STORE

Mars DVD
Explore the Red Planet from the comfort of your home with this interactive DVD. Includes 3D glasses for viewing three-dimensional images of Mars.


U.S. STORE

U.K. & WORLDWIDE STORE

Russian patches
The cancelled Soviet space shuttle Buran is commemorated in this special cloth patch available from our store.


U.S. STORE

U.K. & WORLDWIDE STORE