Ariane trifecta: Lunar probe, two other satellites launched
BY JUSTIN RAY
SPACEFLIGHT NOW
Posted: September 27, 2003

| | |
| --- | --- |
| | The Ariane 5 rocket lifts off Saturday night. Photo: ESA/CNES/Arianespace |
Relying upon an experimental ion engine and miniaturized instruments, Europe's first robotic lunar orbiter has launched to study the Moon's history while serving as a technology testbed for future missions.

The Small Missions for Advanced Research in Technology 1 spacecraft, or SMART 1, shared the ride into space Saturday with two communications satellites aboard a European Ariane 5 rocket.

Liftoff from the Guiana Space Center on South America's northeast coast occurred at 2314:46 GMT (7:14:46 p.m. EDT), nearly 13 minutes late to adjust the amount of cryogenic propellants in the rocket's main stage in an effort to "tune" the Vulcain 1 engine for the mission.

The Indian Insat 3E and Eutelsat e-Bird communications craft were stacked atop SMART 1 for the ascent. After a 27-minute powered flight, the Ariane 5 achieved its planned geosynchronous transfer orbit, reaching a high point of 35,935 km for the target of 35,873 km, a low point of 649.5 km for a target of 648.7 km and inclination right on the mark at 7.01 degrees to the equator.

"Bravo to this superb success," Jean-Yves Le Gall, the chief executive officer of Arianespace, told those gathered in the control room. "Judging by the precise orbit for SMART 1, it is well on its way to the Moon."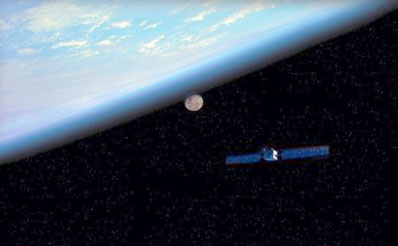 An artist's concept of SMART 1 in space. Credit: ESA



"SMART 1 is a very smart spacecraft and it has been built by a very smart team," said David Southwood, ESA's director of science. "It is a step into the future. It contains lots of new technology, lots of miniaturization, which are going to allow us to do more science, to see more of our universe and understand more about our solar system."

SMART 1 will begin firing its ion engine Tuesday for epic journey to reach the Moon. The solar-electric propulsion system works by drawing 1350 watts of electric power from the satellite's solar panels to accelerate charged atoms of xenon through the engine, generating a thrust of 0.07 Newton -- the equivalent weight of a postcard. The onboard fuel supply is 82 kg of xenon gas.

Although not operating constantly, the engine will be used over 16 months to propel SMART 1 into a highly elliptical orbit around the Moon's poles in a complex, multi-step sequence.

At first, it will fire almost continuously -- pausing only when is in the Earth's shadow -- to raise the lowest point of its orbit to 20,000 km. This maneuver will take about 80 days to complete.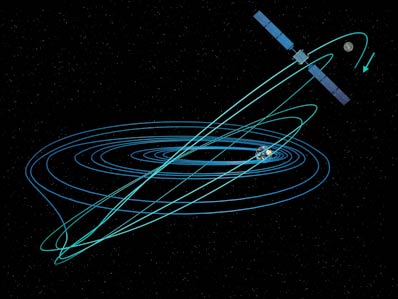 This illustration shows SMART 1 maneuvering from Earth to the Moon. Credit: ESA



SMART 1 will then progressively raise its apogee to the orbit of the Moon. At 200,000 km from Earth, it will begin receiving significant tugs from the Moon as it passes by.

Three gravity-assist maneuvers will be performed while flying by the Moon in late December 2004, late January and February 2005. Eventually, SMART 1 will be "captured" and enter its lunar orbit in March 2005.

Successfully demonstrating that the engine functions properly will provide a boost for upcoming European science missions already planning to incorporate the concept into spacecraft aimed at exploring Mercury and the Sun.

"The main objective is to validate in-flight primary electric propulsion. This will be used in the future by missions with high-energy demand, like BepiColombo, Solar Orbiter and others," Giuseppe Racca, SMART 1 project manager, told Spaceflight Now. "For all these missions, it has been essential to have gone through the development of SMART 1 and will be very important to have good results out of it.

"SMART 1 is a preparatory mission in many respects," Racca continued. "There are also many other technologies -- Ka-band communications, laser link, autonomous navigation, etc. -- which will be instrumental for all the future deep space missions."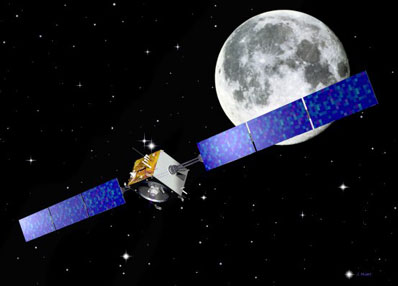 An artist's concept of SMART 1 and its destination -- our moon. Credit: ESA



Two other spacecraft have featured ion engines in recent years -- NASA's Deep Space 1 technology demonstrator and ESA's Artemis experimental communications satellite. But the engine design for those missions differ from SMART 1, Racca said.

"Both DS1 and Artemis had a so-called 'gridded ion engine.' The name comes from the fact that the acceleration of the ions is produced by an electric field applied to a grid system. Artemis had two types of these gridded engines, one where the ions are produced by a radio frequency system and one by electron bombardment, the latter as in DS1.

"SMART 1 will instead use for the first time as primary propulsion an engine based on the Hall-effect. In these engines the acceleration of the ion is produced by an electric field generated by the Hall effect in a radial magnetic field. The advantage is that of not using grids, which tend to degrade by erosion as they are directly in front of the highly energetic xenon ions.

"In terms of performance, the gridded engines have a higher specific impulse: consume less fuel, about one-half typically than the Hall-effect engines, but a lower specific thrust: consume more electrical power to generate the same thrust.

"Depending on the type of mission and onboard power availability, the two engines show pros and cons."

Ion engines require a substantially smaller fuel supply than conventional rocket engines, allowing the weight savings to increase a spacecraft's scientific instrument package.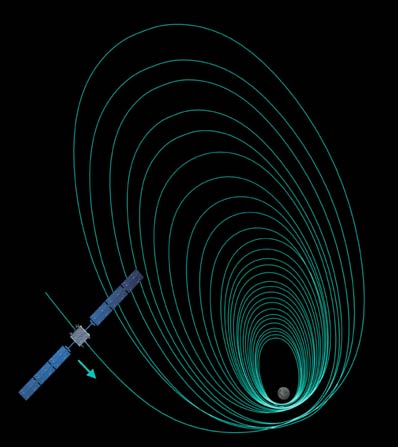 This illustration shows SMART 1 getting into orbit around the Moon. Credit: ESA



In April 2005, SMART 1 will settle into the lunar science phase of its 110-million euro mission, gathering possible evidence of water-ice in craters and studying the Moon's chemical makeup and its geophysical processes.

"Although it was born as a technology mission, it is roughly equally important as far as lunar science and technology," Racca said.

"SMART 1 will perform for the first time a global mapping with an infrared spectrometer and an X-ray spectrometer, with varying resolutions. This will also be combined with a color-filtered camera. This has never been done before and will complete and complement the recent observations performed by Clementine and Prospector in an ideal way," Racca said, referring to the U.S. robotic orbiters sent to the Moon in the last decade.

"It will therefore allow to progress substantially in the key lunar questions leading to the understanding of its origin and evolution."

Scientists hope the data also could help answer questions about how the Moon was formed. Some believe the Moon was created in a colossal collision between Earth and a massive object when the planet was still young.

The science mission is expected to last six months. If the craft has enough fuel for a life extension, its orbit could be lowered closer to the lunar surface to get sharper imagery.

"If we have enough fuel I think the most interesting thing to do would be to lower the orbit and get higher resolution images and spectra -- hence mineral and chemical composition -- in some particular area (like the) South Pole Aitken basin," said Racca.

SMART 1 was developed for ESA by the Swedish Space Corporation with contributions from almost 30 contractors from 11 European countries and the United States.

Insat 3E for Indian communications
The Indian Space Research Organization's Insat 3E will use an onboard liquid-fueled kick engine to circularize its orbit at geostationary altitude 36,000 km above the Indian Ocean, parking itself at 55 degrees East longitude. It should be checked out and operational within a few weeks.
| | |
| --- | --- |
| | An artist's concept of Insat 3E. Credit: ISRO |
The satellite will replace INSAT-2DT spacecraft and leased transponders for providing communications and television services across India. It features 24 regular C-band transponders and 12 extended C-band transponders.

Speaking after the launch, Gopalan Madhavan Nair, chairman of ISRO, said: "I would like to say a few words about the Indian space program. It is, essentially, tuned towards benefiting the common man at large. We have been successful in providing services, which meets the day-to-day needs for the people in the country. The Insat series of spacecraft is the mainstay for communication and broadcasting in the country."

This was the fourth Insat 3-series satellite launched. Insat 3D, an advanced meteorological satellite, is scheduled to fly next year.

In all, Insat 3E is the 11th Indian satellite launch by Ariane over the past 22 years. India's first satellite, Apple, was carried aloft in 1981.

e-Bird to service Internet in Europe
Paris-based satellite operator Eutelsat calls its e-Bird spacecraft the world's first satellite specifically designed for two-way Internet services. With its multiple spotbeams for high-power regional coverage, the craft will serve customers in areas not served by ADSL and other terrestrial broadband technologies.
| | |
| --- | --- |
| | An artist's concept of e-Bird and its spotbeams. Credit: Boeing |
"We believe that e-Bird's unique design breaks new ground in satellite broadband and that this new resource dedicated to Internet applications will truly benefit service providers in Europe by enabling them to expand their broadband offer to users who are not be served by terrestrial broadband solutions," Eutelsat's CEO Giuliano Berretta said.

"This new satellite sits beside the roll-out of multimedia platforms which we and our partners have deployed in order to share costs of on-ground central equipment, and efforts to drive down costs of two-way user terminals as the third pillar in our broadband strategy."

Boeing Satellite Systems built the craft, which uses the barrel-shaped 376-model design and features 22 Ku-band transponders.

"Forty years ago, Boeing started a communications revolution with the launch of Syncom, the world's first geosynchronous communications satellite," said Dave Ryan, president of Boeing Satellite Systems International. "e-Bird is the latest in that long line of reliable Boeing spin-stabilized spacecraft. A thorough check-out on orbit lies ahead for the satellite, and we are confident that e-Bird will soon take its place as a vital long-term asset supporting Eutelsat's future growth."
| | |
| --- | --- |
| | e-Bird undergoes pre-launch testing at the factory. Credit: Boeing |
The craft has a solid-fueled booster to propel itself into geostationary orbit for operation at 33 degrees East to cover Europe and Turkey. Eutelsat says the Eurobird 1 spacecraft, located nearby at 28.5 degrees East, will allow the bundling of digital TV and broadband services that can be received by small domestic antennas.

Saturday's flight marked the 161st Ariane rocket launch dating back to 1979 and the 17th flight of the next-generation Ariane 5 rocket. It was the fourth Arianespace mission of 2003, following a pair of Ariane 5 flights and the final launch of the Ariane 4 rocket earlier this year.

The heavy-lift Ariane rocket has accumulated three consecutive successes and 13 overall in its 17 launches since 1996.

The next Ariane 5 mission is targeted for the end of November to loft the Mexican Satmex 6 communications satellite.