U.S. weather satellite launch bumped back to Saturday
BY JUSTIN RAY
SPACEFLIGHT NOW
Posted: January 17, 2001


A vintage Titan 2 rocket built in the 1960s is poised for a $430 million launch before sunrise Saturday from Central California carrying a crucial replacement global weather satellite for the U.S. military.

Blastoff from Space Launch Complex 4-West at Vandenberg Air Force Base is scheduled for 1358 GMT (8:58 a.m. EST; 5:58 a.m. PST), one day later than expected after workers had to replace faulty test cables at the pad. The cables failed on Tuesday while testing the rocket's safety destruct ordnance.

Weather forecasters are calling for a 90 percent chance of good conditions for a Saturday launch during the available 10-minute window in which to get the Titan 2 off the ground.

The only concern is the temperature dipping below 35 degrees F in the final 24 hours prior to launch, which would cause the liftoff to be postponed, Air Force Launch Director Lt. Col. James Hyatt said Wednesday.

"So as long as we (stay) above the 35 degree threshold 24 hours before the launch, we will be OK," Hyatt said.

Engineers are worried about the effects of a colder temperature on the injector orifices in the propulsion system and the ablative skirt on the rocket's second stage, Air Force Launch Controller Lt. Larry McGraw explained.

Forecasters are calling for the lowest temperature to be 37 degrees F during that 24-hour period.

Other than the slight temperature concern, the other launch weather rules aren't expected to be violated on Saturday.

"Vandenberg will be mostly clear and chilly for the launch window," Launch Weather Officer Lt. Scott Lisko said.

The forecast is calling for a just a few cirrus clouds at 20,000 feet, unrestricted visibility and northeasterly winds 6 to 10 knots.

Activities are on schedule to begin the launch countdown at 1158 GMT (6:58 a.m. EST; 3:58 a.m. PST) on Friday at the T-minus 26 hour mark. With the rocket already fueled with its storable propellant, the countdown will be filled largely with final system checks, retracting the mobile service tower from around the vehicle and prepping the Defense Meteorological Satellite Program spacecraft cargo for its journey to orbit.

"The spacecraft is looking good," said Col. Randy Odle, director of the Air Force's DMSP program office. "We are all buttoned up...we are just waiting to go into our final launch effort as we get closer to launch day."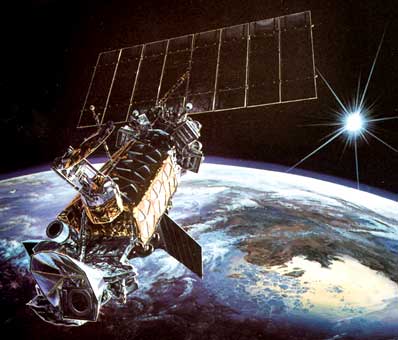 An artist's concept of a DMSP weather satellite in space. Photo: Lockheed Martin



The $193 million, Lockheed Martin-built DMSP F16 satellite will be placed into a 458-nautical mile orbit around Earth's poles. With its complement of seven instruments, the craft will track clouds, hurricanes and storm systems around the world for weather forecasting, plus monitor ice and snow coverage, pollution and fires.

The Department of Defense currently has two main DMSP satellites and a pair of backups working in space giving meteorologists the information needed to generate forecasts that commanders and troops rely upon in strategic and tactical planning.

The Air Force wants to get this new DMSP craft safely into orbit as soon as possible because it will replace an aging sister-spacecraft launched in March 1995 that is working long past expectations.

Despite its advanced age, which is two years beyond the design life, the satellite's main systems continue to function.

"It is old," Odle said of the DMSP F13 satellite. "We think it will last for a while longer but it's just a statistical game as you get beyond the normal design life."

Once the new DMSP F16 satellite becomes operational, controllers will keep the older craft working as a backup in the constellation's "early morning orbit." The fleet's other orbit has a primary and two reserve satellites.

Each satellite crosses any point on the Earth up to two times a day and has an orbital period of about 101 minutes. Together the constellation provides a nearly complete global snapshot every six hours.

The rocket being used in this launch is the 11th of 14 Titan 2 Intercontinental Ballistic Missiles converted by Lockheed Martin from nuclear-tipped weapons into peaceful space vehicles. This particular Titan 2 was stationed on alert in a silo at McConnell Air Force Base in Kansas from 1967 to 1986.

The Air Force says the price tag on the mission is $430 million, which includes the launch costs, the satellite and operations.

Spaceflight Now will provide complete live coverage of Saturday's final countdown and the launch. Stay tuned!