Military weather satellite ready for service
BY JUSTIN RAY
SPACEFLIGHT NOW
Posted: November 19, 2003


Having completed a month-long checkout sequence in orbit, the Air Force's newly-launched Defense Meteorological Satellite Program F16 weather spacecraft has been declared operational.

The Lockheed Martin-built satellite was deployed on October 18 by the final Titan 2 rocket launched from Vandenberg Air Force Base, California. The mission became infamous after being delayed 33 months by an array of technical troubles.

The following 30 days saw the DMSP Early-Orbit Team at the NOAA Space Operations Control Center in Suitland, Maryland, successfully complete on-orbit testing of the spacecraft and its instruments. Once that checkout was finished earlier this week, the satellite was handed from the Air Force to NOAA for weather observing operations.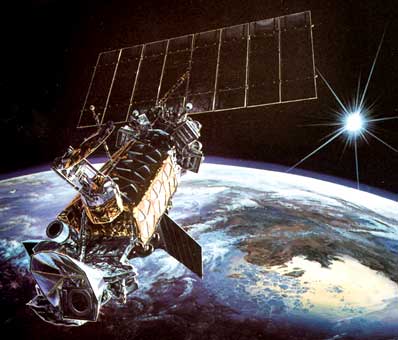 An artist's concept of a DMSP weather satellite in space. Photo: Lockheed Martin



The DMSP F16 satellite is based upon the Block 5D-3 design that accommodates larger and more advanced sensor payloads than earlier DMSP generations. They also feature a more advanced attitude control system for precision pointing, a more powerful on-board computer with increased memory -- allowing greater spacecraft autonomy, a higher rate command link for shorter ground contact times, and increased battery capacity that prolongs the mission duration, according to Lockheed Martin.

"This milestone -- our first fully-upgraded Block 5D-3 spacecraft with its additional capabilities -- is a giant step in the DMSP program," said Jeff Smith, DMSP program director for Lockheed Martin Space Systems in Sunnyvale, California. "Our partnership with the Air Force on the DMSP program began in 1966. Today, we still share a common goal to ensure that commanders have access to critical environmental data during preparation and execution of military operations."

The DMSP F16 craft, with its complement of eight instruments, will track clouds, storm systems and hurricanes around the world for weather forecasting, plus monitor ice and snow coverage, pollution and fires.

The U.S. military has a constellation of two primary DMSP satellites and older backups working in space, giving meteorologists the information needed to generate forecasts that commanders and troops rely upon in strategic and tactical planning.