BY JUSTIN RAY


Follow the preparations and launch of the Air Force Titan 2 rocket carrying the Coriolis military spacecraft. Reload this page for the very latest on the mission.


Read our earlier Mission Status Center coverage.




Snapshot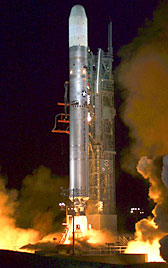 The Titan 2 rocket launches with Coriolis. Photo: Lockheed Martin/Tom Rogers



Flight data file
Vehicle: Titan 2 (G-4)
Payload: Coriolis
Launch date: January 6, 2003
Launch window: 1418-1433 GMT (9:18-9:33 a.m. EST)
Launch site: Vandenberg Air Force Base, California
Satellite broadcast: none



Pre-launch briefing
Launch timeline - Chart with times and descriptions of events to occur during the launch.



Mission preview - Our story giving an overview of the launch.



Titan 2 - Description of the former ICBM missile converted to a space launch vehicle.



Coriolis - General overview of the satellite and its two instruments.



Apollo 17 DVDs
NEW! The final lunar mission to date, the journey of Apollo 17, occurred 30 years ago this month. The mission is captured in this spectacular six- and two-disc sets. Pre-order today and save!


U.S. STORE

U.K. & WORLDWIDE STORE

Apollo 8 leaves the cradle
NEW! The December 1968 journey of the Apollo 8 crew into lunar orbit is relived in this unique three-disc DVD set. Pre-order today and save!


U.S. STORE

U.K. & WORLDWIDE STORE

Hubble Posters

Stunning posters featuring images from the Hubble Space Telescope and world-renowned astrophotographer David Malin are now available from the Astronomy Now Store.


U.S. STORE

U.K. & WORLDWIDE STORE

Hubble Calendar
NEW! This remarkable calendar features stunning images of planets, stars, gaseous nebulae, and galaxies captured by NASA's orbiting Hubble Space Telescope.


U.S. STORE

U.K. & WORLDWIDE STORE

New DVD
The conception, design, development, testing and launch history of the Saturn I and IB rocket is documented in this forthcoming three-disc DVD.


U.S. STORE

U.K. & WORLDWIDE STORE

The ultimate Apollo 11 DVD
NEW 3-DISC EDITION This exceptional chronicle of the historic Apollo 11 lunar landing mission features new digital transfers of film and television coverage unmatched by any other.


U.S. STORE

U.K. & WORLDWIDE STORE