First image released from new weather satellite
NOAA PHOTO RELEASE
Posted: June 25, 2002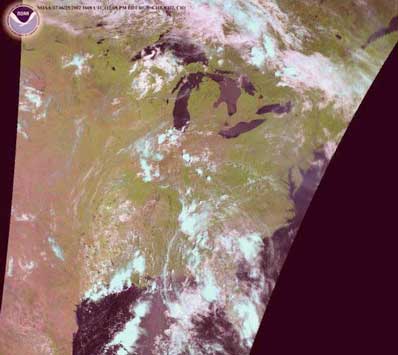 First image from NOAA's new polar-orbiting satellite of Great Lakes taken June 25 at 12:08 p.m. EDT. Photo: NOAA



The first image from space sent by NOAA-17, the country's newest environmental satellite, was beamed to NOAA today. Following its textbook launch June 24 from Vandenberg Air Force Base, Calif., the new satellite is undergoing a routine functions check before becoming fully operational. Its first image shows cloud patterns over the Great Lakes area.

Like other NOAA satellites, NOAA-17 will collect meteorological data and transmit the information to users around the world to enhance weather forecasting. In the United States, the data will be used primarily by NOAA's National Weather Service for its long-range weather and climate forecasts.

NOAA-17, named NOAA-M until reaching Earth orbit, was built by Lockheed Martin Space Systems Co., Sunnyvale, Calif., and launched for NOAA under technical guidance and project management by NASA's Goddard Space Flight Center. NASA will turn operational control of the NOAA-17 spacecraft over to NOAA 21 days after launch. NASA's comprehensive on-orbit verification period is expected to last until approximately 45 days after launch.

NOAA Satellite and Data Service is the nation's primary source of space-based meteorological and climate data. NOAA Satellite and Data Service operates the nation's environmental satellites, which are used for weatherforecasting, climate monitoring, and other environmental applications such as fire detection, ozone monitoring, and sea surface temperature measurements. NOAA Satellite and Data Service also operates three data centers, which house global data bases in climatology, oceanography, solid earth geophysics, marine geology and geophysics, solar-terrestrial physics, and paleoclimatology.


Video coverage for subscribers only:


VIDEO: 5-MINUTE CLIP OF TODAY'S LAUNCH QT or RV


VIDEO: DIFFERENT ANGLE OF THE LIFTOFF QT or RV


VIDEO: VIEW FROM LAUNCH COMPLEX PARKING LOT QT or RV


VIDEO: MOBILE TOWER ROLLED BACK FOR LAUNCH QT or RV


VIDEO: PRE-LAUNCH PROCESSING OF NOAA-M QT or RV


VIDEO: TITAN 2 ROCKET STACKED ON THE PAD QT or RV


VIDEO: NOAA-M IS MATED TO TITAN 2 ROCKET QT or RV


VIDEO: ANIMATION OF NOAA-M IN ORBIT QT or RV


SUBSCRIBE NOW






The ultimate Apollo 11 DVD
This exceptional chronicle of the historic Apollo 11 lunar landing mission features new digital transfers of film and television coverage unmatched by any other.


U.S. STORE

U.K. WORLDWIDE STORE

More DVDs
The first in a series of space DVDs is now available from the Astronomy Now Store. Relive shuttle Columbia's March flight to refurbish the Hubble Space Telescope in spectacular DVD quality.


U.S. STORE

U.K. & WORLDWIDE STORE

The Apollo 14 Complete Downlink DVD set (5 discs) contains all the available television downlink footage from the Apollo 14 mission. A two-disc edited version is also available.


U.S. STORE

U.K. & WORLDWIDE STORE