Titan 2 rocket launches polar-orbiting weather eye
BY JUSTIN RAY
SPACEFLIGHT NOW
Posted: June 24, 2002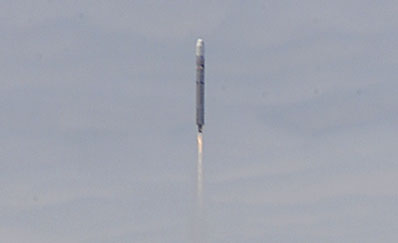 The Titan 2 rocket punches through low clouds seconds into flight. Photo: USAF/Staff Sgt. Lee Osberry



A leftover relic of the Cold War launched a civilian satellite Monday on a $298 million mission to continue a 40-year legacy of tracking Earth's global weather from space.

The Titan 2 rocket, which once stood as a nuclear-tipped Intercontinental Ballistic Missile in Little Rock, Arkansas from 1969 to 1987, was converted to the peaceful means of launching the NOAA-M weather observatory to space.

"NOAA-M is locked, cocked and ready to rock," a spacecraft launch team member announced as clocks ticked off the final minutes of a 26-hour countdown.

At 1823 GMT (2:23 p.m. EDT; 11:23 a.m. PDT), the Titan 2's first stage fired to life, building up nearly a half-million pounds of thrust before explosive bolts holding the rocket to Earth were popped.

The rocket was swallowed by low clouds and fog as it cleared the pad's tower, a trademark occurrance for launches from Vandenberg Air Force Base on California's Central Coast.


| | |
| --- | --- |
| | An infrared tracking camera provided a dramatic view of the two Titan 2 stages separating. Photos: Spaceflight Now/NASA TV |
The Lockheed Martin-built Titan performed successfully, releasing the satellite on a ballistic sub-orbital trajectory six-and-a-half minutes after launch.

A solid-fueled kick motor on NOAA-M then fired, giving the craft the extra boost needed to achieve orbit 450 nautical miles above the planet.

"We're off to a great start," said Karen Halterman, the satellite program manager at NASA's Goddard Space Flight Center. "The spacecraft is now in orbit and all data indicate we have a healthy spacecraft."

With its successful arrival in orbit, officials renamed the satellite NOAA-17.

Built by Lockheed Martin, NOAA-17 is the third in a series of five Polar Operational Environmental Satellites with improved imaging and atmospheric sounding capabilities that will operate to the end of this decade.

NOAA-17 will replace a sister-craft launched four years ago, ensuring an uninterrupted flow of data such as imagery, temperature measurements and atmospheric profiles, the building blocks of weather forecasts. The satellites also build long-term databases for climate monitoring and global change studies.

"The launch of NOAA-M will maintain the continuity of polar satellite data and services that started over 40 years ago," said Mike Mignogno, NOAA's polar satellite program manager.

"(NOAA-17) will enable continuity of data for monitoring events such as El Nino, droughts, volcanic ash, fires and floods. In addition, it will support the international COSPAS-SARSAT system by providing search and rescue capabilities essential for detection and location of ships, aircraft and people in distress," said NOAA Administrator Conrad Lautenbacher.

Users of the satellites range from NOAA and the National Weather Service, to the Department of Agriculture, U.S. military, Federal Aviation Administration and foreign governments.

Meteorologists use the data gathered by the craft to generate weather predictions; agricultural scientists need the information for drought management and monitoring vegetation and soil moisture; and the aviation community uses NOAA satellites to detect and track volcanic ash plumes and re-route aircraft for safety.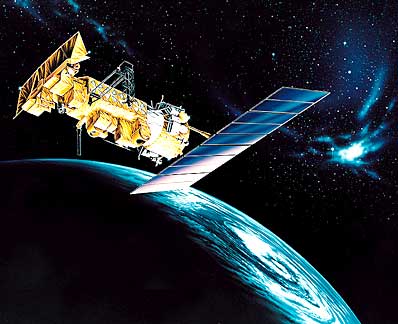 Illustration of NOAA-M in orbit. Photo: NASA



The NOAA relies on two polar orbiters, each covering the globe every 12 hours. In the past, one crossed the equator at 7:30 a.m. local time and one at 2 p.m. NOAA-17 will replace NOAA-15 as the morning orbiter, but officials opted to place the craft in a 10 a.m. orbit to increase the amount of data it can obtain.

"This will be first satellite for NOAA that we have in this mid-morning orbit. Because of the better lightning at 10 o'clock vs. the normal morning satellite time of 7:30, we will be able to generate better imagery-based products then we have in the past," Mignogno said.

"In addition, we will be able to operate an ozone instrument to monitor atmospheric ozone on this satellite, and again this is because of the higher sun angles that are associated with this particular orbit.

"The low-light conditions at 7:30 in the morning prevent us from doing certain products that are based on our imager -- the Advanced Very High Resolution Radiometer, the AVHRR. By moving to 10 o'clock, the sun angles are that much higher and the reflectivity off the surface gives us better input into the imager at that time and therefore the products are higher quality.

"The other advantage it gives is we typically only fly one ozone instrument and that is in the afternoon. A requirement for ozone, again it's because of the reflection that we are looking for, has to be plus or minus three hours of 12 o'clock -- so any time between 9 o'clock in the morning and 3 o'clock in the afternoon becomes a viable orbit. Of course 10 o'clock fits into that."

NASA is responsible for managing the construction of the NOAA weather satellites, getting them launched into space and performing the initial on-orbit checkout. Control of the craft is then handed to NOAA for operations.

The remaining two NOAA polar orbiters in this series -- NOAA-N and NOAA-N-Prime -- will be launched by Boeing Delta 2 rockets in 2004 and 2008, respectively.

Monday's launch was the 11th for a refurbished Titan 2 since 1988. All have been successful. Two more are scheduled -- the October launch of the much-delayed DMSP F16 military weather satellite and the January flight of the Coriolis ocean wind research craft.


Video coverage for subscribers only:


VIDEO: 5-MINUTE CLIP OF THE LAUNCH QT or RV


VIDEO: DIFFERENT ANGLE OF THE LIFTOFF QT or RV


VIDEO: VIEW FROM LAUNCH COMPLEX PARKING LOT QT or RV


VIDEO: MOBILE TOWER ROLLED BACK FOR LAUNCH QT or RV


VIDEO: PRE-LAUNCH PROCESSING OF NOAA-M QT or RV


VIDEO: TITAN 2 ROCKET STACKED ON THE PAD QT or RV


VIDEO: NOAA-M IS MATED TO TITAN 2 ROCKET QT or RV


VIDEO: ANIMATION OF NOAA-M IN ORBIT QT or RV


SUBSCRIBE NOW