No time to rest for West Coast Titan launch team
BY JUSTIN RAY
SPACEFLIGHT NOW
Posted: August 22, 2000


VANDENBERG AIR FORCE BASE, Calif. - With the clandestine launch of an Air Force Titan 4B rocket from here last week now just a recent memory, crews have turned their attention to readying a modified Titan 2 missile for liftoff next month carrying a U.S. weather satellite.


| | |
| --- | --- |
| | The Titan 4B launches from SLC-4 East while the Titan 2 sits inside its protective tower at SLC-4 West just to right. Photo: Air Force video/Spaceflight Now |
As America's premier West Coast launch site, Vandenberg serves as a springboard to polar orbits around Earth. That attribute will be employed on September 14 when the two-stage, liquid-fueled Titan 2 hurls the National Oceanic and Atmospheric Administration's NOAA-L spacecraft toward its perch above the planet.

But meeting that target launch date will be a challenge for workers at Space Launch Complex-4, or SLC-4, where both versions of the venerable Titan family of vehicles are flown.

The East pad was used last Thursday to launch the Titan 4B carrying a classified spy satellite for the U.S. National Reconnaissance Office. The payload most likely was a Lacrosse type radar-imaging satellite.

The successful $1.4 billion Titan 4 mission cleared the deck for the Titan 2, which had been stalled on the complex's West pad until the higher-profile national security launch was conducted. The two pads are just a couple hundred yards apart.

Officials put Titan 2 pre-launch preparations on hold because they didn't want the $156 million NOAA-L satellite sitting atop its converted Intercontinental Ballistic Missile when the Titan 4 blasted skyward.

"It is a risk management," Air Force Launch Director Maj. Dave Salm said in a recent interview. "When you are looking at a nominal launch, what you could do to a fragile satellite...the concussion and vibration is significant. In a non-nominal situation it would be far worse to lose a high-price satellite."

If the massive Titan 4 were to explode moments after liftoff, the powerful explosion and shower of fiery debris could severely damage the Titan 2 launch facility.

And even with the successful launch of the Titan 4, workers still needed to check for any damage at the neighboring pad, which overlooks the Pacific Ocean.
| | |
| --- | --- |
| Launch pad technicians prep for X-ray tests near the base of the Titan 2 rocket at SLC-4 West on Friday. Photo: Justin Ray/Spaceflight Now | |
On Friday afternoon, the pad and vehicle received a visual inspection, and hydraulic pumps that are part of ground support equipment were X-rayed to ensure they had not been damaged from the vibrations and compression from the 3.4-million pounds of Earth-shaking thrust unleashed by the Titan 4's liftoff.

This wasn't the first time and won't be the last that two Titan rockets are readied side-by-side for flight at Vandenberg. Next spring promises a repeat with another Titan 4 set to loft an NRO payload and the NOAA-M weather craft is slated for launch.

"We do have the manpower to handle vehicles on both pads simultaneously. But when we come close to launch time, we focus on one," Air Force Launch Controller Lt. Richard Sjogren said Friday. "Titan 2 has been on hold on for a month or so."

"Day-to-day we can keep both pads processing toward a launch date, but as one gets near the end, we need to divert a lot of our assets to that pad," said Salm.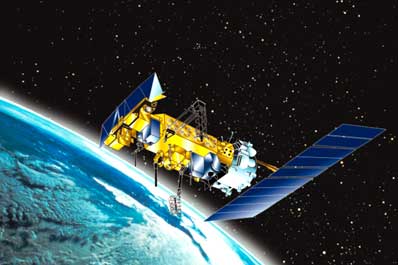 An artist's concept of NOAA-L orbiting Earth. Photo: NASA/NOAA



With Titan 2 now in the spotlight, the NOAA-L satellite is scheduled for transport from its Vandenberg processing center to the launch pad on Wednesday for attachment to the rocket's second stage.

The rocket's nose cone, or payload fairing, will be installed around NOAA-L on August 31. A Mission Dress Rehearsal to practice the countdown and launch is planned for Labor Day Weekend, Sjogren said.

A 26-hour countdown will lead up to the predawn launch of the Titan 2 to place the satellite into a precise orbit, giving meteorologists a new tool in weather forecasting.

Liftoff on September 14 is targeted for 1022 GMT (3:22 a.m. PDT; 6:22 a.m. EDT). The available launch window extends for 10 minutes.

NOAA-L, built by Lockheed Martin, is the second in a series of five Polar Operational Environmental Satellites (POES) with improved imaging and sounding capabilities that will operate over the next 12 years.