BY JUSTIN RAY


Follow the countdown and launch of a U.S. Air Force Titan 4B rocket with the Milstar 2-F2 communications satellite. Reload this page for the very latest on the mission. We also have a text only version of this page.


Read our earlier status center coverage.




Flight data file
Vehicle: Titan 4B/Centaur
Payload: Milstar 2-F2
Launch date: Feb. 27, 2001
Launch window: 1857-2257 GMT (1:57-5:57 p.m. EST)
Launch site: SLC-40, Cape Canaveral AFS, Florida


Video vault

The Air Force Titan 4B rocket blasts off from Cape Canaveral with the fourth Milstar secure military communications satellite.
PLAY (314k, 36sec QuickTime file)



As the twin engines of the Titan 4B rocket's first stage are ignited, the two solid rocket boosters burn out and separate.
PLAY (297k, 43sec QuickTime file)



The Lockheed Martin Titan 4/Centaur rocket delivers the Milstar satellite into Earth orbit as shown in launch animation.
PLAY (256k, 42sec QuickTime file)



Animation shows the Milstar spacecraft at work in orbit relaying secure military communications 22,300 miles above the planet.
PLAY (255k, 29sec QuickTime file)



Snapshot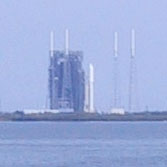 Titan 4 rocket on the pad this morning. Photo: Justin Ray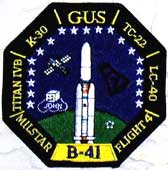 This launch is dedicated to Virgil "Gus" Grissom, one of America's first astronauts, as illustrated in the mission patch. Read more.



Pre-launch briefing
Launch timeline - Chart with the key events to occur during the launch.



Titan 4B - Description of America's most powerful unmanned rocket.



Milstar satellite - A look at the Military Strategic and Tactical Relay satellite program.



Communications - Overview of Boeing's Medium Data Rate and crosslink payloads on Milstar.



Antennas - Technical description of Milstar's medium data rate nulling antennas made by TRW.



DPS - TRW's digital processing subsystem on Milstar is key to payload.



Restricted zone - Map outlining the Launch Hazard Area where mariners should remain clear for the liftoff.




Launch pad tour



Explore the scene at Cape Canaveral Air Force Station's Launch Complex 40 through Spaceflight Now's virtual reality camera.
VIEW (247k QuickTime file)