Milstar satellite launched in first space shot of 2002
BY JUSTIN RAY
SPACEFLIGHT NOW
Posted: January 16, 2002 @ 2:50 a.m. EST


The U.S. military on Tuesday launched the final link that will form a "golden ring" of communications satellites around Earth, providing ultra-secure, jam-resistant transmissions for troops and government leaders virtually anywhere on the planet.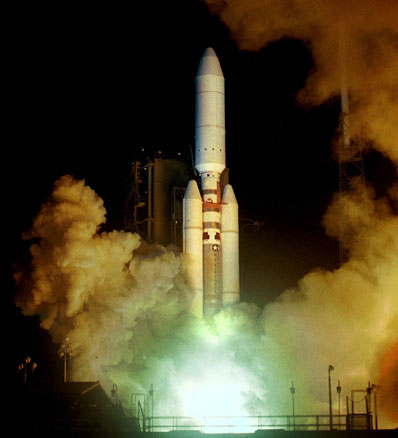 The Titan 4B rocket lifts off with Milstar 5. Photo: Russ Underwood, Lockheed Martin Space Systems



The fifth Military Strategic and Tactical Relay satellite, dubbed Milstar 5, roared into space atop a $453 million Titan 4B rocket from Cape Canaveral Air Force Station in Florida.

Liftoff from Complex 40 occurred at 7:30 p.m. EST, nearly three hours later than originally envisioned after lightning and a hydraulic leak delayed pre-launch activities.

The blastoff, which marked the first space launch of 2002, provided a dazzling sight up and down the Central Florida coast as the Lockheed Martin-built rocket streaked into the clear evening sky.


| | |
| --- | --- |
| | The spent solid rocket boosters separate from Titan. Photo: Lockheed Martin TV/Spaceflight Now |
About two-and-a-half minutes after liftoff, the twin solid rocket motors burned out and separated, appearing as blazing stars falling to the Atlantic Ocean below.

The Titan's two-stage liquid-fueled core fired as planned and deployed the high-energy Centaur upper stage and attached Milstar cargo just shy of 10 minutes into the flight.

The twin-engine Centaur went on to fire three times in a calculated process to deliver the Lockheed Martin-built Milstar 5 spacecraft into a geostationary orbit 22,300 miles above the equator. The 10,000-pound satellite was released from the Centaur about six-and-a-half hours after launch.

"The satellite is on target and its solar arrays deployed as planned. We have a fully functional satellite in the proper orbit," said Capt. Patrick Youngson, chief of Milsatcom operations at Air Force Space Command.

"It was a beautiful flight. All the members of our Titan team can be justifiably proud that we launched a satellite that will extend America's global reach, global power and global vigilance. It will make a difference for us in the war on terrorism and future conflicts," said Lt. Col. Dave Jones, Air Force Launch Director.

Over the next four months the $800 million spacecraft will be put through rigorous testing before it can enter service, becoming the fourth satellite in the orbiting Milstar network.

At an altitude of 22,300 miles, the satellite's orbit matches the Earth's rotation, allowing the craft to appear parked above one spot along the equator.

However, the Air Force won't say exactly where the spacecraft will be positioned, citing national security reasons. But program officials acknowledged that the satellite will bring "significant tactical communications capabilities to our forces deployed in the European theater."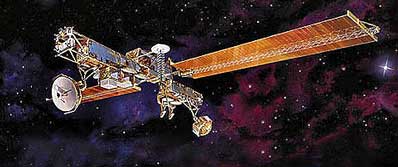 An artist's concept of a Milstar satellite in space. Photo: Lockheed Martin



The three Milstar satellites currently in use are spread out to serve different parts of the planet. When Milstar 5 joins the constellation, the fleet will finally be able to provide worldwide coverage for protected communications to link all of the U.S. military branches.

Milstars act as smart switchboards in space, allowing users on foot, ships, submarines or aircraft to establish critical communications networks on the fly. The craft transmit voice, data and imagery, in addition to offering video teleconferencing capabilities.

"We think of Milstar sort of as the FedEx of comm satellites -- when you have it get a message through, use Milstar," said Christine Anderson, the director of Military Satellite Communications at the Air Force's Space and Missile Systems Center.

Milstar is also relied upon by the nation's senior leadership, a fact that was demonstrated on September 11 during the terrorist attacks on the U.S.

"Immediately following the events of September 11, Milstar was used for relaying secure communications to President Bush and gave him the flexibility to move around for security reasons," said Lt. Col. Joe Lamarca, spokesman for Air Force Space Command.

Concerns about the president's safety prevented his immediate return to Washington that day. But with Milstar, President Bush was able to talk with key members of his administration and the Department of Defense while flying aboard Air Force One.
| | |
| --- | --- |
| | The mission patch for the Milstar 5 launch, which completes the system's constellation. Photo: Lockheed Martin |
Milstar spacecraft are able to communicate with each other, allowing transmissions to be relayed from one satellite to the next. With a full constellation, a global ring is created.

"The fact this is our fourth satellite up there, we will have a complete ring. It is very important to the warfighter," Capt. Youngson said. "It means we will have almost instantaneous global communications, vital to every successful military operation.

"Right now we can communicate up to one (satellite) and branch out in both directions. With this (new satellite), we can now communicate to one and go all the way around to all four satellites."

"You can get messages much more quickly from point to point than before," Anderson said.

The satellite is the third built with the Medium Data Rate (MDR) payload. Manufactured by Boeing Satellite Systems, the MDR payload has 32 channels, which can process data at speeds of 1.5 megabits per second.

The spacecraft also features the Low Data Rate (LDR) payload, built by TRW Space and Electronics. The LDR payload can transmit 75 to 2400 bps of voice and data over 192 channels in the Extremely High Frequency range.

The first two Milstar satellites launched in 1994 and 1995 only carried LDR. Milstar 3 through 6 feature both LDR and MDR. The later satellites sport a 600 percent increase in communications capacity over the first two Milstar satellites, the Air Force said.

Milstar 3 never entered the constellation. It was placed into a worthlessly low orbit during a failed launch in 1999.

The improved rate of data transmission coupled with the completed constellation ring will allow, for example, an air tasking order that used to take an hour to reach its destination now will arrive in less than six seconds, Anderson said. And an 8x10 image used to take 22 hours to send will be transferred in just two minutes.

"It is quite a significant boon to our warfighters," said Anderson.


| | |
| --- | --- |
| | The Milstar 5 at the factory being readied for launch. Photo: Russ Underwood, Lockheed Martin Space Systems |
Troops on the battlefield need to receive the latest information from military officials while on the move and Milstar is designed to fulfill that requirement.

These enhanced Milstar satellites with MDR promise to give mobile and fast-moving military vehicles and foot soldiers the ability to quickly receive information via overhead satellites with hand-held terminals.

The Army wants its commanders, strategic planners and shooters to gather and rapidly share information like maps, video and reconnaissance information in real-time transmissions. Similar modernization plans for the other branches of the military are linked to the success of Milstar.

The Milstar network was conceived during the Cold War with the intent of linking the White House and Pentagon with troops on the battlefield, and relaying the instantaneous communications to launch a nuclear attack.

One more Milstar satellite is left to launch. The Milstar 6 spacecraft is slated for a November 4 liftoff aboard a Titan 4 rocket from Cape Canaveral. The Air Force plans to use the craft to replace Milstar 1, which was launched in 1994.

The next Titan 4 launch is scheduled for June 3 from the Cape when a classified spy satellite will be lofted into space for the U.S. National Reconnaissance Office.

Another NRO launch is possible later in the year from Vandenberg Air Force Base in California. However, officials have yet not selected a launch date.

Tuesday's successful launch also clears the way for the planned February 1 liftoff of a Titan 2 rocket from Vandenberg Air Force Base in California on the much-delayed mission to deliver the Lockheed Martin-built DMSP-F16 military weather satellite into orbit.

"We are proud of two years straight of 100 percent Mission Success in our space launch programs, and we intend to carry on that record this year for our many important customers, both military and commercial," said Albert E. Smith, executive vice president, Lockheed Martin Space Systems Company.