Titan 4 rocket launch postponed into September
BY JUSTIN RAY
SPACEFLIGHT NOW
Posted: August 19, 2003


The deployment of a top-secret reconnaissance spacecraft by a $500 million Titan 4 rocket is being delayed again -- to early September -- because of issues with the launcher and its clandestine cargo.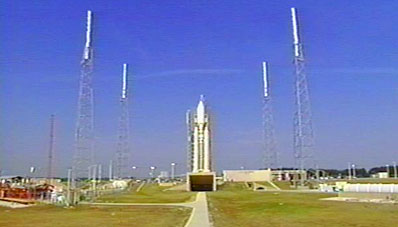 File image of Titan 4 rocket at Complex 40. Photo: Lockheed Martin



Liftoff had been targeted for Thursday morning from Cape Canaveral Air Force Station's Complex 40. The mission was already running several days late as the result of a nitrogen tetroxide leak while the rocket was being fueled August 12.

Officials are looking at September 6 as the new launch date. However, the next launch opportunity will be based on Range availability and resolution of the new problems.

The Air Force said a combination of glitches with the Titan 4 and the classified National Reconnaissance Office payload forced this delay.

The Titan problem stems from erratic readings given by the rocket's second stage fuel tank sensor. Lockheed Martin said the sensor is a probe-like device on the fuel tank.

Troubleshooting is underway to understand the situation and narrow the scope in the search to find the cause.

"They are now mapping out how to go tackle the problem," Lockheed Martin spokeswoman Julie Andrews said.

"It is a disappointment. The Titan team had been working awfully hard after the leak delay," Andrews said. "There was just no room to go troubleshoot and start the countdown tomorrow."

The rocket's first and second stages have been fully loaded with Aerozine 50 fuel -- a mixture of hydrazine and unsymmetrical dimethyl-hydrazine -- and nitrogen tetroxide oxidizer. It is too soon to know if the propellants will have to be offloaded to fix the sensor problem, officials said.

As to be expected, details on the payload's problem are being kept quiet.

"The status of the payload is not releasable due to its classified nature," the Air Force said in a statement.

This delay is likely to have a ripple effect that will be felt at Vandenberg Air Force Base in California. The West Coast site is readying a Titan 2 rocket to launch the Defense Meteorological Satellite Program F16 spacecraft on September 14.

But officials said last week that the military weather satellite wouldn't be fueled until after the Titan 4 successfully flew from Cape Canaveral. That fueling operation was scheduled for August 25.

Program officials require a few weeks of separation between Titan missions. As of late Tuesday, however, there was no formal decision to delay the DSMP launch.

The spacecraft was delivered to the launch pad and mounted atop the Titan 2 vehicle last week.