Cape's final Titan launch a 'bitter pill' for workers
BY JUSTIN RAY
SPACEFLIGHT NOW
Posted: April 27, 2005


Rockets named Titan have been fixtures in the U.S. space program for decades, launching countless military satellites, robotic scouts probing the solar system and even astronauts. But the legacy is ending, leaving hundreds of aerospace workers searching for new jobs.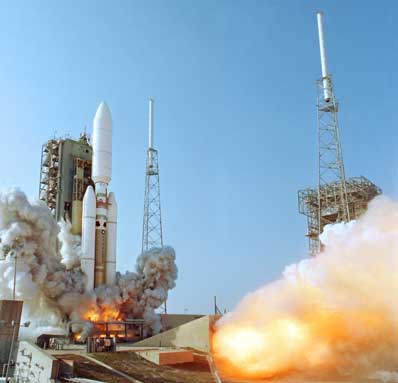 Cape Canaveral will see its last Titan 4 rocket launch on Friday. Photo: Lockheed Martin



A pair of Titan 4 rockets, built by Lockheed Martin, are standing on their respective launch pads at Florida's Cape Canaveral Air Force Station and California's Vandenberg Air Force Base awaiting blastoff to carry spy satellite payloads into Earth orbit for the U.S. National Reconnaissance Office.

The Cape mission is slated for Friday night, marking the 168th and last Titan vehicle to fly from the Space Coast since 1959.

About 300 Lockheed Martin workers will lose their jobs 60 days after launch, while another 125 will face the same fate over the next year after finishing efforts to safe and secure the rocket facilities and pad.

"We're very excited about having a launch, but it's a bitter pill that we're swallowing," said Ben Dusenbery, Lockheed Martin's director of Titan launch operations at the Cape.

The end of Titan at Cape Canaveral will impact upwards of 600 to 700 people, officials say, when also counting other companies supporting Titan such as Alliant Techsystems, Boeing and Honeywell.

"It is a pretty big army that has to launch a Titan 4," said Lt. Col. Jimmy Comfort, commander of the 3rd Space Launch Squadron at the Cape and the Air Force launch director.

Dusenbery faces an uncertain future like so many on his team.

"When I came onboard in 1980, I was the youngest guy on the crew. The average age here was 55. So I've seen all of those folks retire and move on. We've got a whole new generation of folks on the program. It's become their livelihood.

"It's a family-oriented organization. We try to establish a relationship with our employees here to be more like a family than just an employee. We all feel some kinship. I personally feel responsible for their livelihood after this program comes to an end, and we're trying our darnedest to make sure they have something they can go to."

The Pentagon decided several years ago to phase out the Titan 4, which is expensive and requires a long, cumbersome process to launch. A new breed of Atlas 5 and Delta 4 rockets -- the Evolved Expendable Launch Vehicles -- were developed to replace Titan to give the country assured access to space.

With the end of Titan looming, the Air Force and Lockheed Martin created an incentive program to keep a skilled workforce in place to conduct the final launches, which have carried vital national security satellites into space. What's more, the Defense Department is retaining all of the workers for 60 days after the last liftoff to help ease the transition. The effort has resulted in the loss of very few people.

"That is a great benefit everybody has to keep our focus on launch," Dusenbery said.

"You are going to be worried about your livelihood, you are going to be worried about your family, you are going to be worried about a lot of things, but when we get right down here to the short strokes with this mission, the No. 1 priority has to be mission success. It is critical for our national security. This payload is critical to the Air Force and our Department of Defense, and consequently it is critical to all of the citizens of this country, us included."

Lockheed Martin has hosted job fairs to assist the workers find new careers, within the space community or outside.

"The company stepped up with our own initiative to try to help people relieve their concerns as far as job placement. The idea here is if we worry about getting you placed, you'll not be worried about that and you'll be focused on the launch," Dusenbery said.

"I have to commend Lockheed, especially, for their focus on launching the rocket and for their leadership in doing all they can for the number of folks they may be displacing after this launch," Comfort said.

"We've brought in several job fairs over the past couple of months and got people an opportunity to meet with other companies outside of Lockheed Martin in the local area. ...We have had success there," Dusenbery said.

"We also have job fairs planned post-launch where we are bringing in all of the Lockheed Martin units across the country. They are going to come in, bring the recruiters and we're going to sit down with our folks and try to find placement for them within Lockheed Martin. Unfortunately, not many of those opportunities are in the local area."

Like many of his colleagues, Dusenbery, a 25-year employee, hopes to find work within Lockheed Martin.

"I'm in the same boat as everybody else. I'm looking for an opportunity. I hope to stay with the company; I've got a lot of years with them. There are a lot of folks in that same boat out here in my age group. We want to stay with the company."

Of the 125 employees being retained beyond the 60-day grace period, about 30 are headed to Vandenberg Air Force Base to help launch that 39th and final Titan 4 rocket in July.

"There's very specific skills that we've always shared with Vandenberg," Dusenbery explained.

Meanwhile, the chores to decontaminate the Cape's Launch Complex 40, remove hazardous items and dispose of hardware is expected to last through the year as the workforce gradually dwindles down.

Plans for the pad and various rocket assembly buildings are uncertain as officials examine the needs for NASA's Crew Exploration Vehicle -- the human spaceship destined to replace the space shuttle fleet in the coming years.

But for now, everyone is focused on seeing the final Titan soar over the Cape's horizon and their own immediate personal future.

"It is hard to think about little more. You try to stay focused on mission success, but you can't help but wonder where you are going to be next year," Dusenbery said.

"I'm sure a lot of these guys feel the same way I am -- when I cut, I bleed Titan. You almost feel like 'gee, I wonder if I'll be capable of doing some other kind of job.' I know so much about this program, and it's become obsolete.

"You have to be hopeful that your profession, training and skills that you've had in past years are still with you and you can adapt to a new job assignment. But it is concerning and I share that with all of my peers out here. I'm sure they all have those misgiving and concerns about where we're going."


Additional coverage for subscribers:


VIDEO: "SALUTE TO TITAN" MOVIE QT


VIDEO: FOOTAGE OF PAST TITAN LAUNCHES FROM 1950S TO TODAY QT


VIDEO: TITAN 4 ROCKET EMERGES FROM ASSEMBLY BUILDING QT


VIDEO: THE ROCKET ARRIVES AT COMPLEX 40 BEFORE DAWN QT


VIDEO: VIEWS OF THE TITAN 4 ON THE PAD AFTER SUNRISE QT


SUBSCRIBE NOW