Reality realized: Titan has left Cape Canaveral
BY JUSTIN RAY
SPACEFLIGHT NOW
Posted: April 30, 2005


Cape Canaveral said goodbye to the Titan rocket family after five decades and 168 thunderous launches Friday night when the program's largest booster pierced a star-filled sky and disappeared forever.


| | |
| --- | --- |
| | The Titan 4 rocket lifts off from Cape Canaveral at 8:50 p.m. Friday. Photo: Pat Corkery/Lockheed Martin Space Systems |
Relegated to retirement, the Titans are fading into history in favor of less-expensive and more modular Atlas 5 and Delta 4 rocket fleets to fulfill the U.S. government's heavy-lifting needs in space.

Friday's smooth countdown at Complex 40 reached its pinnacle at 8:50 p.m. EDT (0050 GMT) as clocks struck zero and the twin solid rocket boosters flashed brilliant golden flame to begin this spy satellite deployment mission.

Hidden inside the rocket's 66-foot long nose cone was the latest clandestine cargo for the U.S. National Reconnaissance Office -- the super-secret government agency responsible for designing and operating the American fleet of spy satellites.

Riding 3.3 million pounds of thrust from its solid motors, the rocket was visible for hundreds of miles as it arced over the Atlantic Ocean and headed northeastward to parallel the U.S. East Coast.

Two minutes into flight, the hydrazine-fueled first stage main engine was lit as the solid boosters neared the end of their firing. Further adding to the sky spectacle, the spent boosters were jettisoned as planned and could be seen flipping and tumbling away as the Titan 4 continued onward with its main engine giving the push for the next three minutes.

By design, the Titan 4's first stage separates as the second stage ignites. Viewing conditions were ideal to see the light burst of this critical launch event that created a glowing cloud at about T+plus 5 minutes, 30 seconds.

The sight was easily seen from Florida to the Carolinas, sparking frantic calls to authorities from the public in several states. But all was well and the Titan second stage fired for several minutes as it soared toward New England.

This time-lapse photo taken from 8:50 to 8:56 p.m. EDT from near Southport, North Carolina shows the dramatic staging event. The "line" near the top of the photo is a flash from a passing Iridium satellite. Photo: Darien Hewett
Download a larger image version here



About nine-and-a-half minutes after the flight began on Florida's east-central coastline, the burned out second stage released its secret payload and fired retrorockets to back away. The deployment was seen observed throughout the northeast and Canada. More information about the payload is available here.

While Titan 4 was completing its last Cape mission with the successful satellite delivery, back at the launch site the realization was palpable that this rocket program was now over.

"A great ending to a spectacular history" was the message to employees from Walt Yager, Lockheed Martin's vice president of the Titan program.

"It's highly successful program, it served the nation well and it will be sorely missed, I think," said Vic Whitehouse, a former Air Force and later Lockheed Martin Titan program official, now a working as a consultant.

"I think the biggest highlight is probably been the longevity of the program. It's served for many decades in many different formats," said Abe Freels, Lockheed Martin program engineer for Titan 4. "We've done science missions, we've done military missions. It's just been wonderful. We've had a lot of good successes. That's one of the things that I'll always remember this program for."

Titan began in the 1950s as a two-stage intercontinental ballistic missile, which made its first launch from the Cape in 1959. The vehicle later morphed into Titan 2 missiles, the booster for NASA's manned Gemini missions, various Titan 3 and Titan 34D satellite launchers and finally the largest and most powerful version -- the Titan 4. In addition to countless military and spy satellites, Titans also launched the space probes Viking to Mars, Voyager to the outer planets and Cassini to Saturn.

"Titan has performed honorably by providing us strategic deterrence in the form of the Titan ICBMs, helping us explore our universe by launching NASA missions like Cassini, assisting our manned space activities by launching NASA's Gemini test flights and supporting our national decision makers and our warfighters in the field by deploying spacecraft such as the one launched tonight," said Col. Michael Baker, director of launch programs for Air Force Space Command.

"The men and women of the Martin Marietta Corporation, now Lockheed Martin Space Systems, have much to be proud of. The Air Force is grateful to have been a part of this wonderfully successful program."

Cape Canaveral hosted 168 Titan launches including:
47 Titan 1 ICBM
23 Titan 2 ICBM
12 Titan 2-Gemini
4 Titan 3A
36 Titan 3C
7 Titan 3E
8 Titan 34D
4 Commercial Titan
27 Titan 4
"It's really been a workhorse, and it's a shame to see the end of an era," said Johnny Weems, the long-time Titan launch weather officer.

While the Cape has now said its farewell, there is one more Titan 4 remaining to fly from California. It is assembled on the launch pad at Vandenberg Air Force Base for liftoff July 10 carrying another NRO satellite.

"At each Titan launch, I have always had the feeling I was standing too close," said Dennis Fitzgerald, acting director of the National Reconnaissance Office. "We are coming to the end of an era. The men and women of Team Titan who dedicated their talents and toil to this next-to-last launch have our heartfelt gratitude for their sacrifices. They also have the personal satisfaction of knowing their actions were vitally important to our nation's security."

"It's been a long ride, but it's been a good ride. We've launched some highly critical deep space probes, scientific missions, as well as missions that we've supported our government with. Some of the things that make you proud, especially with the missions we are flying here and on (the July mission) in California, is we have young men and woman in the field that depend heavily on that we're going to provide them," Freels added.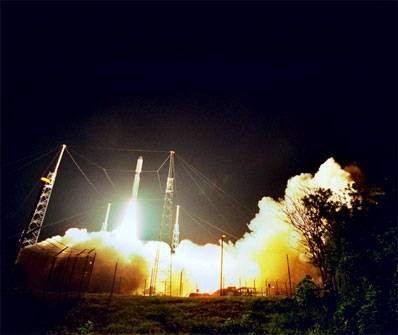 The Titan 4 rocket lifts off from Cape Canaveral at 8:50 p.m. Friday. Photo: Ben Cooper/Spaceflight Now



About 300 Lockheed Martin workers at the Cape will lose their jobs in about two months, while another 125 will face the same fate over the next year after finishing efforts to safe and secure the rocket facilities and pad at Complex 40.

Freels, a 32-year Titan veteran, is one of about 30 headed from the Cape to Vandenberg Air Force Base to help launch that 39th and final Titan 4 rocket this summer.

"I'm looking to go out and support the B-26 mission at Vandenberg Air Force Base in California, and looking seriously at retirement after that. Titan has been a good run and I don't know there is anything else in the industry that would fulfill me as much Titan has," Freels said.

Work to decontaminate the Complex 40 after decades of use, remove hazardous items and dispose of hardware is expected to last through the year as the workforce gradually dwindles down.

"These Titan facilities have been here since '64. So you can imagine how deep-rooted everything is. It is an anchor to this entire infrastructure the Air Force has at the Cape. It is going to be quite a huge change to all of the organizations that operate out of the Cape when Titan dissolves," said Ben Dusenbery, Lockheed Martin's director of Titan launch operations at the Cape.

Museum representatives have talked to Titan officials about setting aside items such as a launch control center console and historical documentation to remember the rocket's legacy. Also, equipment is being transferred to other programs for reuse.

"Thousands of items have been asked for. There has been a lot of effort put into how we're going to dissolve here efficiently and preserve anything that has use in other programs," Dusenbery said.

Plans for the pad and two rocket-assembly buildings used for Titan 4B remain unsettled. The vertical integration building where the first and second stages are mated, the solid rocket booster stacking facility and pad itself could be demolished or some of the locales may be reused for NASA's Crew Exploration Vehicle or other programs in the future.

"The contract right now with Lockheed Martin has them out of this facility at Launch + 5 months -- the pad facility and VIB. Once they are out of those, the (45th Space Wing) has some demolition money. The VIB, I think, is for sure coming down. At this point, it is still under debate whether somebody else wants (the pad). Frankly, it is an engineering marvel," said Col. Pat Smith, the Titan 4 program manager at the Space and Missile Systems Center.

"If nobody signs up for it, we'll strip it out and get it ready to be taken down," Smith said of the pad.

"Nobody is signing up to take this," Lt. Col. Jimmy Comfort, commander of the 3rd Space Launch Squadron at the Cape, said of the pad. "A lot people are asking questions, a lot of people are interested. It is a very valuable and unique asset, and you just don't throw one of these up overnight. But nobody has signed on the dotted line yet."

Following the July launch from Vandenberg, the Titan 4 pad as well as the retired Titan 2 pad at Space Launch Complex 4 will be closed and probably torn down too.

Lockheed Martin anticipates completing work to close the entire Titan program -- the launch sites, test facilities, etc. -- by 2008, Smith said.


Additional coverage for subscribers:


VIDEO: FLIGHT OF THE TITAN: LAUNCH TO SRM SEPARATION QT


VIDEO: THE CAPE'S LAST TITAN 4 ROCKET BLASTS OFF QT



VIDEO: "SALUTE TO TITAN" MOVIE QT


VIDEO: FOOTAGE OF PAST TITAN LAUNCHES FROM 1950S TO TODAY QT


VIDEO: TITAN 4 ROCKET EMERGES FROM ASSEMBLY BUILDING QT


VIDEO: THE ROCKET ARRIVES AT COMPLEX 40 BEFORE DAWN QT


VIDEO: VIEWS OF THE TITAN 4 ON THE PAD AFTER SUNRISE QT


SUBSCRIBE NOW