Spaceflight Now +





Premium video content for our Spaceflight Now Plus subscribers.

The final Titan
America's Titan rocket makes its final launch, blasting off from California's Vandenberg Air Force Base to haul a top-secret reconnaissance satellite into orbit.

Play video

Saturn's spongy moon
Stunning images of Saturn's moon Hyperion taken by the Cassini spacecraft show a surface dotted with craters and modified by some process, not yet understood, to create a strange, "spongy" appearance, unlike the surface of any other moon around the ringed planet.

Play video

Astronaut parade
The astronauts from space shuttle Discovery's return to flight mission recently paid a visit to Japan, the homeland of mission specialist Souichi Noguchi, and were treated to a grand parade.

Play video

ISS command change
The International Space Station's outgoing Expedition 11 crew and the new Expedition 12 crew gather inside the Destiny laboratory module for a change of a command ceremony, complete with ringing of the outpost's bell, as the human presence in space continues.

Play video

Expedition 11 in review
The Expedition 11 mission of commander Sergei Krikalev and flight engineer John Phillips aboard the International Space Station is winding down, and this narrated retrospective looks back at the key events of the half-year voyage in orbit.

Play video

Pluto spacecraft
The Pluto New Horizons spacecraft, destined to become the first robotic probe to visit Pluto and its moon Charon, arrives at NASA's Kennedy Space Center in advance of its January blastoff.

Play video

Life on the station
NASA astronauts Bill McArthur and John Phillips chat with Associated Press space reporter Marcia Dunn about life aboard the International Space Station in this live space-to-Earth interview from the Destiny laboratory module on October 5.

Dial-up | Broadband

West Coast Delta 4
In preparation for the West Coast launch of Boeing's next-generation Delta 4 rocket, the two-stage vehicle is rolled out of its horizontal hangar and driven to the Space Launch Complex-6 pad for erection. The nose cone for the NRO payload is then brought to the pad.

Play video

West Coast shuttle
Boeing's Delta 4 rocket pad at Vandenberg Air Force Base was renovated in recent years, transforming Space Launch Complex-6 from the West Coast space shuttle launch site into a facility for the next-generation unmanned booster. This collection of footage shows the 1985 launch pad test using NASA's orbiter Enterprise.

Full coverage

Become a subscriber
More video





NewsAlert





Sign up for our NewsAlert service and have the latest news in astronomy and space e-mailed direct to your desktop.


Privacy note: your e-mail address will not be used for any other purpose.





Titan rocket era ends
SPACEFLIGHT NOW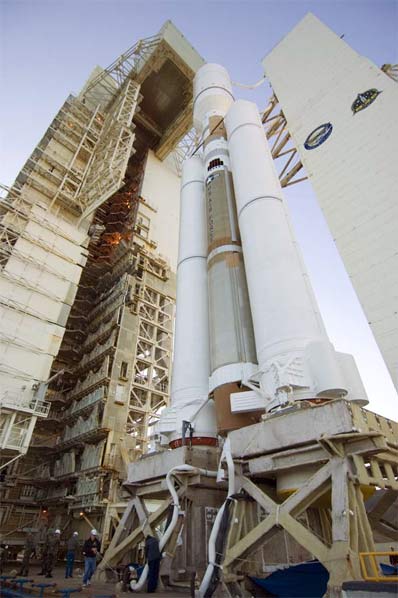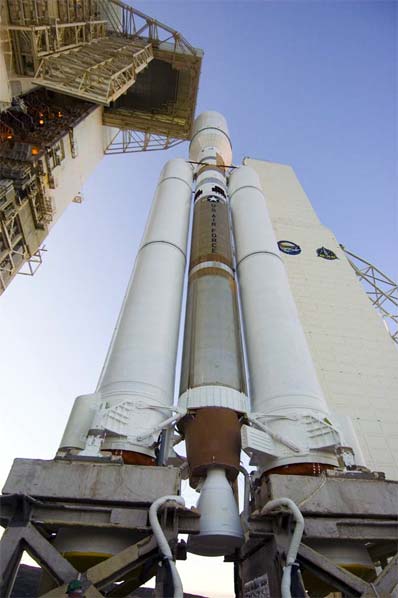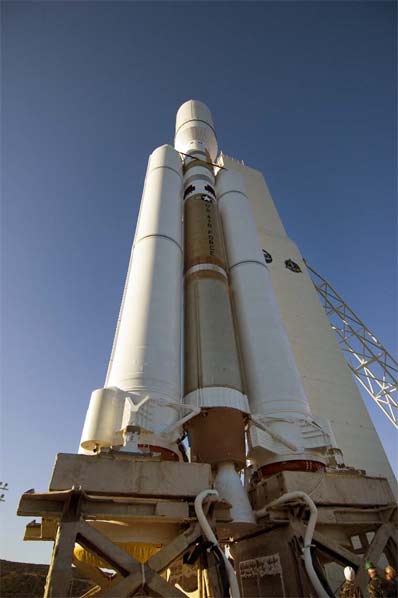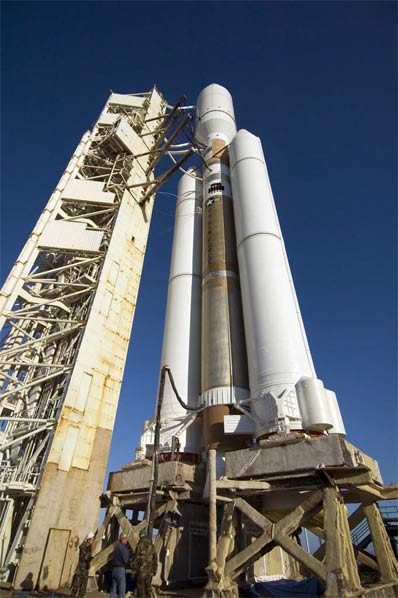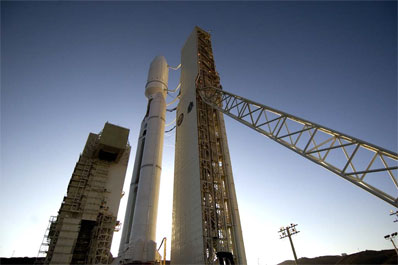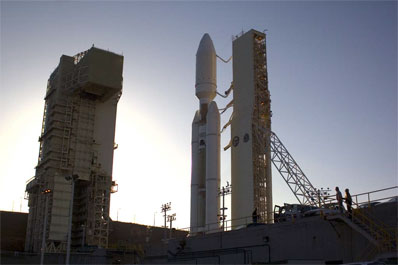 The mobile service tower is rolled back from the Titan 4 at sunrise in preparation for launch from Vandenberg Air Force Base, California. Credit: Patrick Corkery/Lockheed Martin



Additional coverage for subscribers:

VIDEO: WEDNESDAY'S TITAN ROCKET LAUNCH QT

VIDEO: LAUNCH PAD CAMERA VIEW OF LIFTOFF QT

VIDEO: INFRARED CAMERA CAPTURES LIFTOFF QT

VIDEO: POWERFUL TRACKING CAMERA QT

VIDEO: FOOTAGE OF PAST TITAN LAUNCHES FROM 1950S TO TODAY QT

VIDEO: THE CAPE'S LAST TITAN 4 ROCKET BLASTS OFF QT

SUBSCRIBE NOW