Taurus XL rocket launches Taiwan's new orbiting eye
BY JUSTIN RAY
SPACEFLIGHT NOW
Posted: May 20, 2004


The first Taurus XL rocket, a beefed up model of Orbital Sciences' small satellite launcher, darted into polar orbit Thursday, deploying a Taiwanese spacecraft and potentially attracting customers for future missions.



Following a smooth countdown, the four-stage rocket blasted off on-time at 1747 GMT (1:47 p.m. EDT; 10:47 a.m. local) from pad 576E at Vandenberg Air Force Base, California.

Fourteen minutes later, the rocket successfully completed the launch by releasing its cargo in space.

"We are very pleased with the results of the Taurus launch and wish our customers from Taiwan's National Space Program Office the very best with their satellite mission," said Ron Grabe, Orbital's executive vice president and general manager of its Launch Systems Group.

Thursday's launch was crucial for the Taurus rocket. Not only was the XL version making its debut, but it also marked the return-to-flight for the Taurus vehicle family after a failure nearly three years ago.

"We're clearly all a little anxious on this one. Like in any of these vehicles, you've got 100,000 parts that all have to do their job at the right time and you hope you've done everything you could from a test perspective to flush any bad parts out. But unfortuately until you actually go fly through the environment you don't know," Bill Wrobel, Orbital's Taurus program manager, said in an interview.

The last mission in September 2001 was lost when a steering mechanism on the second stage motor jammed at ignition, robbing the rocket of its speed and preventing it from achieving orbit.


| | |
| --- | --- |
| | Taurus climbs away from its launch pad overlooking the Pacific Ocean. Credit: Gene Blevins |
A redesigned steering system, which borrowed technology from the Ground-based Midcourse Defense Segment missile program, was used Thursday with a successful outcome.

The XL version of Taurus uses longer second and third stages packed with additional propellant, providing up to 25 percent more performance during launch.

"It's something we always wanted to do," Wrobel said.

"The actual development phase of the vehicle went pretty well. We've had some smaller problems but honestly with the XL portion of things that's been fairly straight-forward."

Orbital's air-launched Pegasus rocket was up-sized from its original "standard" configuration to the XL version nearly a decade ago.

"Taurus was one of the last hold outs still using the standard size," Wrobel said.

"The other thing is this mission required additional performance that we could not get with a standard vehicle. So it really was a requirement, more or less, under this mission to get that developed."

This mission lofted the 1,600-pound, French-built ROCSAT 2 spacecraft that becomes Taiwan's second Earth-observing satellite.
| | |
| --- | --- |
| | ROCSAT 2 undergoes pre-launch activities. Credit: NSPO |
Once maneuvered into its operational orbit 550 miles above the planet, ROCSAT 2 will will snap pictures for environmental monitoring and use an onboard instrument to study upper atmospheric lightning, called red sprites.

"The land images could be used to monitor the environment and resources throughout Taiwan, the offshore remote islands, Taiwan Strait and its surrounding ocean," according to the Taiwanese space agency.

Uses of the ROCSAT 2 imagery include agriculture projections of crop yields, land usage studies for economic growth, detecting oil spills off the Taiwanese shore and environmental research. Observations following natural disasters is another role the satellite will fulfill.

"Taiwan has frequently endured natural disasters caused by typhoons during summer and fall. In the aftermath, Taiwan crucially needs timely remote sensing data for damage assessment," the program says.

"The satellite images will be very valuable for assessing damages, possibly within one day if weather allows. The extent and condition of flood-submerged crop fields can be appraised. The extent of mud slides and the structural integrity of hillsides can be assessed as well."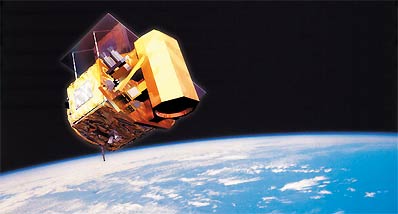 An artist's concept shows ROCSAT 2 orbiting Earth. Credit: NSPO



The lightning investigation aims to gather clues about electrodynamic relationship between thunderclouds and the upper atmosphere. ROCSAT 2 is expected to determine the location, time and characteristics "red sprite" lightning events.

The satellite has a five-year life expectancy.

For Taurus, the rocket's future launch schedule is sparse. Two launches for NASA are scheduled in August and December 2007 from Vandenberg carrying the Orbiting Carbon Observatory and GLORY satellites.

With three years until the next firm mission, Orbital is hoping to snare additional business.

"There absolutely are other opportunities out there," Wrobel said.

The company played host to potential customers during this latest Taurus flight.

"We actually have a number of other people that are up watching this mission just to see how it goes. We've had some other folks that have come by and watched some of the final processing that we did just to see from their perspective how it would flow into what their requirements might be.

"There's definitely people looking."