BY JUSTIN RAY


Follow the countdown and launch of the Orbital Science Taurus rocket carrying the OrbView-4 and QuikTOMS satellites. Reload this page for the very latest on the mission.





Flight data file
Vehicle: Taurus (Model 2110)
Payloads: OrbView-4 and QuikTOMS
Launch date: Sept. 21, 2001
Launch window: 1849-1907 GMT (2:49-3:07 p.m. EDT)
Launch site: SLC-576E, Vandenberg AFB, Calif.
Satellite broadcast: GE-2, Trans. 11, Ku-band



Pre-launch briefing
Launch timeline - Chart with times and descriptions of events to occur during the launch.



Ground track - See the trajectory the rocket will follow during its flight.



Taurus vehicle data - Overview of the rocket to be used in this launch.



OrbView-4 - Fact sheet on the commercial Earth-imaging satellite.



QuikTOMS - Learn more about NASA's newest ozone monitor.



Snapshot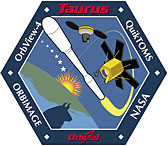 The mission patch. Credit: Orbital