Overview of Kompsat
FROM KARI AND TRW RELEASES
Posted: Dec. 20, 1999

| | |
| --- | --- |
| | Artist's concept of Kompsat orbiting the Earth. Photo: TRW |
The primary payload aboard the fourth Taurus rocket is Korea Aerospace Research Institute's Korea Multi-Purpose Satellite (KOMPSAT-1). The 500-kg craft carries the Electro-Optical Camera (EOC), Ocean Scanning Multi-spectral Imager (OSMI) and Space Physics Sensor (SPS). The satellite will be placed into a 10:50 a.m. sun-synchronized orbit with the altitude of 685 km for its three year life.

The main mission of EOC is cartography to provide the images for the production of 1/25000-scale maps of the Korean territory. EOC collects 510 by 730 nautical mile panchromatic imagery with the ground sample distance of 6.6 m and the swath width of 17 km by push broom scanning. EOC also can scan ±45 degree across the ground track using body pointing method. Though the main mission of EOC is for Korean peninsula, it can be extended to the worldwide mission through direct oversea data reception or using 2.5 Gbit Solid State Recorder at end of life.

OSMI is worldwide ocean color monitoring for the study of biological oceanography. It will generate six-band ocean color images with 800 km swath width and 1 km ground sample distance by whiskbroom scanning. OSMI is designed to provide on-orbit spectral band selectability in the spectral range from 400 to 900 nautical mile through ground command. This flexibility in band selection can be used for various applications and will provide research opportunities to support the next generation sensor design.

SPS consists of the High Energy Particle Detector (HEPD) and Ionosphere Measurement Sensor (IMS). HEPD has missions to characterize the low altitude high-energy particle environment and to study the effects of radiation environment on microelectronics. IMS measures densities and temperature of electrons in the ionosphere and monitors the ionospheric irregularities at the KOMPSAT-1 orbit.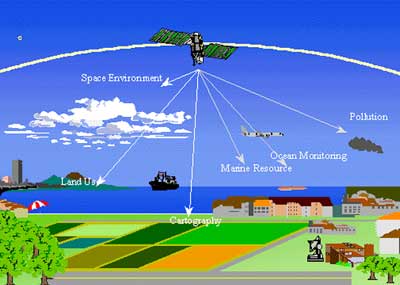 Drawing of Kompsat's mission objectives. Photo: KARI


KOMPSAT is based on TRW Space & Electronics Group's family of lightweight, standardized spacecraft bus adapted to fit KARI's specific mission requirements.
In March 1995, TRW signed a contract with the Korea Aerospace Research Institute to jointly develop with KARI and Korean industry a new lightweight, multi-purpose satellite. It represents the first joint satellite development project ever undertaken by KARI and is a key step forward for the Republic of Korea in its quest to become a self-sufficient, space-faring nation. Over the last five years, engineers from KARI and Korean industry have worked side by side with TRW engineers to produce two complete, ready-to-launch satellites and to acquire expertise in designing, building and using satellites to satisfy Korea's key environmental and scientific goals.
Program requirements
The KOMPSAT program consists of two complete, ready-to-launch satellites. The first satellite, known as a protoflight model, was assembled, integrated and tested at TRW's Space Park satellite manufacturing facilities in Redondo Beach, California. A team of engineers led by TRW and including approximately 112 engineers from KARI and Korean industry performed the work on this first satellite in a satellite manufacturing area dedicated to the KOMPSAT project. Engineers shared office space, ensuring strong day-to-day collaboration on the KOMPSAT project. This spacecraft was shipped to Korea in April 1998.
The primary purpose of the protoflight model was to verify the structural and functional design of the satellite. It serves as a back-up for the flight model, should the need arise. Some hardware for the satellite's electrical, thermal, structural, and propulsion subsystems was produced in Korea by Korean industrial partners. TRW provided on-site assistance to these Korean partners to ensure that the components were properly produced and prepared for integration into the spacecraft. The second satellite, the actual flight model, was assembled, integrated, and tested at KARI facilities in Taejon, Republic of Korea, by KARI engineers with support from TRW personnel.




Flight data file
Vehicle: Taurus
Payload: Kompsat and Acrimsat
Launch date: Dec. 21, 1999
Launch window: 0711-0724 GMT (0211-0224 EST)
Launch site: Area 576-E, Vandenberg AFB, California



Pre-launch briefing
Learn more about the mission.



Taurus - description of Orbital Sciences' Taurus rocket.



Launch timeline - chart of events to occur during launch with brief description.



Ground track - map of the track Taurus will follow for launch.



Acrimsat - overview of NASA's Acrimsat satellite and its scientific mission.



NewsAlert
Sign up for Astronomy Now's NewsAlert service and have the latest news in astronomy and space e-mailed directly to your desktop (free of charge).