Russia's Zvezda module docks to space station at last
BY WILLIAM HARWOOD
SPACEFLIGHT NOW
Posted: July 26, 2000

| | |
| --- | --- |
| | The thrusters on Zvezda are fired to boost the craft's orbit following launch. Photo: NASA |
The international space station gently docked with the new Zvezda command module Tuesday as the two spacecraft sailed high above Kazakstan, ending two years of delays and setting the stage for arrival of the lab's first permanent crew in November.

"We've got a lot of happy astronauts and cosmonauts here tonight," said veteran shuttle flier William Shepherd, commander of the first full-time crew.

With Zvezda's long-delayed attachment to the international space station, the spotlight -- and the pressure -- now shifts to NASA as the U.S. space agency struggles to overcome its own problems readying upcoming modules, components and software for launch.

"I think it's a huge accomplishment tonight," Shepherd reflected from mission control in Houston. "It has not been pretty, there have been many hard times, many heated discussions. But clearly, I think the torch has been passed from Russia back to the U.S. and the rest of our international partnerships to carry the load now. Because the heat's on us to keep the schedule going."

Using the automated KURS docking system, the space station and Zvezda came together on time at 8:45 p.m. EDT Tuesday (0045 GMT today) with a contact velocity of around 0.2 meters per second (0.45 mph). Ground controllers were able to watch the final moments of the docking on a grainy black-and-white television image from a camera mounted on the Zvezda module. Moments after contact, small thrusters fired as planned to drive the two docking mechanisms firmly together.

"We have contact confirmed, capture is confirmed," NASA commentator Kyle Herring said from the Russian flight control center near Moscow. "We have a successful capture of the Zvezda as it becomes a permanent member of the international space station."

Shock absorbers damped out any residual motion between the two craft before retraction of a docking probe and engagement of 24 hooks and latches to permanently lock the spacecraft together.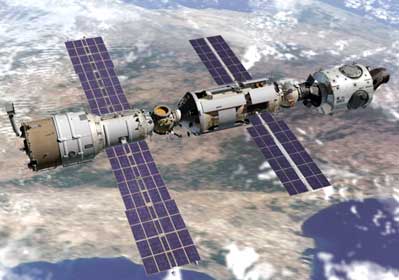 The space station after Zvezda's arrival. The Zarya module is located in the center and Unity is on the right. Photo: NASA



Zvezda's arrival came more than two years behind schedule because of Russian funding problems and, more recently, trouble with the Proton rocket needed to launch the new module. Relief over the successful docking was evident at a rambling Russian news conference shortly after docking.

"I'd like to congratulate you on this great event," Yuri Koptev, director of the Russian Space Agency, told flight controllers. "I understand it was not easy. ... Despite all the difficulties, we managed to start this program and we've gotten to the point of this great achievement."

Said Bob Castle, NASA's senior on-site representative: "This is an outstanding achievement this morning and something we've been waiting for for quite some time. As you can see and have heard, this is truly an international program with many different countries participating. This is the beginning of a new era, in my opinion, in space ... with the world participating on this great project. And my congratulations to all my colleagues who designed, built and operated and made this happen."

Flight controllers plan to spend three days making sure Zvezda is attached to the station without any leaks. After that, European-built computers in the new module will assume central control of the international space station's orientation and operation.

"At that point, all the computers in the three different modules are communicating with one another," said Mark Ferring, NASA's lead space station flight director.

If all goes well, the Russians will launch a Progress supply ship around 2:22 p.m. EDT Aug. 6 for a docking on Aug. 8. Then, on Sept. 8, the shuttle Atlantis is scheduled to blast off on a mission to outfit and activate the new Zvezda module. A major truss element and critical gyroscopes will be launched aboard a shuttle around Oct. 5 followed by launch of the station's first full-time crew - Shepherd, Sergei Krikalev and Yuri Gidzenko - around Oct. 30. NASA plans to attach power-generating solar arrays in November or early December, followed by launch of the U.S. laboratory module, Destiny, in January.

But problems perfecting and implementing the complex software needed to operate the stabilizing gyroscopes are a potential stumbling block that could delay Destiny's launch and, along with it, arrival of Shepherd's crew. But NASA managers are optimistic any such delays will be minimal and that the first full-time crew will, in fact, arrive this year.

For his part, Shepherd is more than ready after years of training, delays and setbacks.

"You've got five crews of astronauts and cosmonauts, some of whom have been training here in Houston and in Russia for over four years, who are real happy we've got this milestone behind us," he said. "Because now we have a pretty concrete schedule for the rest of the year."




Video vault

Bill Shepherd, commander of the first expedition crew to the international space station, comments on the docking of Zvezda.
PLAY (357k, 2min 04sec QuickTime file)


A Russian Proton rocket lifts off from the Baikonur Cosmodrome in Kazakhstan with the Zvezda service module.
PLAY (340k, 35sec QuickTime file)


NASA animation shows the Zvezda module launching into space, deploying antennas and solar arrays and conducting orbit raising maneuvers.
PLAY (593k, 1min 05sec QuickTime file)


The Zvezda service module joins the infant International Space Station as seen in NASA animation of the docking with Zarya.
PLAY (670k, 1min 12sec QuickTime file)


Take a look around inside the Zvezda service module that will be initial crew living quarters aboard the International Space Station.
PLAY (406k, 45sec QuickTime file)


Download QuickTime 4 software to view this file.