Atlantis returns home; Soyuz launch to station in question
BY WILLIAM HARWOOD
STORY WRITTEN FOR CBS NEWS "SPACE PLACE" & USED WITH PERMISSION
Posted: October 17, 2002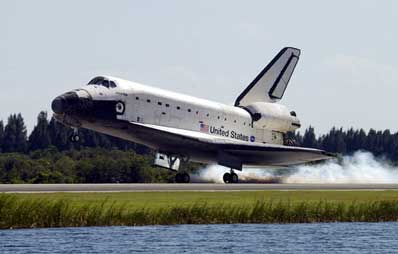 Atlantis lands at Kennedy Space Center. Photo: NASA



The shuttle Atlantis dropped out of a beautiful fall sky today and settled to a slightly windy touchdown on runway 33 at the Kennedy Space Center to close out an 11-day space station assembly mission spanning 170 orbits and 4.5 million miles since blastoff Oct. 7.

Making his first hands-on landing, first-time shuttle commander Jeffrey Ashby took over manual control of the shuttle five minutes before touchdown as the spaceplane passed through 50,000 feet above the Florida spaceport.

After giving pilot Pamela Melroy a few moments of stick time, Ashby took over and guided Atlantis through a sweeping 291-degree right-overhead turn to line up on runway 33 before settling to a high speed touchdown at 11:43:40 a.m.




Video coverage for subscribers only:


VIDEO: LANDING AS SEEN LIVE WITH FULL AUDIO QT or RV


VIDEO: TRACKER FOLLOWS ATLANTIS IN HAC TURN QT or RV


VIDEO: REPLAY FROM CAMERA AT RUNWAY MID-POINT QT or RV


VIDEO: CAMERA ANGLE WITH LAUNCH PADS IN BACKGROUND QT or RV


VIDEO: VIEW OF LANDING FROM VAB ROOF QT or RV


VIDEO: SIDE VIEW OF ATLANTIS' TOUCHDOWN QT or RV


VIDEO: VIEW FROM NORTH END OF THE RUNWAY QT or RV


VIDEO: TOUCHDOWN FROM SOUTH END OF RUNWAY QT or RV


VIDEO: RUNWAY COMMENTS FROM THE COMMANDER QT or RV


VIDEO: CREW POST-LANDING NEWS CONFERENCE QT or RV


VIDEO: SHUTTLE AND STATION PROGRAM UPDATE QT or RV


MORE: SEE A FULL LISTING OF STS-112 VIDEO


SUBSCRIBE NOW





"Atlantis, welcome back to Earth and congratulations on a truly spectacular mission expanding our new home in space," called astronaut Ken Ham from mission control in Houston.
Mission duration was 10 days 19 hours 57 minutes and 49 seconds.

Landings......KSC.......EAFB......WSSH.......Total

Night.........14........5.........0..........19
Daylight......46........44........1..........91
Total.........60........49........1..........110

Most Recent...10/18/02..06/19/02..03/30/82

Looking fit and in good spirits, the Atlantis astronauts thanked ground workers during a quick walk-around inspection of their shuttle before heading to crew quarters and reunions with friends and family members.

"It's great to be back in Florida," commander Ashby said from the runway. "What an incredible adventure we've been on. As I stand here, I can't help but think of all the people who helped us take the S1 (solar array) truss up there. It's been an amazing team effort, it's taken a couple of years and it culminated when we installed S1 a few days ago on the international space station.

"I can tell you the space station is alive and well," Ashby continued. "Peggy (Whitson) and Valery (Korzun) and Sergei (Treschev) are doing great, they're doing a lot of research and science aboard and we have great hopes for the future and what they'll produce. Thank you very much."

Ashby, Melroy, flight engineer Sandra Magnus, cosmonaut Fyodor Yurchikhin and spacewalkers David Wolf and Piers Sellers plan to spend the night in Florida before flying back to the Johnson Space Center on Saturday.

"This mission was 100 percent successful, we did complete all of our objectives and in addition to that, we completed some of the objectives we had for the next flight," said Linda Ham, a member of NASA's mission management team.

The international space station was sailing 249 miles above the southern Indian Ocean as Atlantis was landing half a world away, its three-person crew busy stowing supplies and equipment ferried to the outpost by the shuttle crew.

Early this morning, Russian ground controllers fired thrusters on a Progress supply craft docked to the station's aft port to boost the lab's altitude by about 6.9 miles. Along with increasing the station's altitude, the burn also was intended to fine-tune the orbit for the arrival of a manned Soyuz spacecraft Oct. 30.

Three-seat Soyuz spacecraft serve as lifeboats for the space station and they must be replaced every six months. The lab's current lifeboat is nearing the end of its certified orbital lifetime and a fresh spacecraft, carrying commander Sergei Zalyotin, flight engineer Yuri Lonchakov and Belgian astronaut Frank DeWinne, is scheduled for launch Oct. 28.

But today's reboost rocket firing on the station did not achieve the expected results and the change in velocity came up short by 4.47 mph. This is a minor issue, but it means the station's orbit is not quite in synch with the requirements of the Soyuz rendezvous.

At the same time, Russian engineers are investigating the failure of an unmanned Soyuz-U rocket that exploded shortly after takeoff earlier this week. A Novosti correspondent today reported the Soyuz taxi flight has been delayed "several days" because of the ongoing failure investigation. An earlier press release from the Russian Space Agency said the launch would not be affected. NASA hopes to learn more from the Russians early next week. In the meantime, agency sources say the Soyuz launch will, in fact, slip a few days.

Launch of the shuttle Endeavour on the next space station mission is targeted for Nov. 10. But Endeavour will not be cleared for launch until the Soyuz taxi crew undocks and lands in the station's current lifeboat. Depending on when the new Soyuz actually launches, Endeavour's flight could slip a day or so as well.

Atlantis' return to Earth today capped a near perfect space station assembly flight. This was the:

111th....Shuttle mission since STS-1
4th......Of 5 flights planned for 2002
86th.....Post-Challenger mission
26th.....Flight of Atlantis (Serial Number: OV-104)
49th.....Launch off pad 39B
25th.....51.6 degree inclination
49th.....Launch off pad 39B
84th.....Day launch
37th.....Day launch off pad 39B
60th.....KSC landing
91st.....Day landing
46th.....Day landing at KSC

After an on-time blast off Oct. 7, Ashby guided Atlantis to a smooth docking with the lab complex last Wednesday.
The next day, station flight engineer Peggy Whitson, operating the station's Canadarm2 space crane, pulled a 14.5-ton solar array truss segment from Atlantis' cargo bay and attached it to a truss section, known as S0, already in place atop the U.S. Destiny laboratory module.
Wolf and Sellers then staged three successful spacewalks to outfit and activate the new S1 truss segment.
The station's solar array truss ultimately will stretch 365 feet and consist of 11 segments, five extending to either side of the central S0 truss. Huge solar array panels will be mounted at each end of the completed beam to provide the electrical power needed by the lab's life support systems and science equipment.
To carry away the heat generated by those systems, ammonia coolant will flow through massive radiators on two inboard truss segments, the newly installed S1 and the nearly identical P1 segment, which is scheduled for attachment during NASA's next assembly mission next month.
During their three spacewalks, Wolf and Sellers hooked up ammonia lines between S1 and the S0 truss atop the Destiny module and connected power and data cables. They also installed special clamps to eliminate possible ammonia leakage in more than 30 quick-disconnect fittings.
Between spacewalks, the combined crews transferred some 1,800 pounds of supplies and equipment from Atlantis to the station, along with more than 1,300 pounds of fresh water.
NASA's next space station assembly mission is scheduled for launch Nov. 10, pending the Soyuz launch.
The station's current crew - Expedition 5 commander Valery Korzun, flight engineer Sergei Treschev and science officer Whitson - are scheduled to return to Earth aboard Endeavour after 167 days in space. They will be replaced by Expedition 6 commander Kenneth Bowersox, Donald Pettit and cosmonaut Nikolai Budarin.
The Expedition 6 crew, along with their shuttle crewmates, strapped in aboard Endeavour earlier today for a traditional practice countdown.