Endeavour brings space station crew home
BY WILLIAM HARWOOD
STORY WRITTEN FOR CBS NEWS "SPACE PLACE" & USED WITH PERMISSION
Posted: June 19, 2002


Diverted to California after back-to-back landing delays Monday and Tuesday, the shuttle Endeavour's crew glided to a picture-perfect Mojave Desert touchdown today, bringing a trio of weary space station fliers home after a U.S. record 196 days in space.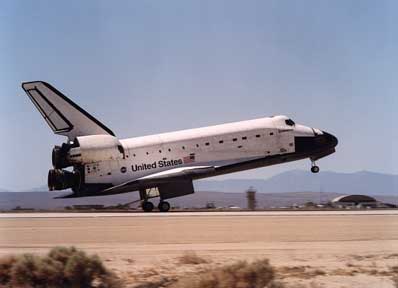 Endeavour makes its high-speed touchdown on Runway 22 at Edwards. Photo: NASA-DFRC



With commander Kenneth Cockrell and pilot Paul Lockhart at the controls, Endeavour dropped out of a crystal blue sky and settled to a high-speed touchdown on runway 22 at Edwards Air Force Base, Calif., at 1:57:41 p.m. EDT. Mission duration was 13 days 20 hours 34 minutes and 52 seconds.

"Houston, Endeavour, wheels stopped," Cockrell radioed as the shuttle coasted to a halt.

"Copy, wheels stopped, Endeavour. Welcome back to Earth," replied astronaut William Oefelein from mission control. "Congratulations on a very successful and very safe assembly, repair and crew rotation mission to the international space station. And a special welcome home to the Expedition 4 crew after your record stay aboard the ISS."

"OK, Billy-O, thanks for the support, thanks for hanging with us for the last two days getting us down," Cockrell replied.

Said Bursch from the shuttle's lower deck: "It's great to be back on planet Earth!"

Flight surgeons were standing by to assist the returning space station crew - Expedition 4 commander Yuri Onufrienko, Bursch and Carl Walz - and to monitor their initial readaptation to the unfamiliar tug of gravity.

"They're going to have to learn how to do things again in one G (gravity) and use muscles they haven't really been using," said chief medical officer Terry Taddeo. "They're going to be feeling sick for a little while and they're going to be feeling a little wobbly as they walk around.

"They may find turning corners causes them to have a little bit of dizziness, they know something's funny, they know they're not right back where they were when they launched. ... There are a lot of physiologic changes they're going to experience with their balance and their muscle soreness."

He said the medical team looked forward to "getting them back on the ground, re-uniting them with their families and then getting them started on their post-flight rehab and exercise program."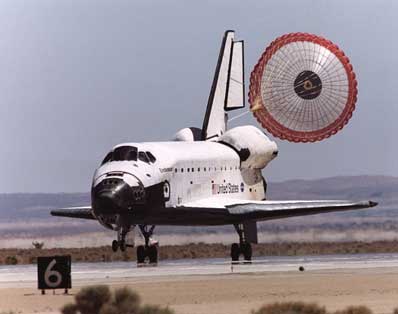 The drag chute is deployed to slow Endeavour during landing. Photo: NASA-DFRC



But reunions with family members will have to wait until Thursday, after the astronauts fly back to the Johnson Space Center in Houston. Wives, children and family friends were gathered at the Kennedy Space Center, where they sat through three-straight days of landing delays.

Endeavour's diversion to California also was a major disappointment to NASA. Landings at Edwards cost the agency about $1 million and add at least a week to an orbiter's turnaround time for its next mission.

Endeavour is scheduled for launch on its next space station assembly flight Oct. 6, a date that already was doubtful because of the shuttle's six-day launch delay. If Endeavour isn't off the ground by Oct. 11, the flight will be delayed to November because of a firmly scheduled Russian flight to deliver a fresh Soyuz lifeboat.

But in the end, entry flight director John Shannon had little choice. After waving off the crew's first Florida landing opportunity in hopes conditions would improve, he finally ordered the diversion to Edwards when it became obvious the weather was not going to cooperate.

Onufrienko, Walz and Bursch were launched to the international space station Dec. 5. They were officially replaced aboard the station June 7 by Expedition 5 commander Valeri Korzun, Sergei Treschev and Peggy Whitson, who plan to remain in orbit until Endeavour returns this fall with a fresh crew.

Bursch and Walz, meanwhile, set a new U.S. space endurance record June 11 when they beat the old mark of 188 days set by astronaut Shannon Lucid aboard the Russian Mir space station in 1996. With today's landing, the new U.S. record is 195 days 16 hours 33 minutes.

Walz also now holds the U.S. individual record for cumulative time aloft with 231 days in space over five missions. Bursch is close behind with 227 days while Lucid's five missions add up to 223 days. Mir-veteran Onufrienko has now spent 389 days in orbit.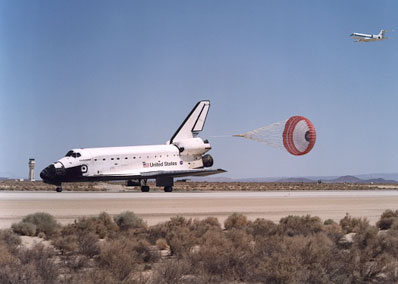 Endeavour safely brings the Expedition 4 crew back to Earth. Photo: NASA-DFRC



Asked last week what he wanted to do first after returning to Earth, Walz said "hug and kiss my wife and hug my kids, (I'm) looking forward to seeing their faces."

"We have about five hours of medical tests after that," he added. "I hope to visit with them a little more and I hope to get some terrestrial food!"

All three Expedition said they were looking forward to enjoying their first taste of pizza in six-and-a-half months.

As with all returning station fliers, Onufrienko, Walz and Bursch face a 45-day program of carefully monitored exercise, rehabilitation and medical tests. Walz and Bursch will live at home in Houston while Onufrienko plans to fly back to Russia in about two weeks to continue his rehabilitation under the care of Russian specialists.

Taddeo said the astronauts will start out with low-stress exercises - stretching, massage and light aqua therapy - before ramping up to walking and, eventually, jogging.

"And then somewhere in there, and this is at the discretion of the crew surgeon and the discretion of the trainers, you may start putting in some light resistive training," Taddeo said. "It's all individualized and you don't push a crew member faster than they can. But the goal is to get them back to their pre-flight baseline."

During long-duration spaceflight, astronauts experience muscle atrophy, bone demineralization, neurovestibular changes and loss of blood volume. On-board exercise routines counteract some of these effects, but "it's not a perfect system and there are going to be some losses," Taddeo said.


Video coverage for subscribers only:


VIDEO: ENDEAVOUR'S LANDING AS SEEN ON NASA TV QT


VIDEO: POWERFUL TRACKING CAMERA VIEW OF LANDING QT or RV


VIDEO: PRIMARY RUNWAY CAMERA ANGLE QT or RV


VIDEO: VIEW FROM OTHER SIDE OF THE RUNWAY QT or RV


VIDEO: POST-LANDING COMMENTS FROM COCKRELL QT or RV


SUBSCRIBE NOW